Miguel Torres Fired: Has FOX Forced the UFC's Image To Finally Grow Up?
December 9, 2011
Michael Cohen/Getty Images
Miguel Torres was fired for an insensitive comment made on twitter. Does this signify a paradigm shift in the way the UFC works?
The UFC has been no stranger to controversial remarks and actions as of late.
There was the incident where Quinton "Rampage" Jackson "motorboated" MMA reporter Karyn Bryant, and there was the incident where UFC commentator Joe Rogan called reporter Maggie Hendricks, "cunty."
There were even more bad things that came up later in the year.
There was the time when Forrest Griffin tweeted "rape is the new missionary," and more recently when Rashad Evans said he'd put his hands on Penn State graduate Phil Davis worse than Sandusky did to his victims.
These problems were swept under the rug by UFC brass.
In a recent interview, UFC president Dana White dismissed Griffin's tweet as social commentary and Evans' remarks as something born in the heat of the moment.
But Miguel Torres' tweet about rape vans was apparently one step too many.
Torres' tweet earned him no laughs and a spot on the unemployment line.
Does this mean that the UFC, who has always prided itself on not muzzling its fighters, has finally "grown up?" Is the UFC now policing its fighters more due to entering the mainstream? Are the days of Dana White's t-shirts and foul mouth over?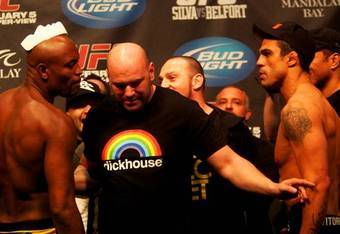 It would seem like that's the case, but it isn't. Dana White himself has recently shed light on the issue.
Upon hearing that Torres' tweet was just a joke, White wasn't happy. "His sense of humor and mine are a little different, apparently," he said.
"It's just not something you tweet. ... There's no explanation for it. ... Use a little common sense."
However, White's dismissal of Torres has nothing to do with the UFC's deal with FOX and subsequent emergence into the mainstream.
"I'm not going to be pressured by the media, by the fans or by anybody else to go in and attack my guys when they make a mistake. I'm not going to come out with these canned written statements from our lawyers. We're going to handle this thing honestly and...like everybody would in real life."
"This is a very lenient company," White said. "I'm very lenient and I'm very open-minded and I'm very realistic on what should be put on these guys as human beings. It's such an easy place to work as far as your conduct and everything else."
Torres' expulsion from the UFC aside, it appears as though the company isn't about to become the NFL in terms of the strict image its athletes and coaches are forced to maintain at all times (even the boisterous Rex Ryan isn't immune from the wrath of the No Fun League).
Even though it's unfortunate that Torres is gone (he was one of the few fighters with a truly excellent guard), it's comforting to see that the UFC isn't "selling out" and become bland and corporate like the other major sports organizations.
The UFC's greatest strength is that it has a connection to the demographic like no other sport. This is in part due to the fact that White handles PR problems in his own way and not with the aforementioned canned legal statements.
Thus, Torres' forced departure is just a hiccup on the UFC's road to the top.
The company has already managed to attune itself to the zeitgeist of the current generation by not "playing by the rules." Success is bound to follow, with Miguel Torres or without.