MLB Free Agency: Why the Yankees Played It Safe Bidding on Hiroyuki Nakajima
December 9, 2011
Koji Watanabe/Getty Images
The dormant Yankees made a splash this week in the free agency pool.  Well, it was more like a dip-your-toe-in-the-water type of entrance. 
Deciding to try their luck again in Japanese baseball, the club posted the highest bid for shortstop Hiroyuki Nakajima, who last played for the Seibu Lions in the Japanese Pacific League. 
After blowing the presumable competition away with a $2 million bid, the Yankees now have 30 days and counting to sign the 29 year old. 
While this move might not make the bold headlines the Yankees are accustomed to, it speaks volumes for possibilities in the future.
The potential signing of Nakajima could mean Adiós to utility infielder Eduardo Núñez. With the addition of Nakajima, the Yankees might have one too many utility infielders for the ship to right. 
General manager Brian Cashman has maintained his poker face on this offseason, but the trade speculation has been rampant and many of the deals include Núñez.
A looming Eric Chavez retirement could have also spurned the Nakajima bid.  While the club wants to keep the 34-year-old in pinstripes, rumors are all over the map on what his next move will be.  The acquisition of Nakajima gives them insurance, in case Chavez decides to hang up the cleats for good.
Not out of the question, but the Yankees could take a page out of the Red Sox book when it comes to acquisition of Japanese players.  In an effort to make starter Daisuke Matsuzaka comfortable in the United States, the Red Sox also signed Hideki Okajima.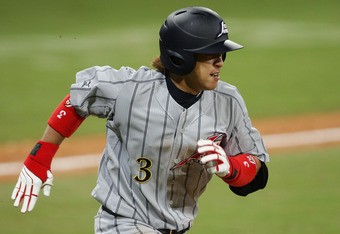 Mark Dadswell/Getty Images
It's possible the Yankees obtained the rights to Nakajima to make it more alluring for hyped Japanese pitcher Yu Darvish to land in New York.  And if the Yankees can't land Darvish, so what?  They could choose to abandon Nakajima altogether and retain their $2 million greenbacks.
Furthermore, it's feasible the Yankees signed a 10-year veteran to help out the team on and off the field.  "High character guy.  They named him captain for a reason," Cashman told reporters. "His reputation is extremely high and his abilities are impressive." 
His numbers don't jump out at you, but they are respectable.  With a lifetime .302 AVG, 149 HR and a .834 OPS, it's obvious the man can play at a higher level than most.
Whatever the Yankees' motives might be, the potential purchase of Nakajima appears to be a smart move.  They can sign an established Japanese talent for a relatively modest price and not have to overpay for an average utility infielder. 
On Nakajima's end, he gets to join the most successful and popular sports team in the world. 
It's a win-win in any language.