Trent Richardson vs. Montee Ball: Who's the Best Heisman Finalist Running Back?
December 9, 2011
Kevin C. Cox/Getty Images
This article is about Trent Richardson and Montee Ball, but let me start by going off on a bit of a tangent.
Like many fans, I have a beef with the BCS system. Part of the reason I'm frustrated is that I am also a Big Ten fan, and as such, I resent the dominance (both real and perceived) of the SEC.
LSU and Alabama may or may not be the two best teams in the country, but either way I don't want to be bored out of my mind watching a rematch of their hideous 9-6 OT debacle in the regular season.
I'd much rather pit strength against strength, throwing the awesome offenses of Oklahoma State or Stanford (or hey, why not Montee Ball and my Wisconsin Badgers?) against the Honey Badger and the rest of the LSU defense.
I'll freely admit, I'm not a 'Bama fan—or a fan of LSU for that matter—but I guess as the last of the undefeated teams, they have to be No. 1...too bad Houston lost. (Just kidding! I wouldn't have put the Cougars and the record-shattering Case Keenum ahead of the Tigers...I think.)
But what's done is done with regard to the title game. Now, on to the awesomeness of Montee Ball.
With the Heisman still to be announced, both Alabama's Trent Richardson and Wisconsin's Montee Ball are among the finalists. On my Heisman list, I ranked Ball first and Richardson fifth.
Yes, I know, I'm a Wisconsin homer. But before you rush to judge me too harshly, let me say that I did not put my Badgers as a team into the top five on my top 25 list. And remember that the coaches at Missouri and Texas A&M ranked Oklahoma State lower because their schools are moving to the SEC in 2012.
I realize that Montee Ball didn't receive as much Heisman attention as he might have had the Badgers not suffered consecutive losses to Michigan State and Ohio State in October. But despite the fact that his team is not playing for the National Title, Montee is still awesome. 
And those two losses don't fall on his shoulders at all.
Ball scored five total touchdowns in those games with over 250 yards rushing and receiving. He also averaged 5.7 yards per rush. Compare that with Richardson's 3.9 average in Alabama's loss against LSU—with zero touchdowns.
And of course, Ball is on the verge of something historic. With two touchdowns in the Rose Bowl, Ball will break Barry Sanders' all-time FBS record from 1989. 
Before Ball came along, the second-best mark was 32 touchdowns, seven fewer than the record. Ball is in position to not only equal Sanders' mark, but surpass it!
That has to count for something, right?
Look at the incredible year Ball is having: He leads the country in rushing yards (1759), rushing TDs (32), and points scored (by a ton—230 for Ball, with the next closest player at 156).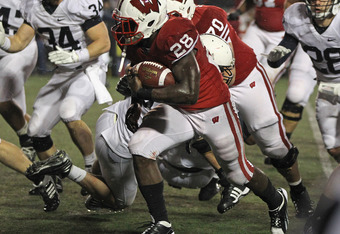 Jonathan Daniel/Getty Images
Richardson is sixth in rushing yards, fifth in rushing TDs (12 fewer than Ball) and tied for fourth in points with 138, almost 100 fewer than Ball. Put another way, Ball has scored 67 percent more points than Richardson.
And don't give me any "but Trent plays in the SEC, which is inherently superior in every way to every other conference."
Yeah, like in kicking field goals? That is all the two best teams in the country can do against each other. And even then, they miss as often as not.
You want consistency in your Heisman winner?
How about this: Ball hasn't been shut out of the end zone one time this season. In fact, he's scored at least TWO touchdowns in every game. That is almost beyond belief.
Richardson, meanwhile, scored one or zero touchdowns in five Alabama games this year.
And the only times he managed to score more than two touchdowns in a game have been against Kent State, North Texas, Ole Miss, and Georgia Southern. Auburn, LSU, and Arkansas each held Richardson without a rushing TD. 
In contrast, Ball has scored at least three times on eight different occasions (four more than Richardson), including games against Nebraska, Penn State, and Michigan State.
Ball also operates extremely well as a receiver out of the backfield. He has six receiving touchdowns and averages 12.8 yards per reception. Both are better marks than Richardson can claim.
And finally, it's not like there's some rule that a Big Ten running back from Wisconsin can't win the Heisman (Ron Dayne, anyone?).
Sure, Richardson has had a nice season and his team may be better, but Ball's season is historic. And it's not like you can discount a player much because his team is only going to the Rose Bowl, not the title game.
Sorry for the rant, but I think I backed it up with facts. I hope I didn't offend anyone's SEC sense of superiority too much, and that you all enjoy your nice little rematch of a title game.
And come to think of it, I should have left Richardson off my ballot in favor of Wisconsin QB Russell Wilson, who's a very close second to likely Heisman winner Robert Griffin III in quarterback rating—192.3 to 191.6.
There is a compelling case to be made for Wilson with a 72.5 completion percentage and 31 touchdowns to a miniscule three interceptions.
Wilson is basically Wisconsin's other Aaron Rodgers. And much like Rodgers, Wilson is also a threat on the run. He has five rushing TDs to go along with over 300 yards on the ground.
I'm just sayin'.