Pittsburgh Pirates
2011 MLB Free Agency: Recapping the Pittsburgh Pirates' Early Offseason Moves
Beautiful PNC Park where the Pirates play their home games
Jared Wickerham/Getty Images
December 8, 2011
Throughout the young 2011-12 MLB offseason, the Pittsburgh Pirates haven't made any shocking signings or trades, but they have certainly been busy.
As most baseball fans know, the Pirates have finished the season with a losing record for an astounding 19 years in a row, which happens to be a North American professional sports franchise record.
Throughout the beginning of last season, the Pirates looked as if they might break that terrible streak of ineptitude as they were leading the NL Central over eventual World Series champion St. Louis Cardinals in July. Then, things came crashing down for Pittsburgh as they normally do, and the Pirates ended up in fourth place in their divison by season's end with a 72-90 record.
It is clear that the Pirates have a budding superstar to build the team around in center fielder Andrew McCutchen, but there isn't much else in terms of talent. That's why GM Neal Huntington decided to be a buyer during the offseason in order to fill in the many holes on this Pittsburgh roster. Let's look at some of those moves:
Signed OF Nick Evans to a minor league contract
Nick Evans, who has bounced around the New York Mets organization between Triple-A Buffalo and New York the last few years, has experience in the outfield in addition to some time at first base. He is solely a doubles hitter with only eight career home runs and a mediocre .256 batting average.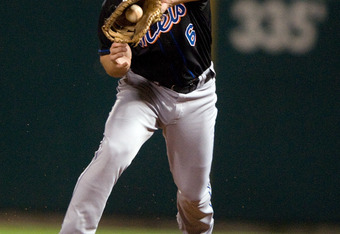 Evans in action for the Mets in 2011
Jeff Curry/Getty Images
He could make the big-league club out of spring training as a fourth OF who can also help out in the infield. His value comes from his versatility and his ability to field well at multiple positions, which is why he is a good signing for the Pirates.

Signed SP Shairon Martis and UTIL Jake Fox to minor-league contracts
Shairon Martis, a right-handed starting pitcher most recently with the Nationals, relies solely on his control and doesn't strike many guys out. With a career 5.33 ERA, he is a long shot to make the big-league club out of spring training, but would make a decent spot-starter for Pittsburgh should any injuries to their pitching staff occur.
Fox can play almost every position on the diamond and seems to be another depth-signing for the Pirates. Fox's main position is behind the plate, but he has also spent time in the infield and outfield in his brief major league career. He has a lot of power, but that gets watered down by his subpar career BA of .237.
Barmes might be the most important signing that the Pirates have made so far this offseason. Barmes, who spent last season with the Houston Astros, will most likely be the starting shortstop this season over incumbent Ronny Cedeno, who was also a free agent this offseason.
He provides decent power for a shortstop with a career high of 23 home runs and 76 RBIs, but doesn't hit for a great average (.252 career). Barmes will stabilize the Pirates' middle-infield along with second baseman and Pittsburgh native Neil Walker.
The Pirates picked up another potential starter in November with the signing of former LA Dodgers catcher Rod Barajas. Due to former starter Ryan Doumit signing with Minnesota, Barajas is the favorite to start Opening Day behind the plate for the Pirates.
Although he isn't the best of defensive catchers, Rod can produce runs and hit home runs at a steadily high level. 

In their lone release of the offseason to date, the Pirates have released former prized pitching prospect Ross Ohlendorf. After a solid 2009 campaign in which Ohlendorf went 11-10 with a sub-4.00 ERA, he had dreadful 2010 and 2011 seasons in which he went a combined 2-14 with an 8.00-plus ERA last season.
It has been a terrible fall from grace for the Princeton graduate who had a promising start to his career with the Arizona Diamondbacks and New York Yankees before coming to Pittsburgh.
To bolster their pitching rotation for next season, the Pirates signed southpaw starter Erik Bedard to a one-year, $4.75 million contract.
Throughout his career, Bedard has always been a strikeout machine who manages to keep his ERA close to a respectable 4.00. However, his value has slipped in recent years, as he has suffered major injuries in the past few seasons.
Bedard has amazing stuff and is a very good pitcher when he can stay on the field, which hasn't been often. All in all, solid high-reward, low-risk signing for the Pirates.
The latest of the Pirates' major offseason moves involved a person familiar to the organization: outfielder Nate McLouth. McLouth was a mainstay in the Pirates outfield for four-and--half seasons until being traded to the Atlanta Braves in the deal that sent SP Charlie Morton to Pittsburgh.
McLouth, whose stint with the Braves was marred by injury and inconsistency, has speed and power. In the best season of his career, 2008 with Pittsburgh, McLouth hit 26 home runs, drove in 93 RBIs and stole 23 bases.
With a change of scenery back to where his career began, McLouth should make the Pirates signing of him appear to be a good move for their ballclub by the end of the season.
Like the new article format? Send us feedback!