Albert Pujols Signs with Angels: Why He's Worse Than LeBron James
December 8, 2011
Rob Carr/Getty Images
As a man who has bled Cardinal red for 29 years, I'm feeling a lot like a Cleveland Cavaliers fan this morning.
And I won't let anyone tell me I'm unjustified in my thinking.
The star who surpassed names like Bob Gibson, Dizzy Dean, Ozzie Smith and even Stan Musial as the face of one of MLB's most storied franchises has kicked dirt on the Cardinals, their fan base and the city of St. Louis.
Yes, the great Albert Pujols has taken his talents to the West Coast by accepting a reported mega-, 10-year, $254 million contract from the California...er Anaheim...er Los Angeles Angels of Anaheim.
The man who has sworn from the very beginning of these talks that he wanted to be a Cardinal for life has spat on that promise.
The Cardinals did all they could. They put their best offer forward, going much higher than they really could even afford. According to reports from the St. Louis Post-Dispatch, St. Louis offered 10 years and $210 million to keep their slugger under the Arch.
But it wasn't nearly enough for the greedy Pujols and his agent Dan Lozano.  
From the very beginning, it's clear that Pujols' main objective was about scoring Alex Rodriguez-type money.  
When Lozano first opened up negotiations with the Cardinals prior to last season, he took a hard line that Pujols wanted A-Rod's contract as a baseline and was willing to go to free agency and take his chances if the Cards wouldn't meet that asinine number, 10 years at $275 million.
That's hardly negotiating in good faith—or even with the most remote thought—that you purportedly want to be a Cardinal for life. That's negotiating to where you want to have 10 houses for life.
Pujols proved by playing the Cardinals against the Marlins, Angels and possibly the Cubs that all he cared about was his ego and about becoming the second-highest-paid player in baseball history.  
In my mind, and I'm sure the minds of many Cardinals fans in the Heartland this morning, he doesn't have a shred of credibility left. In my mind, Pujols is worse than LeBron. He's a complete phony.
LeBron left a team that couldn't build around him for a ready-made championship threat for less money than what he could have gotten to win the elusive title(s) that he'd been unable to capture alone.
Pujols left a team that continually spent money to build around him with pitching and hitting.  He left a team that had just carried him to a championship two short months ago. And just like LeBron, Pujols left a small-market city that was obsessed with him for a bigger market and $44 million more.
What makes Pujols any better than LeBron? Nothing, because he's worse.
Pujols put on the humble, soft-spoken, wholesome, "let my bat do the talking" act for 11 years in St. Louis. Under that persona, he won three NL MVPs (though it could have been more had it not been for a roided-up Barry by the Bay) and a pair of championships in St. Louis.
But when it came time to show his true colors, he became just another greedy athlete.  And he should be treated as such going forward.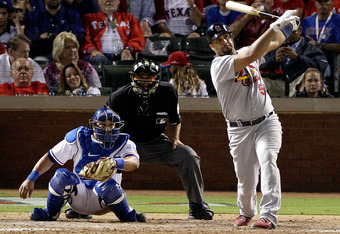 Rob Carr/Getty Images
What's the difference between making $21 million a year and $25 million a year? Four million, I know—but what's really the difference? A few more bags of Scrooge McDuck money to cushion his ego.
Now, I'm not going to be a Cleveland fan and tell you all to go out and burn your Pujols jerseys. I don't have one, and even if I did, I wouldn't burn it. Seems dumb and pointless to me. 
But he gets zero love from this Redbird fan for the rest of his career.  
I'll always look back fondly on his time in St. Louis and what he was able to do for this organization. Only an elite handful of players in the illustrious history of this game had the type of first decade to a career that Pujols had.
But he's dead to me now.
Thankfully, he won't be slugging home runs in the NL with the Marlins or Cubs.
And thankfully, the Cardinals won't be doomed by having $45-plus million tied up in Pujols and Holliday for the next five years.
I'm also glad that the Cards won't be paying an elderly Pujols $25-plus million a season when he's breaking down faster than A-Rod minus the steroids.
But all of that brings little comfort today.  
I wish I could be a bigger man and wish him good luck. I wish I could say thanks for the memories. I wish I could cheer for him and adopt the Angels as my AL team.
But the best I can give you this morning, Phat Albert, is this: I wish you Mo Vaughn's luck!