Albert Pujols' Money Grab Makes Me Sick as a Cardinals Fan
December 8, 2011
Ed Szczepanski/Getty Images
The post-Albert Pujols era begins right now.
He's gone. He's not coming back. Baseball, like life, is full of pain and suffering and it's all over much too soon. I'm annoyed. Sour grapes? Yes. Irrational? You bet. Philosophical? More than I'd like to admit. It is time to start moving on. It is time for the Five Stages of Free Agent Loss.
1. Denial
Cardinals fans are disappointed, but this is a team rooted in history, a history larger than any one player. We will rise above.
I think Cardinal Nation, intellectually, understands that $250 million with no trade for a guy who will be in his 40s when it's all over is just too much. It is too steep. A small percentage of players even makes the All-Star team after 38. Things are going to be OK. One superstar player doesn't make a champion. He really only had one good game in the World Series, and one key hit in Game 6. He's getting older. He'll break down.
I Am Jack's Smirking Revenge.
2. Anger
I really feel pretty sick about the deal.
I am Jack's Raging Bile Duct.
I knew La Russa knew something we didn't. I didn't want to believe the reports of Pujols putting his house up for sale.
I wanted to see Pujols in a Cardinals uniform for the duration. Even if the Cardinals never won another World Series, even if Pujols declined sharply over the next 10 years, he was The Man. He was the face of the franchise for the last decade. He was an institution.
The Cardinals floated a sizable offer of $220 million over 10 years.  Many people considered that total to be high. I really think the Cardinals front office did as much as could reasonably be expected. Albert shrugged off 10 years of loyalty, a secured transcendent legacy playing for what is really his hometown team, and he decided to take his talents to Long Beach.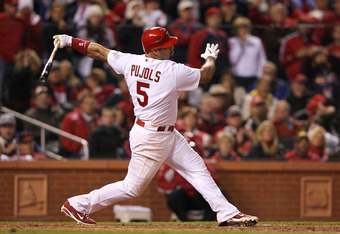 Jamie Squire/Getty Images
OK, fine. Good luck, Anaheim. I wanted to believe Pujols stood for more—but in the end it was just a money grab.
3. Bargaining
OK, we've just freed up a ton of scratch and we can use it to get Prince Fielder. He's younger. He's got that crazy beard. He has a "beast mode" setting. It's going to be OK.
Alright, and if he goes to the Cubs there's always...um...Derek Lee? No, please no.
I am Jack's Cold Sweat.
Brad Hawpe? Hmm, maybe. Then there's Jimmy Rollins, potential starting shortstop and leadoff hitter.  I'll take Rollins and Fielder anytime.

4. Depression
What's the point anymore? Big-market teams are always going to claim the best players.
But this is something more than just winning. I believe St. Louis will continue to win without Pujols. They have a great organization with a consistent long-term plan.
But no, this is about the Pujols jersey I have in my closet, the Fathead poster on my wall, the bobble head on my dashboard. This is about taking my kid to Busch Stadium and saying, "There's Albert, one of the greatest of all time, and he's ours."
Why get attached? Sports make demands that we get attached, and then the machine of sports rips our hearts out time and again.
Now I am this year's Cleveland Cavaliers fan.
I Am Jack's Complete Lack of Surprise.
Unless you live in New England or Southern California, you learn to say goodbye. Flyover country is just a glorified farm system for these teams. I don't want to see Pujols putting on that Angels jersey—I'll have to live this over and over.
It's like continually seeing your ex-girlfriend with that jerk you always hated in high school. Oh no, there's Torrriiii Hunter on JRIB talking about Pujols. It's just the price I pay. Destiny is calling me. Open up my eager eyes.
I'm Mr. Brightside.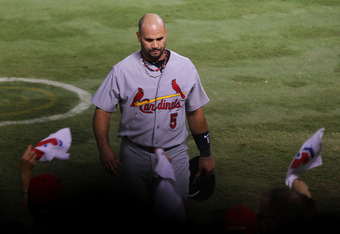 Ezra Shaw/Getty Images
5. Acceptance
Some might say I'm forgetting the first two noble truths of the Buddha. I am not!
1. Suffering exists
2. Suffering exists from attachment to desires.
And so suffering ceases when attachment to desires ceases.
I Am Jack's Broken Heart.
I am detaching. The candle is fading. The lights are turning off. The locker room door is closing. The locker is cleared out. I face a winter of uncertainty and discontent.
But I look forward to pitchers and catchers reporting in March. I look forward to Opening Day. I turn to the old poem:
The old game waits under the white,
Deeper than frozen grass.
Down at the frost line it waits,
To return when the birds return.
-Donald Hall