Albert Pujols Signs with LA Angels: Vernon Wells Is the Happiest Man in Baseball
December 8, 2011
Jeff Gross/Getty Images
When Albert Pujols and the Los Angeles Angels agreed to a massive 10-year, $254 million deal, the impact on the Halos, the AL West and baseball in general was enormous. 
The Angels, who finished 10 games out of first behind the AL champion Texas Rangers, not only signed a future Hall of Famer in Pujols, but perhaps the best hitter in all of baseball. His effect upon the Angels lineup and their chance at success in 2012 will be considerable. 
It's possible that the man who will most benefit from the signing, aside from Pujols of course, will be LAA outfielder Vernon Wells.
Pujols replaces Wells as the highest-paid player on the Angels, helping to alleviate much of the scorn that the outfielder received after his miserable debut season in Los Angeles.
Wells was acquired by the Angels ahead of the 2011 season, in a trade for catcher Mike Napoli and outfielder Juan Rivera. As a three-time All-Star, as well as thrice a Gold Glove recipient, the Wells move was met with excitement from Angel fans.
However, 2011 represented Wells' worst season as a big leaguer, as he struggled with injury and poor performance throughout the entire year, drawing jeers from significant portions of the Angels' fanbase.
Taking on Wells' massive contract which called for $26.2 million in 2011, as well as $21 million each year from 2012-2014, was viewed as risky, but his track record of success in Toronto led many to believe he could rebound and benefit from a change of scenery.
Unfortunately, that never came to pass, and Wells had a horrific debut which saw him benched multiple times throughout the year.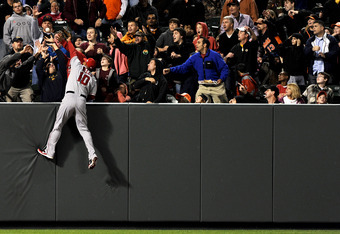 Patrick Smith/Getty Images
Over 131 games, he hit only .218 with a paltry on-base percentage of .248. Though he managed to slug 25 home runs, he only drove in 66, posted an OPS of .660 and an OPS+ of 83. 
Not exactly the type of production you expect from a player making in excess of $20 million per season. The thought of paying Wells $63 million over the next three seasons haunts Angels management and fans alike.
His struggles were amplified by the immense breakout season that Mike Napoli produced in Arlington after the Blue Jays flipped him to the Texas Rangers. A frustrating figure for a few years in Anaheim, Napoli had a career year, proving to be a vital force for the Rangers in their second consecutive AL championship season.
However, despite the bitter taste left over from the Wells deal, the Angels didn't shy away from making another massive financial commitment with the Pujols deal. With an average annual value of $25 million, Pujols now assumes the title of the highest-paid Angel, helping to take some of the focus off of Vernon Wells.
Wells couldn't be happier.
Last season, Wells was the second-highest paid player in all of Major League Baseball, trailing only Alex Rodriguez. With his putrid season, Wells was easily the least valuable of the 10 MLB players earning $20 million or more in 2011, aside from Johann Santana who missed the entire season due to injury.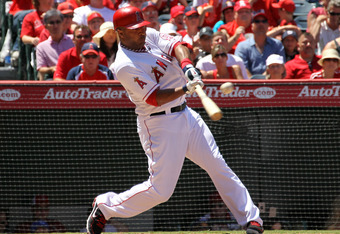 Stephen Dunn/Getty Images
With Pujols now in Anaheim, the Angels now have a brand new focal point of their lineup, who not only vastly improves their offense, but may help Vernon Wells increase his production in 2012.
It may seem impossible for Wells to replicate his forgettable 2011 season, so to some, the only way to go is up.
Now, he no longer bears the burden of the biggest contract in Angels history, as his has been trumped by the immense deal given to Pujols. The pressure will now be on Prince Albert to produce, as the Angels will count on him to reinvigorate an offense that was one of the weakest in the AL last season.
The Angels were 10th in runs scored in the AL, as well as 11th in on-base percentage, placing far too much pressure on their pitching staff to shut down the opposition every night. With Pujols now in the fold, the offense stands to receive a significant boost, and with the acquisition of C.J. Wilson, the pitching staff is likely to be greatly improved as well.
Now that Pujols will be the focal point of the Los Angeles lineup, Wells can hit somewhere deeper in the order, where the onus to produce All-Star-caliber numbers won't be as great. With lessened pressure upon his shoulders, it could help the one-time star return to his previous form, giving the Angels a deeper lineup than they've had in years.
Of course, the arrival of Pujols displaces Mark Trumbo and the long-injured Kendrys Morales, two slugging first basemen who were expected to compete for the job in 2012. It has been rumored that Trumbo may try his luck at a transition to third base, a position at which the Angels don't possess a clear-cut favorite. Alberto Callaspo manned the hot corner primarily in 2011, but an upgrade has always been desired.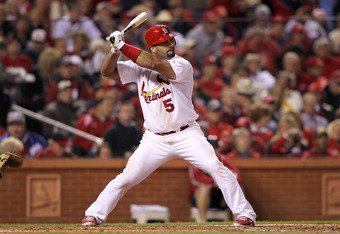 Jamie Squire/Getty Images
It's possible that the presence of Pujols now makes Trumbo, second-place finisher in the AL Rookie of the Year race, a valuable trade chip for the Angels that they could potentially exchange for help at third or in the bullpen.
Morales could also be moved, but his trade value is likely considerably less after he has missed almost two full seasons as a result of his freakish leg injury sustained during a celebration of a walk-off grand slam in May 2010.
One of the two could potentially serve as the Angels designated hitter, giving the Halos a potent core of their lineup along with Pujols, Howie Kendrick, Torii Hunter and a hopefully rejuvenated Wells.
Certainly, with a bat like Albert Pujols buoying the Angels lineup, fans won't expect as much from Vernon Wells and the reduced pressure could benefit him greatly.
The chorus of boos that so often accompanied his name in 2011 may dissipate, allowing him to focus on simply playing baseball, rather than continually attempting to justify his massive contract.
If such an occurrence comes to pass, Vernon Wells may not only be the happiest man in LA, but in all of Major League Baseball.