Albert Pujols Mega-Deal: What Does This Mean for Prince Fielder?
December 8, 2011
Christian Petersen/Getty Images
With the news that Albert Pujols has signed a massive, 10-year, $250-260 million contract with the Los Angeles Angels of Anaheim, shock waves have begun to ripple throughout baseball.
The Cardinals and their fans are left stunned, shocked to be saying goodbye to their superstar first baseman and the man who helped lead them to two World Series titles during his time in St. Louis.
In Florida, the suddenly free-spending Miami Marlins are re-evaluating their free agent options since they had made signing Pujols one of their priorities ahead of opening a new stadium in 2012.
Back in the AL West, the Texas Rangers are scrambling for a response as their primary threat within their division has strengthened themselves considerably. Not only have the Angels signed Pujols, one of the most potent hitters in the game, but they also swiped C.J. Wilson from under the noses of the Rangers, signing last year's Texas ace to a five-year, $75 million deal shortly after the Pujols deal was announced.
Around the American League, other powerhouse clubs such as the Yankees and Red Sox are left wondering what they can do to improve their chances of fending off the vastly improved Angels.
Perhaps the one individual most impacted by the Pujols signing is fellow slugging first baseman and current free agent Prince Fielder.
The two had been inextricably linked as the premier free agents available in this year's player market. Not only did they share a position, but both had played their entire careers as direct rivals in the National League Central.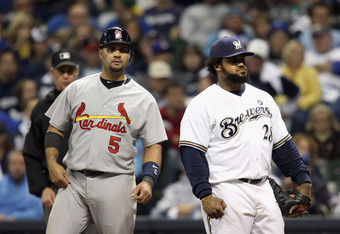 Christian Petersen/Getty Images
Fielder, though several years younger than the soon-to-be 32-year-old Pujols, hasn't garnered the same long-term deals as the Hall of Fame bound ex-Cardinal. At 27, Fielder is just entering his prime seasons, but his less-than svelte waistline has teams concerned that he will not age as well as Pujols, and that he will eventually be relegated to strictly DH duties.
His agent Scott Boras, a master manipulator who may be the best agent the game has seen, will no doubt be ecstatic that Pujols at four-and-a-half years older was able to secure a 10-year deal.
It is thought that the Pujols deal will possibly set a new benchmark for a potential Fielder deal.
With premium free agents now dwindling, Fielder stands alone as an impact bat that could be a game-changer for a franchise.
Over the last five seasons, Fielder has averaged 160 games played, 40 home runs, 113 RBI, a .951 OPS and a 151 OPS+. Though he has always been a below-average defensive first baseman, his potent bat and discerning eye at the plate would be a welcome addition to any lineup. In addition to his power, Fielder has averaged 101 walks over that five-year span. 
As the lone remaining star hitter on the free agent market, his stock just rose considerably, as the teams that missed out on Pujols and Wilson are now seeking an impact move to combat the dynamic maneuvering of both the Angels and Marlins.
In Texas, the Rangers could potentially be interested in Fielder as a way to bolster themselves against the suddenly revamped Angels squad,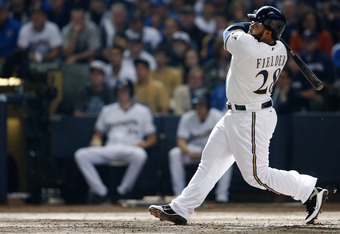 Jared Wickerham/Getty Images
St Louis, without their leader and centerpiece of their lineup, could throw their hat into the ring for Fielder. The Brewers are said to still be interested in retaining their slugger, but may not have the ability to compete in an inflated bidding war.
Miami, flush with cash ahead of their stadium's grand opening, could make another massive splash, in addition to the Jose Reyes, Heath Bell and Mark Buehrle signings they've already completed. Reports have denied their interest in Fielder, but they remain a team to watch.
The Cubs, long-rumored to be after Pujols and Fielder, very well may intensify their interest in Fielder, as they seek to overcome a few seasons worth of ineptitude in Chicago. Needing a first baseman, as well as an anchor in their lineup, the Cubs seem like an obvious potential landing spot for Prince.
Whichever way the free agent winds take Prince Fielder, he is undoubtedly thrilled to see his one-time NL Central counterpart sign an incredibly lucrative, long-term deal. With his primary competition now out of the way, Fielder stands to benefit greatly from the massive commitment to Albert Pujols.