Gauntlet Dropped: LA Angels Winter Meetings Day 3 Roundup
December 8, 2011
Jamie Squire/Getty Images
For those of you who have stuck with the Angels through the first two grueling days of the MLB Winter Meetings, get ready, it just got serious.
Remember all those doubters from yesterday who said the Angels weren't really in on Pujols?  It's still 50/50 whether they (and by they I mean me) were right.  General Manager Jerry Dipoto downplayed any interest in Pujols, gave no updates on C.J. Wilson and laid out the possibility of upgrading the bullpen.  
Then today happened.
The Angels did upgrade their bullpen with the acquisition of veteran reliever LaTroy Hawkins.  Hawkins was the primary setup man in Milwaukee last year before the arrival of former Halo Francisco Rodriguez and posted a 2.42 ERA.  For one year, Los Angeles have a great clubhouse leader and mentor for Jordan Walden.
At best, the Angels got the finest deal of the meetings by improving their clubhouse and acquiring one of the better setup men around for only $3 million.  At worst, the Angels improved their clubhouse but did nothing to their bullpen for $3 million.  
It's hard not to see this as a win-win situation for the Halos and another expertly-conducted move by Jerry Dipoto.  
One can't help but marvel at the great blend the Angels clubhouse has now.  Veterans like Abreu, Wells, Hunter, Hawkins and Downs provide a wealth of wisdom (experience plus knowledge) for younger players.  Local products like Trumbo, Conger, Haren and Weaver give the Angels a SoCal feel and could make fellow native C.J. Wilson feel at home.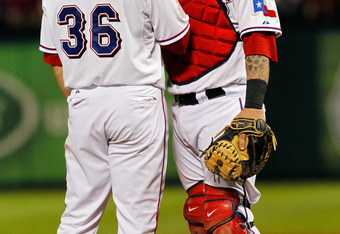 Tom Pennington/Getty Images
It also doesn't hurt pitching for a team that has two of the best center fielders in baseball (Bourjos and Trout) and one of the best of all time playing in right field (Hunter). 
But that wasn't the most newsworthy portion of the day.  The Angels have reportedly jumped into the deep end of the pool, pulling a "Miami Marlin" and pursuing targets that even the Yankees and Red Sox only dream of.
I'm talking of course about Albert Pujols and the aforementioned C.J. Wilson.
The Angels have been in deep negotiations with Pujols' agent and have reportedly offered the free agent slugger 10 years and $210 million.  Jon Paul Morosi and Jim Bowden have both reported that C.J. Wilson has agreed to sign with the Angels and an announcement will be made Thursday morning. 
If these are true, then the Angels will have positioned themselves to make a serious run at the World Series.  No team in baseball could match a 1-5 of Weaver, Haren, Wilson, Santana and WIlliams. Putting Pujols into the middle of a lineup surrounded by speedsters like Aybar, Bourjos and possibly Trout should generate a lot of runs.  
It also means the Angels may find themselves attempting to shed additional money any way they can. If both Pujols and Wilson are signed, the Angels will more than likely find new homes for either Trumbo or Morales, Izturis or Callaspo, Abreu and possibly Ervin Santana.
And if the Angels fail on both fronts, then they'll still have the reputation for falling short on big-name free agents and will likely pursue cheaper options like Hiroki Kuroda and possibly Aramis Ramirez. Either way, this party is just getting started.  
Stay tuned.  For those of you who would like to discuss Angels strategies with me on Twitter, feel free to follow me @ScottyAllenLAAI