Toronto Blue Jays Rumor Mill: With Kelly Johnson Signed, Is Gio Gonzalez Next?
December 8, 2011
Otto Greule Jr/Getty Images
With Richard Griffin of the Toronto Star reporting that second baseman Kelly Johnson has accepted arbitration from the Blue Jays, one more box has been checked off Alex Anthopoulos's Christmas shopping list.
Now the team will turn its attention to acquiring a front-end starting pitcher, and the hottest name on the trade market right now is Gio Gonzalez of the Oakland A's.
Before we dig in to that, it's important to point out a few things about the Johnson signing. By accepting arbitration, Johnson gets a one-year, non-guaranteed contract that will most likely be in the $7 million to $7.5 million range.
And then there's this excerpt from the Griffin piece:
"Anthopoulos also explained that in an earlier telephone conversation he told Johnson's agent, Mike Milchon, that there was a chance that if Johnson accepted, he could become a left fielder...
'...Kelly's got positional flexibility as well," Anthopoulos said. "He played a lot of left field before. We talked about signing him as a left fielder. There's absolutely a scenario where he could be a candidate for left field. So we haven't ruled (that) out if there's a player we can get.'"
Interesting. During Johnson's rookie year in 2005 he did play 79 games in left, although he's been exclusively a two bagger ever since. However, he did play 125 games in the outfield while in the minors, most of that in left. 
Does this make Eric Thames and/or Travis Snider trade bait? Is Gordon Beckham still a target for second base?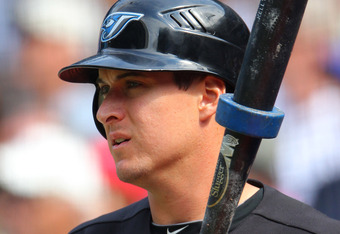 Tom Szczerbowski/Getty Images
If Toronto is able to pry Beckham away from Chicago and Johnson plays LF, this not only stabilizes the infield for the next five-plus years, it allows Gose a full year of development in Triple-A stress free. An entire season until the tutelage of hitting coach wunderkind Chad Mottola could do wonders for the young star-in-waiting.
So it appears, at this early stage at least, that even with the imminent re-signing of Johnson that second base could still be in play.
What about Gonzalez? Susan Slusser of the San Fransisco Chronicle tweeted that the Jays were "in on Gio." This was later confirmed, via Twitter, by Jeff Blair of the Globe and Mail, who thinks this could become a three-team deal.
However, Joel Sherman of the New York Post throws water on the fire by claiming that Oakland GM Billy Beane is asking far too much and will most likely not deal Gonzalez during the Winter Meetings as a result.
What's "too much," you ask? If Oakland is using the Dan Haren trade as a parameter, when they received a package of seven prospects that included Brett Anderson and Carlos Gonzales, then it may be more than Anthopoulos is willing to give up. Think Deck McGuire and Carlos Perez just to get the conversation started
When you also consider that Gonzalez is far better at home in pitcher-friendly Oakland Coliseum than he is on the road (2.70/1.23 vs. 3.62/1.42), combined with a high walk rate makes him a risky proposition for Toronto.
Having said that, Gonzalez is the type of player Anthopoulos loves: young and controllable with team held arbitration rights until 2016 when he'll become a free agent (if he doesn't sign a long-term contract by then). He could form quite a nucleus with Romero, Morrow and the emerging Henderson Alvarez.
There's also something attractive about a lefty strikeout artist coming off two consecutive 200-plus inning campaigns.
For some further intrigue, the LA Angels appear to be the front-runner to sigh C.J. Wilson. If this were to happen, then Ervin Santana or perhaps even the aforementioned Haren could become available.
Either way, there is a lot of movement out there still to happen