Manchester United, Manchester City: EPL Contributes to Champions League Exit
December 8, 2011
Jamie McDonald/Getty Images
The one thing I remember from all of the civics courses I took from fifth grade through college is that re-election is of paramount importance to elected officials at all levels of government.  Most candidates make promises as to what they will do to reform government but ultimately realize their influence and legacy is tied to remaining in office. 
Therefore, instead of executing some of their bolder initiatives, they tend to resort to politically safe alternatives guaranteed to secure votes in the next election.
As I watched the final games of the Champions League group stage, I realized this phenomenon was not exclusive to government.
Enter Manchester City and Manchester United, the two best clubs in the world's most distinguished domestic league.  Equipped with world class managers and players, truckloads of cash (boatloads in City's case) and a rapidly growing international fan base, these teams are indisputably two of the five most capable clubs in the world.
As such, the Manchester powerhouses were expected to at least advance to the quarterfinals, if not the semifinals or even the finals.  Naturally, football fans around the world were shocked to learn that neither side even made it out of their group.
Most of these fans rightly fail to understand the dichotomy that is their clubs' league play and their Champions League play.  How could City steamroll United and Tottenham but barely sneak past Villareal?  How could United best Arsenal by six goals but not even draw with lowly FC Basel in an absolutely crucial match?
Quite politically, top English Premier League teams now care far more about qualifying for the Champions League than they do about winning it.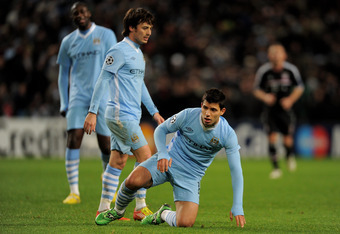 Michael Regan/Getty Images
A quick glance at the EPL Table confirms my suspicion.  City remains five points clear atop the schedule, second place United are closely followed by Tottenham, Chelsea, Arsenal, Newcastle, and Liverpool.
While Newcastle may eventually succumb to the pressures of competing for points against clearly superior opponents, the other four clubs have a wealth of elite players with extensive Champions League experience. 
In other words, there are six supremely qualified teams vying for only four Champions League spots.
Realizing that continually qualifying for the Champions League is the only way to keep both players and fans content, the EPL managers for these clubs seem primarily focused on winning their domestic matches. 
According to this conservative reasoning, if a club qualifies for the Champions League group stage in enough consecutive seasons, it will eventually have a chance to win or at least make the finals. However, if the club fails to even qualify, top players may grow impatient and decide to play elsewhere.
Assessing the other top leagues in Europe, it seems no other elite club endures such extensive pressure. 
Barcelona and Real Madrid players need only concern themselves with "El Clasico" and Champions League Football as their third teams would destroy the tame opposition they face each week in La Liga. 
Bayern Munich recorded one of its worst seasons in recent memory and still qualified for the Champions League with a third place Bundesliga finish.
Olympique Lyon somehow continues to qualify for the Champions League despite persistently underachieving.
There are still enough qualification spots from Serie A for traditional powers Juventus, AC Milan, and Internazionale to each qualify for Champions League football (assuming one of these teams doesn't completely tank).
Nevertheless, while the EPL's Champions League delegates seem to be suffering from more difficult league circumstances than their opponents, don't be surprised if the battle-hardened group stage survivors Arsenal and Chelsea prove to be surprisingly resilient in the latter stages of the tournament. 
Quite frankly, neither team will encounter any team much better than the opponents already on their weekly schedules.