2011 Bowl Games: Capital One Bowl a Must-Win for South Carolina Gamecocks
December 7, 2011
Streeter Lecka/Getty Images
In Steve Spurrier's time at the University of South Carolina, he has delivered plenty of milestones for the Gamecocks' football program.  
Under his watch as coach, South Carolina has won a SEC East crown, defeated the No. 1 team in the land, beat the Gators in The Swamp and achieved a 10-win season for only the second time in school history (the first being in 1984).
Year after year, the Ole' Ball Coach has possessed a top-25 recruiting class, making South Carolina relevant again.
One of the few things that Spurrier has yet to master is finishing a season on a strong note (1-4 in bowl appearances).  Well folks, a win against the Nebraska Cornhuskers this year would do just that. 
After the dismissal of Stephen Garcia and the season-ending injury to Marcus Lattimore in week seven, Spurrier has his team poised to win 11 games for the first time in school history.
Since Lattimore's injury against Mississippi State, Connor Shaw and company are 4-1, only losing to Arkansas in Fayetteville, 44-28.  Even though the Gamecocks lost, the game served as a turning point for Shaw, who actually looked comfortable in the pocket late in the loss.
The Gamecocks even dominated in-state rival Clemson at home, winning 34-13 in front of a national audience (4-3 under Spurrier against the Tigers). 
A media firestorm was set off after Dabo Swinney, head coach of the Clemson Tigers, felt slighted by some comments that he thought tarnished his school's name.  The whole situation was kind of ridiculous and Swinney looked quite silly.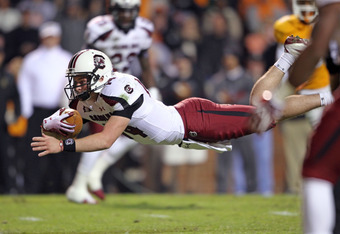 Andy Lyons/Getty Images
Spurrier deserves to win SEC Coach of the Year honors for the job that he has done with South Carolina.  Although, if Les Miles received the award, it would be tough to argue with after the season his LSU Tigers have had. 
With a victory over Alabama in the BCS National Championship game, LSU could defeat nine ranked opponents, including four wins over the top four in the nation.
I digress though.
The Capital One Bowl is a must-win for the Gamecocks.  Some players may be worried about what free swag will be waiting for them in Orlando, but make no mistake, Spurrier's Gamecocks need to beat Nebraska on Jan. 2.
Besides the obvious advantage of having some good publicity for recruiting purposes, the football program could capture its first 11-win season.  Not to mention, South Carolina could finish a season strong for once.
The Gamecock faithful have had to sit through too many seasons where South Carolina comes out of the gate like gangbusters, then flushes away a potentially great season. 
Spurrier has kept Carolina bowl eligible every year he has been in Columbia—something no other coach in South Carolina's history can claim.
When the game against Nebraska concludes in Orlando, Spurrier should have one more achievement that no other coach in Gamecock history has—an 11-win season.