NHL Trade Rumors: What Do Detroit Red Wings Need To Offer for Alexander Semin?
December 7, 2011
Nick Laham/Getty Images
The Detroit Red Wings find themselves in a familiar place: back-to-back losses.
Detroit's goal scoring has been a huge concern in their losses, but Detroit has other concerns that top goal scoring; the biggest concern this season has to be consistency (or the lack thereof when they are losing).
The two biggest keys to Detroit winning right now are their total shots and their penalty kill.
Detroit is 13-6-1 when they outshoot their opponents, but only 3-3-0 when they are outshot by their opponents.
Obviously, Detroit needs to outshoot their opponents more consistently, but they also need more quality shots.
Enter Alexander Semin.
With the Capitals actively shopping Semin, now might be the perfect time for the Red Wings to take advantage of this optimal situation.
According to that report, the Red Wings are the "most likely able to pull off the right package" to attain Semin.
Many fans and hockey analysts alike might not see this as an optimal situation for the Detroit Red Wings, as Alexander Semin is currently suffering from a terrible "mid-career" scoring drought, has just two points in his last 10 games played and has been scratched the last two games.
He also has just 10 points in 23 games played this season, does not contribute on the penalty kill and he doesn't seem to be contributing very much offensively.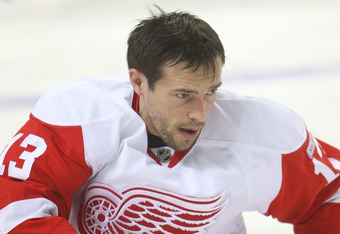 Tom Szczerbowski/Getty Images
So how the heck is Semin going to help this Red Wings squad?
Well, history tells us that Semin cannot continue to struggle as he has so far this season. Semin put up 54 points last season in an injury-shortened year for him as he only played 65 games. Prior to that, Semin had not put up fewer than 28 goals in a season since the lockout and has put up 34 goals or more three times in that span.
Any Red Wings fan would be more than happy to take that kind of production over anything that the Red Wings second and third lines have showed thus far.
The big problem with Detroit is that they do not have a legitimate goal scorer after Franzen, and Franzen only scores in bunches; he doesn't consistently put up points over multiple games in a row.
Datsyuk and Zetterberg have each turned into passers, although they do still put up goals as well.
But after Datsyuk, Zetterberg and Franzen, the only other real scoring threat this season has been Filppula, and now Filppula is out for a few games after that freak injury that occurred when his leg was cut with a skate.
In my opinion, right now is the right time for Detroit to make a move to get Semin.
Lidstrom may retire at the end of this season and after that, the Red Wings may not seriously be considered a Stanley Cup champion.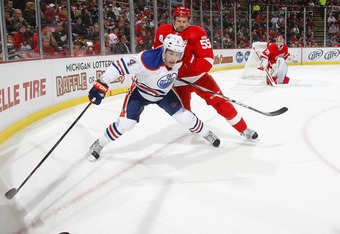 Dave Sandford/Getty Images
Detroit must make the move for Alexander Semin and get that bona fide goal scorer that they have lacked (outside of Datsyuk, Zetterberg and Franzen) for the better part of the last decade.
To get Semin, the Wings would have to unload some serious talent, but the result would be Semin getting back on track and helping the Red Wings, who are in serious need of another sniper on their team.
Here's how I would see it panning out:
To Washington
Jiri Hudler (remaining salary of $1,895,946)
Jonathan Ericsson (must waive his modified no-trade clause first; remaining salary of $2,143,243)
Detroit's first-round pick in 2012 draft
Detroit's third-round pick in 2013 draft
To Detroit
Alexander Semin (remaining salary of $4,418,378)
Dmitry Orlov (remaining salary of $496,967)
The key to this deal would be getting Ericsson to waive his no-movement clause. As to why Holland would include a no-movement clause for such a mediocre defenseman is beyond me. If this clause was moved, the Capitals were remotely interested in Jonathan Ericsson before the free-agency period started and Detroit re-signed him to what some thought was an oversized $3.25 million deal for three years.
Detroit reportedly took a hard run at Semin last season, and with all the Russian players that have played for Detroit over the years, it wouldn't have been a surprise to see Detroit try to work some deal out that would have put Semin in a Detroit uniform.
Getting rid of Hudler (who scored for the first time last night since mid-October) would give the Red Wings an opportunity to get a replacement for Ericsson back on the blue line.
Who is Ericsson's replacement?
Dmitry Orlov. Orlov is a solid defenseman who can contribute offensively (he already has three assists in eight NHL games) as well as defensively.
Unlike Ericsson, Orlov is actually physical and is not afraid of taking the body, using his hip checks to make statements in the open ice. The probability of the Capitals giving him up is slim to none, but with the first-round pick in 2012 and a third-round pick in 2013, I think it might be enough to pry him away from the Capitals.
The X-factor in this proposed trade is salary cap space.
Detroit would come out with (per CapGeek.com) about $4,730,249 in cap space.
Washington, the team that actually needs cap space here, would come out with (per CapGeek.com) about $876,156 in cap space.
Suggesting that Jonathan Ericsson waive his no-trade clause to go play for Washington might be crazy, but if the Capitals want to trade Semin badly enough and the Red Wings offer them the "right package," it could go through.
Maybe something like this would work out closer to the trade deadline if a move has not been made as of then.