Tim Tebow Fever Hits Absurd High Mark with Nonsensical Nike Ad Campaign
December 7, 2011
Hannah Foslien/Getty Images
The Tim Tebow situation is getting completely out of hand. People are running out of ways to fall all over him.
The young Broncos QB still has plenty of detractors, but that number is quickly diminishing with each dramatic comeback Broncos victory. And his throng of supporters just gets louder.
ESPN's Skip Bayless has an awkward man-crush on Tebow. He can't go more than five minutes without tweeting something similar to this.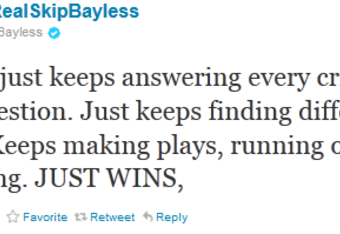 Bill Cosby released a video asking people to appeal to Tebow's powers to grant good weather while he is in Denver. He is also singing his praises as a football player.
There are even personalized Broncos jerseys like this appearing in stadiums.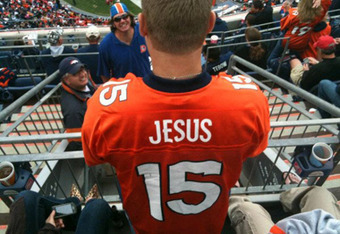 Talk about high expectations!
Anyway, given this amount of attention, it is certainly not surprising that Nike has swooped in to use Tebow to assist them in selling overpriced shoes.
Tebow was already a part of team Nike, but they have decided to up the ante by giving him the real "star" treatment. That means solo ads and a fancy slogan.
Here is a picture of an upcoming ad.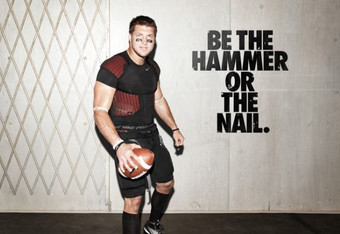 So many things about this ad jump out. First of all, what is he dressed for? Is that what Tebow wears under his uniform? Or did the cameras catch him walking out for a bit of rugby?
That could be. He has a sort of guilty "you got me look" and body posture.
Still, it is not the image that is hilarious, but the slogan. "Be the hammer or the nail." What? Those are my only two choices?
I have to be honest with you, Nike, I'm not sure I like either of those options. Can't I still be like Mike? That seemed like way more fun.
Come watch the Denver Broncos. Our QB is a hammer. That should sell some tickets. 
Why didn't the shoe company just say, "Be the ant or the Nike shoe stepping on it," or "Be the hitting thing or the thing getting hit by the hitting thing"?
I can't help but think of a DUI campaign when I see their slogan. "Drive hammered, get nailed." They may have been trying to conjure up different illusions, though. 
As Weed Against Speed suggested, this could be just an attempt of Nike to play up all the Jesus imagery that people like to mention with Tebow. If so, it failed with me.
They won't get my attention on that front until they release a shoe that allows you to walk on water. Water-Walker Tebows would be more iconic than Air Jordans—as long as they looked fresh.