Eric Lindros and the Philadelphia Flyers Live out the Prodigal Son Story
December 7, 2011
Steve Babineau/Getty Images
Let me just start by saying this article has to be my most internally conflicting piece by far. Eric Lindros was a player that came here via a trade that had many Philadelphia Flyer fans doubtful of Bob Clarke's judgement. Then left on a note of "not fast enough" in August of 2001.
I still think had the trade not happened it could have been us in the mid '90's hoisting the cup and not the Colorado Avalanche. Is that a reason to hate Lindros though?
Had Bob Clarke put an actual hockey team around Lindros and not an NHL version of a WWE royal rumble cast, the  Flyers could very well have won a cup. Instead they got swept by a superior skilled Detroit team.
It seemed when the trade with New York happened, Eric Lindros had come full circle as a Philadelphia Flyer. With the Winter Classic approaching, it appears that way again, much like the Prodigal Son story.
To draw the comparison with the fable let's first rewind the clock to 1992 when Larry Beruzzi ruled in arbitration that the Quebec Nordiques trade Eric Lindros to the Philadelphia Flyers.
In return the Nordiques received a king's ransom as they got Hart Trophy-winning Peter Forsberg, Ron Hextall, Steve Duchesene, Kerry Huffman, Mike Ricci, Chris Simon, two first-round picks and $15 million in cash!
Hence the father at the demand of his son, divided his estate.
Lindros would go on to live a wild life in Philly as the son in the story did. In the strike-shortened '95 season, he led the Flyers to a conference finals appearance after a five-year playoff drought. He was awarded the Hart Trophy; the implications were stifling.
The Flyers made the playoffs every year during the Lindros era.
In 1997 they rolled through the playoffs, even annihilating division rival New York Rangers who just so happened to have on their roster the remaining nucleus of the Edmonton Oilers dynasty from the 1980's. The same Oilers led by Gretzky and Messier who knocked off the Flyers in two Stanley Cup finals — what bitter sweetness to finally get some payback.
Then it all came crashing down. The Redwings swept the Flyers in a landslide drubbing. Coach Terry Murray made remarks indicating his team "choked,"  when clearly they were out just in over their heads. 
The Son's wealth dwindles.
In 1998 Eric Lindros would suffer a first of multiple concussions. His toughness and leadership became questionable.
A punctured lung in 1999 almost ended his life if roommate Keith Jones had not discovered Lindros very ill in their hotel room and insisted against trainer's wishes that he be taken to a hospital immediately.
Another concussion in the next season ended Lindros' captaincy as he criticized team doctors for not properly diagnosing him.
Later in the season Lindros returned as the Flyers found themselves in a heated conference finals against the New Jersey Devils.
The Flyers had a three games to two lead in Game 6. Lindros scored their only goal in that loss and failed to beat the buzzer on another attempt in the second period which would have extended the game.
We all can remember the tragic ending in Game 7 as Lindros rumbled through the neutral zone with, gulp, his head down again and Scott Stevens closed in for what looked like a career ending hit, blatantly placing his elbow into Lindros' head.
The Son finds himself broke and seeks work with pig farmers.
Not willing to accept the Flyers' qualifying offer the following season to extend his contract, Lindros is soon traded.
After sitting out the entire season 2000-01 season Lindros was traded to the New York Rangers. He would go on to play with the Toronto Maple Leafs and Dallas Stars.
Lindros almost made his return in 2008 when he was invited to a Flyer Captains ceremony. Unfortunately he had a funeral to attend and could not. Part of me thinks he had a convienant excuse but who can blame him.
He was run out of here like a myriad of athletes in Philadelphia. Some deserving some not. In Lindros' case I can't quite pinpoint if it was the failures of so many promising seasons which turned people into raving lunatics (with the combinations of some certain tabloid rumors), or if they just didn't appreciate what they had.
Either way it was time for him to leave and he did.
The Son realizes the pig troughs he slurps from are nothing to the crumbs his father's own servants could spare him and he returns.
Appointed to be the NHL's ombudsman is nothing compared to the notoriety of being a Flyer great reaping the rewards of Philadelphia admiration. Just ask former players like Rick Tocchet, Bill Clement and even Keith Jones. They are celebrities in Philly.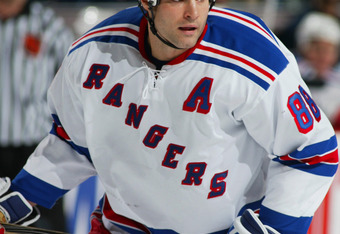 Rick Stewart/Getty Images
A guy like Lindros doesn't want to be buried in the stockpiles of old or unsung heroes working outside the spotlight. He was by all rights supposed to supplant Gretzky as the "Great One." Unfortunately injuries and controversy stopped him short.
If guys like Keith Jones and Chris Therien can be adored then so can Lindros. No slight against them but "Jonsey" and "Bundy" had as much skill combined as Lindros had in his broken wrist.
Lindros was a guy that resurrected the Flyers out of the NHL toilet after missing the playoffs five straight years.
Now with Philadelphia hosting a Winter Classic game which is preceded by an Alumni Game, Lindros has his chance to win back the hearts he left broken so many years ago.
The older brother (divided fanbase on the subject) should be proud that an NHL great donned our jersey and made our  team a contender year in and year out.
The Father (Ed Snider, Holmgren and Clarke) can rejoice because they have their lost son back amongst their family and one just as worthy now rising in their ranks.