What Could Be: Round 1 of College Football Madness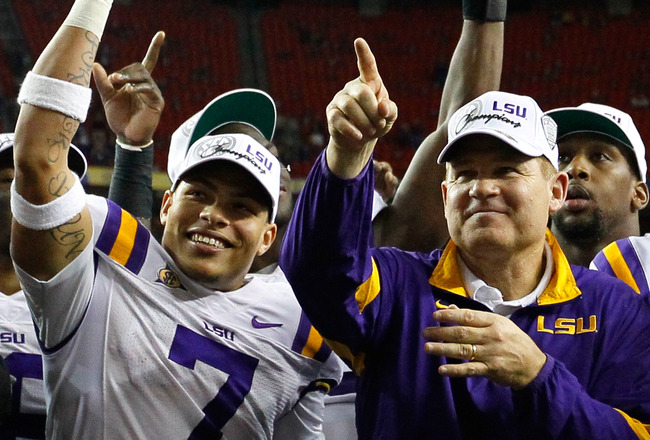 Would they outlast a playoff system?
Kevin C. Cox/Getty Images
Sure, the BCS probably got it right this year—Alabama and LSU are the best two teams in the nation. However, why does a non-conference champion get to play for a national championship? Why do we, as college football fans, have to watch a rematch?
Wouldn't it be exhilarating to combine the nerve racking nature of a March Madness-type tournament with the intensity and popularity of college football? I have taken the Top 16 teams in the country, seeded them accordingly and matched them up in a four round, single-elimination tournament to determine the true national champion.
Let the College Football Madness begin!
No. 1 LSU vs. No. 16 TCU
LSU will face giant-killer TCU
Chris Graythen/Getty Images
LSU Tigers
LSU enters the postseason as the hottest team in the country, having finished the regular season 12-0 and capped it off by drubbing Georgia 42-10 in the SEC Championship.
LSU dominated all season, winning high profile ranked matchups against No. 2 ranked Alabama, at the time, No. 3 ranked Arkansas, and defending national runner-up Oregon. This defense is full of stars—Heisman finalist Tyrann Mathieu, Mo Claiborne, Sam Montgomery, and Sam Montgomery.
In addition to this stellar defense, the offense has consistently put up points. First, it was Jarrett Lee. Now, much maligned quarterback Jordan Jefferson has added a new dimension to the Tiger offense, leaving people in the Bayou dreaming of another national title.
TCU Horned Frogs
TCU doesn't have the stars Les Miles has in Baton Rouge, nor did the Horned Frogs match the success of the 2010-2011 campaign, where Gary Patterson's team earned a birth in the Rose Bowl.
However, the Horned Frogs did lose team leader Andy Dalton, as well as other playmakers on both sides of the ball. The 2011 season consisted of close losses to Baylor and SMU and a huge win over then No. 5 and new conference foe, Boise State, giving TCU the conference title.
The Matchup
LSU's defense, under former Tennessee assistant John Chavis, has been consistently one of the top three defenses in the country since week one versus Oregon. TCU can score some points, finishing ninth nationally in points per game. However, TCU competes in the Mountain West Conference, while LSU competes every weekend in the most competitive conference in America.
LSU's surging offense will put up enough points while their defense holds TCU to minimal yards compared to their usual 444 YPG.
LSU wins, 27-6.
No. 2 Alabama vs. No. 15 Baylor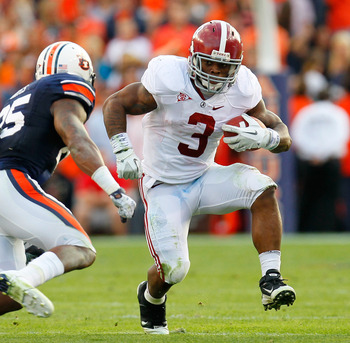 Heisman Finalists Battle Between Alabama and Baylor
Kevin C. Cox/Getty Images
Heisman Quality
This would have to be the most exciting matchup in the first round of College Football Madness, as Heisman finalists Trent Richardson and Robert Griffin III (aka "RG3") battle it out for a spot in the quarterfinals.
Alabama Crimson Tide
Alabama has been one of (if not the) strongest team in the country, with their only loss coming in overtime against SEC West rival and nation's No. 1 LSU. Alabama also defeated national powerhouses Penn State, Arkansas, Florida and arch-rival and defending National Champions Auburn.
Alabama met expectations this year with a record of 11-1, despite losing wide receiver Julio Jones, quarterback Greg McElroy and Heisman trophy-winning running back Mark Ingram. However, rookie starter A.J. McCarron has kept the ball safe, and running back Trent Richardson could the best player in the country. The Alabama defense is ridiculous. How does Nick Saban keep rebuilding this team—especially this defense?
Baylor Bears
Baylor has been the nation's Cinderella—an under-the-radar program with a potential Heisman winner at quarterback boasting one of the program's greatest seasons in history. Baylor started off the season with a close victory against an always-talented TCU team, and then a typical Baylor letdown against a Kansas State team they should have outscored.
As the season progressed, so did RG3. With each game, Griffin III seemed to have the Heisman moment most dreamed about having only once per season. RG3 led Baylor to back-to-back wins versus the Texas Longhorns and Oklahoma for the first time in school history, helping the Bears attain a 6-3 Big 12 record.
The Matchup
This game is extremely exciting to think about—Baylor's high-powered offense led by RG3 versus Nick Saban's stout Alabama defense. The Crimson Tide defense ranks first in the nation in pass defense and in the top three in nearly every defensive category, which is something Griffin must fear.
The difference in the game? Trent Richardson. Richardson is a bruising back that will burst through a relatively weak Baylor defense and set up the play action for young quarterback A.J. McCarron.
RG3 keeps Baylor in it for a while, but Alabama's defense holds tough.
Crimson Tide win, 38-26.
No. 3 Oklahoma State vs. No. 14 Clemson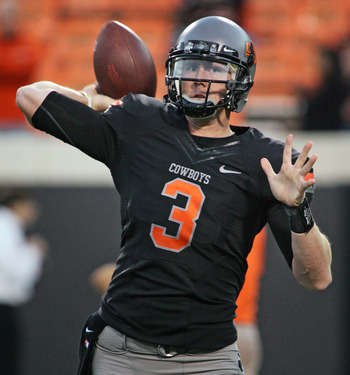 OK State QB Brandon Weeden faces an inconsistent Clemson D
Brett Deering/Getty Images
Oklahoma State Cowboys
Oklahoma State had a great season, finishing 11-1 and being crowned Big-12 Champs. However, the 2011 season will always be remembered in Stillwater as the season a perfect record got away at Iowa State. The Cowboys, a much more talented and experienced team, were upset by the Iowa State Cyclones while ranked No. 2 in the country.
Despite the disappointment of the letdown at Iowa State, Mike Gundy's team was one of the most complete, most exciting teams to watch in 2011. With first-round wide receiver prospect Justin Blackmon, experienced quarterback Brandon Weeden and a much-improved defense, OK State outscored opponents by nearly 26 PPG.
Clemson Tigers
Clemson's season was a tale of two seasons. The Tigers started out 8-0, with a BCS ranking of No. 5. Tajh Boyd was a Heisman trophy contender, while freshman wideout Sammy Watkins was being touted as the most talented skill position player in the country. Dabo Swinney's electric attitude fueled his team game in and game out, as their intensity beat out every opponent—then came Georgia Tech.
After having trouble stopping Paul Johnson's triple option attack and dropping a conference game in Atlanta, Clemson lost to NC State and got dominated by arch-rival South Carolina for the third year in a row. Dabo and his Tigers got back on track in the ACC Championship game by thumping Virginia Tech for the second time this season.
The Matchup
The Clemson defense was thrashed on the ground against NC State, then gave up nearly 500 yards of total offense against a usually inept South Carolina offensive unit. This game should be a shootout, seeing as how neither team's pass defenses are that strong. However, I see Oklahoma State's defense being a little more talented than Clemson and forcing Tajh Boyd to escape pressure.
The Cowboys win a barn burner, 56-45.
No. 4 Stanford vs. No. 13 Michigan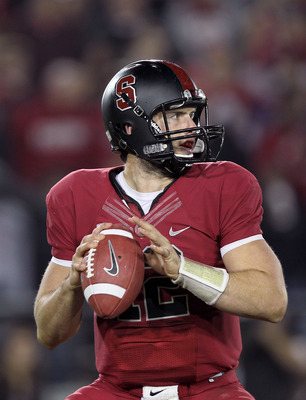 Andrew Luck leads the Cardinal against Big Blue
Ezra Shaw/Getty Images
Stanford Cardinal
Despite losing electric coach John Harbaugh to the NFL, the Stanford Cardinal got behind head coach David Shaw and star quarterback Andrew Luck, and repeated the success of Harbaugh, going 11-1 for the second consecutive season. Stanford has a powerhouse offense that scores a ton of points out of a pro-style offense. Andrew Luck calls his own plays, which just conveys his incredible football IQ. While Luck and the offense is the most talked about part of the Stanford team, their defense has been ranked in the top 30 in most categories.
Michigan Wolverines
Big Blue is back under new head coach Brady Hoke, a Michigan alum that guaranteed a quick turn around from the Rich-Rod era which was nothing short of abysmal. Hoke took over a talented team in Ann Arbor, especially with athletic quarterback Denard Robinson. But, Michigan could score points under Rich-Rod, so what was the biggest difference in the Wolverines going 10-2 in 2011? The answer is Brady Hoke's defense which finished seventh in the nation in points allowed. Hoke, who served as a defensive coach at Michigan for seven years, brought a sense of tenacity missing in Rodriguez's Michigan teams.
The Wolverines won a close game versus Notre Dame early in the year, then finished the year by drubbing a hot Nebraska team and breaking a losing streak against arch-rival Ohio State.
The Matchup
While Stanford's defense has been underrated but very solid for first year head coach David Shaw, Stanford has had trouble stopping fast-paced offenses. USC racked up 48 pts in 3OT and Oregon ran all over Stanford for nearly 500 yards and 53 pts. When a team puts a lot of pressure on Andrew Luck he gets rattled, as we saw in the Oregon game where Luck threw two interceptions. Hoke's defense will put plenty of pressure on Luck and Denard Robinson and the Michigan rushing attack will have success in Palo Alto.
Michigan pulls away late and achieves the upset, 27-20.
No. 5 Oregon vs. No. 12 Michigan State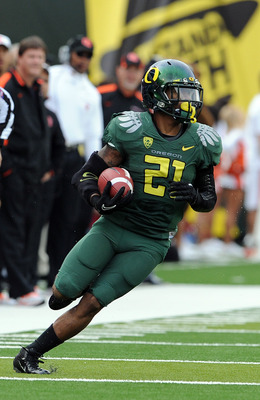 Oregon's high powered offense faces a stout Spartan Defense
Steve Dykes/Getty Images
Oregon Ducks
Chip Kelly just keeps getting it done in Eugene. A season after finishing runner up to Auburn in the BCS National Championship, Kelly led Oregon to an 11-2 record and a victory in the first annual Pac-12 Championship Game.
Sure, the Ducks were predicted by many to get back to the national championship game, but dealing with these high expectations cannot be easy. Oregon's offense looked like it always does—throwing and running past opponents for an average of 46 points per game. Oregon dealt with plenty of injuries, missing star running back LaMichael James and starting quarterback Darron Thomas for a couple of games. Oregon's schedule was leaps and bounds tougher than their 2010 campaign as well, starting the season off with No. 1 LSU, playing and defeating No. 4 Stanford and battling a 10-2 USC team.
Michigan State Spartans
Michigan State came in the season a lot like Oregon, having completed a solid 2010 campaign with high expectations for 2011. Mike D'Antoni's Spartans dealt with expectations with great poise as well, reaching the first annual Big Ten Championship game versus Wisconsin in a revenge game for the Badgers.
Michigan State suffered disappointing losses to rival Notre Dame and new Big Ten foe Nebraska. The Spartans looked like an experienced team, winning close games in cold, Midwestern weather. Kirk Cousins and Le'Veon Bell led an above-average Michigan State offense. But much like their neighbor to the southeast, Michigan State was led by their stout defense, stifling teams for less than 18 points per game.
The Matchup
Michigan State's strong defense can keep up with the Ducks in the first half. However, the athleticism and speed of Oregon will out last D'Antoni's Spartans.
James scores several times in the second half and the Ducks win, 34-20
No. 6 Arkansas vs. No. 11 Kansas State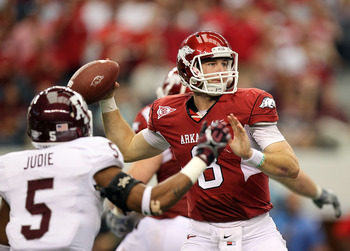 Tyler Wilson and Arkansas look to outmatch KState
Ronald Martinez/Getty Images
Arkansas Razorbacks
If Arkansas had been playing in the SEC East, or any other conference for that matter, perhaps they would be the No. 1 or No. 2 seed in this tournament. However, the Razorbacks were forced to play both LSU and Alabama as members of the SEC West. Head Coach Bobby Petrino came into 2011 after leading Arkansas to a 10-3 campaign in 2010. However, Ryan Mallett was backing up Tom Brady and All-SEC running back Niles Davis was hurt in fall camp and was ruled out for the entire season.
Petrino's Razorbacks didn't skip a beat, as new starting quarterback Tyler Wilson slung the ball around to one of the most talented receiving corps in the nation. Backup running back and kick returner Dennis Johnson led the Razorback on the ground and played so hard and was often so effective he had Arkansas fans forgetting about the loss of Davis. Arkansas' defense showed glimpses of brilliance in wins over South Carolina and Tennesee, and early in an eventual lop-sided loss to LSU.
Kansas State Wildcats
Kansas State is perhaps the most surprising team in all of college football in 2011. Bill Snyder's Wildcats finished a mediocre 7-6 in 2010 and came into 2011 facing many questions. The Wildcats ran a very conservative offense, with quarterback Collin Klein rushing for more than double the amount of touchdowns for which he threw. It wasn't like KState was able to rely on a stout defense, either. The Wildcats ranked a mediocre 71st in the country in scoring defense, yet they found a way to win week in and week out.
Despite the slow-paced offense, Snyder's team was able to beat RG3 and Baylor's high powered attack, and outlasted SEC-bound Texas A&M in four overtimes.
The Matchup
This has to be the most lop-sided matchup of the first round outside of LSU/TCU. Arkansas' offense is just far too talented and deep to be stopped by Kansas State's mediocre defense. The Wildcats will control the clock and keep the score lower than expected, but Snyder's magical season comes to an end in the first round.
Arkansas wins, 37-17.
No. 7 Boise State vs. No. 10 Virginia Tech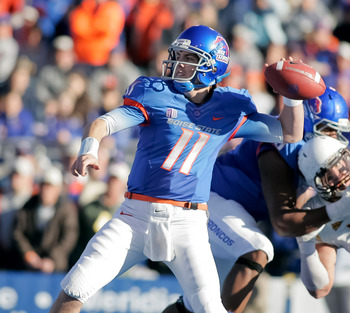 Kellen Moore faces a Hokie Defense with no confidence
Otto Kitsinger III/Getty Images
Boise State Broncos
Boise State had the type of season you'd expect Chris Petersen's team to have: nothing serious, just win 11 games. Every year, you can pencil in Boise State for 11 wins at least, and normally a conference championship. In their first (and apparently only) year in the Mountain West, Boise lost the conference title to TCU.
Boise State did start the season off with a statement game however, defeating SEC East Champion Georgia in the Georgia Dome. Kellen Moore looked sharp against an SEC defense, as he did the remainder of the season against the soft defenses of the Mountain West. This team's defense is statistically sound as well, ranking 10th in scoring defense. However, just like Kellen Moore's passing, this defense hasn't faced too much stiff competition outside of Georgia and TCU.
Virginia Tech Hokies
Virginia Tech has lost to one team all season—twice. The Hokies could not defeat the Clemson Tigers in the regular season or in the ACC Championship game. Finishing the season 11-2, Frank Beamer's team was exposed by the Tigers in every facet of the game. Logan Thomas improved throughout the year for the Hokies however, throwing for 19 touchdowns as a first year starter. Bud Foster's defense was supposed to be tough, and statistically it was, ranking eighth in the nation in scoring defense. But watching the Hokies play Clemson, it appears the ranking was a product of the weak ACC schedule.
The Matchup
Boise State doesn't lose big postseason games, and Virginia Tech cannot seem to show up for one. Beamer has more experience than Petersen and Virginia Tech probably has more athleticism and talent than the Broncos, but Boise doesn't lose this game. There are too many problems with Va Tech's defense to keep up with Kellen Moore and Boise.
Boise knocks off a second big conference school this season, taking down VT for the second time in as many years, 31-13.
No. 8 South Carolina vs. No. 9 Wisconsin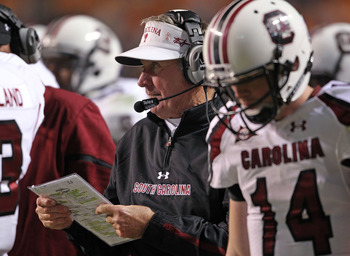 Steve Spurrier's Gamecocks face a potent Badger attack.
Andy Lyons/Getty Images
South Carolina Gamecocks
South Carolina came into the 2011 season with the highest expectations in school history—predicted to repeat as SEC East Champions and challenge for a national championship. However, Steve Spurrier could have never predicted this roller-coaster of a season.
After defeating Georgia in a close Battle Between the Hedges, the Gamecocks looked to be in the driver's seat in the East. However, after a disappointing loss to Auburn at home on a disputed last second call, Spurrier lost his fifth-year, All-SEC quarterback, his Heisman caliber running back, an all-conference defensive back and a starting offensive tackle.
Despite these injuries, Spurrier's team rose to the occasion and finished the season a surprising 10-2. Sophomore quarterback Connor Shaw protected the ball on offense, something Spurrier could never get former starter Stephen Garcia to do. Shaw ran and passed the Gamecock offense into contention and simply relied on one of the best defenses in the nation. Ellis Johnson, South Carolina's defensive coordinator, led the Gamecocks to a top three ranking in almost every defensive category along with powerhouses LSU and Alabama.
Wisconsin Badgers
Wisconsin had to deal with high expectations much like other teams in this Top 16 playoff format. Brett Bielema welcomed a new quarterback to Madison, fifth-year transfer Russell Wilson (who actually wanted to transfer to South Carolina first). Wilson threw and passed the Badgers to a 6-0 start, with talks of a national championship and a Heisman trophy coming back to Madison because of the new quarterback's great play.
However, Wisconsin lost a controversial game versus Michigan State on a Hail Mary, then lost a must-win against a less-talented Ohio State team. Montee Ball has become one of the top running backs in the nation, running himself to New York as a Heisman finalist. In addition to Wilson and Ball's near-record 38 touchdowns, the Wisconsin defense ranks in the Top 10 in several defensive categories, helping them win the first ever Big Ten Championship Game.
The Matchup
This is going to be a low-scoring game. Both teams have great defenses, consistent quarterbacks and one superstar playmaker (Alshon Jeffery and Montee Ball). I fail to see a defense that Wisconsin has played all year that matches up to the level of South Carolina. Steve Spurrier will keep the offensive play-calling conservative, run the read-option and rely on Clowney and Ingram on defense.
South Carolina wins a close one late, 20-16.
Round 2 Matchups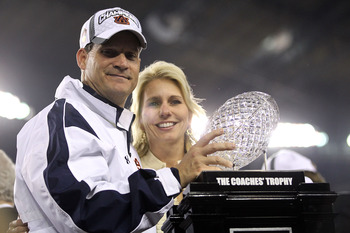 Eight teams are remaining in the quest for the crystal ball.
Ronald Martinez/Getty Images
No. 1 LSU vs. No. 13 Michigan
No. 2 Alabama vs. No. 8 South Carolina
No. 3 Oklahoma State vs. No. 7 Boise State
No. 5 Oregon vs. No. 6 Arkansas
Keep Reading