What Steve Nash Means to the Phoenix Suns and Their Fans
December 8, 2011
Christian Petersen/Getty Images
Steve Nash could be a Phoenix Sun tomorrow, or he could be on a completely different team. One week it's the Dallas Mavericks, and the next week he's anywhere else but Phoenix.
I've heard some Suns fans say they want Nash to be traded to a contender and others express their desire for Nash in orange and purple. It seems to me like most Suns fans are willing to trade Nash and move on. I myself have thought repeatedly about if I would rather have Nash in Phoenix or be traded to try for a title, which he rightfully deserves.
Initially, the Suns fan in me tells me the team needs Nash and will struggle without him. This leads me to dig deeper and think about what makes Nash so special.
The first thing that comes to mind is his unselfishness—no one in the NBA sacrifices more than Nash. He could have easily been a more offensive player throughout his NBA, as he has the ability to shoot the lights out, but he has largely deferred in his career. Until last season, Nash was not the main scoring option for any team he had been on. He had Shawn Marion, Amar'e Stoudemire and Dirk Nowitzki to set up and rely on to be the main scorer.
Next, I think of his loyalty. He's been through it all as a Phoenix Sun—sensational highs and depressing lows. He went from one game away from the NBA Finals to missing the playoffs altogether the next season. He's lost teammates like Shawn Marion, Amar'e Stoudemire, Jason Richardson and Joe Johnson. He's lost the coach he has been most successful under in Mike D'Antoni.
Through all the change, all the disarray, there has been one glaring constant on the Suns, and that is Steve Nash. Never has he complained, never has he wanted out; he's stuck with the team and genuinely loves to be a Phoenix Sun.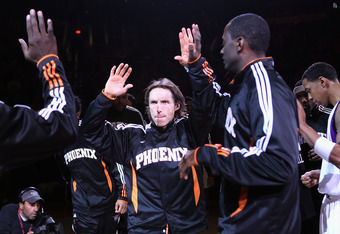 Christian Petersen/Getty Images
Finally, I think of his unique fan appeal. Look at the current Suns roster and try to find another player who could possibly draw in fans. No one even comes close to Nash. The closest thing is Marcin Gortat, and while he is a good player, he's not exactly the type of player who entices fans to buy tickets. Flat out, Nash puts people in the stands.
The unique thing is he really does love each and every fan who supports him and the team. He repays the fans by giving it his all every night, staying committed to the team and sacrificing his last years of basketball to be a Sun.
After thinking of the positives, I had to think of the negatives of having Nash on the team. It was tough to come up with negatives, and I did come up with two: his inferior defense and his age. Obviously Nash's stature makes him a defensive liability, especially when teams key on him and try to exploit his lack of defense.
Then there is his age, as Nash will turn 38 during this season. It's always tough to have that much mileage, especially when he is heavily counted upon by the team. That age is magnified even more when considering he plays for a team in the middle of choosing between rebuilding and contending for the playoffs. 
After considering both the positives and the negatives, I still can't convince myself whether Nash should stay or go. I have come away with one thought, though, and that's that Nash means a great deal to Phoenix Suns fans.
Steve Nash is the heart and soul of the entire franchise, and management owes a great deal of its ticket sales to him. Just look around US Airways Center during a Suns game, which I have done, and all you see is Nash jerseys. Sure, there's the occasional Gortat or Channing Frye uniform, but the vast majority is Steve Nash's No. 13.
In my opinion, Nash means the world to Suns fans, and that's something that can be agreed upon by all NBA fans.