Albert Pujols Marlins Rumors: Questioning the Potential Signing
December 7, 2011
Ed Szczepanski/Getty Images
If everything I've heard in the past 24 hours is to be believed, then sometime soon Albert Pujols will be a member of the Miami Marlins. 
This is supposed to be met with happiness from Marlins fans. I'm not a Marlins fan (in fact, I'm a Cubs fan, so start writing your hateful comments and Billy Goat taunts now if you so choose to), and I'm not going to rain on your parade by criticizing the fanbase because ultimately I'm one of you—I live in South Florida, I love it, I love writing about the Dolphins (which I usually do) and love the Heat and Panthers. I know what it's like to get the unjustifiable hate from across the country that the Marlins and their fans are about to receive from the Pujols signing if it happens (as do most of you, I'm sure). 
However, baseball logic, baseball history, the new playoff format and the terms of the deal (10 years, more than $200 million) make me just a bit weary about the deal. 
I honestly don't think the Marlins need Albert Pujols. 
Now before you say, "Oh, well, he just wants the Cubs to sign him," let me answer that with the fact that I'd rather have Prince Fielder become a Cub because he's younger. It would actually work out better for me as a Cubs fan to let Pujols go to the Marlins simply because then if the Cubs lose out on Fielder, they can make one heck of a trade: Matt Garza, Carlos Zambrano (with the Cubs paying about 90 percent of Zambrano's contract) and cash for Gaby Sanchez and third-base prospect Matt Dominguez. 
On top of that, it weakens the Cardinals, which is fine by me. 
However, I don't think the Marlins need Pujols from a baseball perspective. What they need is front-line starting pitching.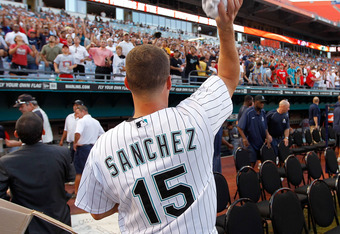 Mike Ehrmann/Getty Images
Last I checked, "The Machine" plays first base. 
Put Pujols into the Marlins lineup and it looks something like this:
1. Reyes SS
2. Bonifacio CF
3. Hanley 3B (he's not getting traded)
4. Pujols 1B (protect Hanley)
5. Stanton RF
6. LoMo LF
7. Baker C
8. Infante 2B
9. Pitcher
That looks like the best lineup in the National League. Now let's look at their rotation assuming they make the trade I suggest:
1. Johnson
2. Garza
3. Zambrano
4. Nolasco
5. Sanchez
Not bad, but not great—not really a World Series-caliber rotation.
The reason I point that out is because with a lineup the Marlins figure to put out on the field, they're not just shooting for winning the wild card every so often. That's a lineup that should win 95 to 100 games a season as long as the pitching is decent, which is what that rotation is: decent, but not great.
You know who else has a great lineup with a decent rotation? The Detroit Tigers. After Justin Verlander, what do you have? Decent. Decent will win you the division, but it's great pitching that wins the World Series. It's a cliche, but great pitching beats great hitting.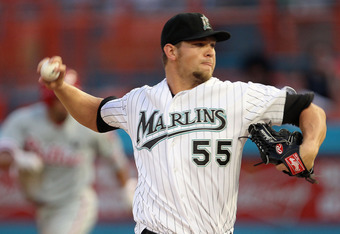 Mike Ehrmann/Getty Images
Now, I do think Josh Johnson can be like Verlander, but his health history says otherwise. Before I believe in Johnson being the horse that he has the talent to be, I need to see him go a full season without any trips to the disabled list. 
Even then, I'm not so sure I'm 100 percent confident in him starting a Game 7 against the likes of Roy Halladay, Cliff Lee or Tim Lincecum. 
That's where the new playoff system comes into play. What if the Marlins do win 96 games, but Philly wins 98? 
Under the old system you would take that, knowing the Marlins would still have just as good a chance as anyone. You'd celebrate because, hey, it's like 1997 and 2003 all over again. 
But the new system means that if you finish second in your division but have the best record among the non-division winners, then congratulations, you win a one-game playoff against the second-best non-division winner. 
Yes, a one-game playoff. Sorry to say this, but if the other team you're competing with has the better pitcher going in that game, you're likely to lose no matter what your lineup is. Great pitching beats great hitting. 
So, the Marlins start Johnson for that game and win, fine. Except Game 1 of the NLDS is only two days—or maybe even one day—later. Then how do you set your rotation?
Assuming they do get Garza and Zambrano, you look good for Game 1 and possibly Game 2 if Zambrano can get his stuff together. However, if they don't get any of them, then what?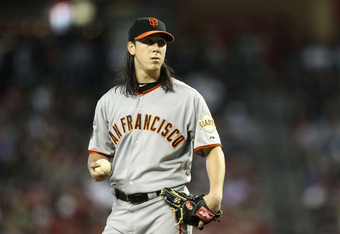 Christian Petersen/Getty Images
I like Ricky Nolasco, but do you trust him? Same with Anibal Sanchez. 
Finally, I have to bring up the doomsday scenario: What if in the long run the Marlins find themselves strapped for cash?
Personally, it seems like a possible problem, but I won't say it will be due to attendance because I honestly believe Marlins fans get a terrible reputation from the media (as do fans of all Miami sports teams). Remember, I live here too—even at one point held Marlins season tickets. I also know Sun Life Stadium very well. I don't think it's a good football stadium, much less a good venue for a baseball game, and I myself have had chances to go to games where I walk outside my house, see storm clouds and say, "Forget this." No one wants to make a possible two-hour round trip to see the grounds crew. 
So, I can't say it's attendance because while I think the Marlins estimates are a bit generous, I do believe 25,000 per game is likely. I also know the Marlins TV and radio numbers are very solid as well. 
But the Marlins are expecting money to come in from sponsorships. That will be more fickle. 
I say that because in the battle for sponsors the Marlins have to compete with the Heat, Dolphins and even now the Panthers. Odds are, no matter whom they sign, the Marlins won't get Heat and Dolphins money, but it will be higher than the Panthers. Only problem is, they're spending like they will be getting Heat and Dolphins sponsorship rates. 
What does this mean for the team down the road?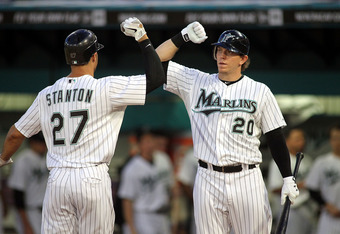 Marc Serota/Getty Images
It means with so much money tied up in Pujols, Jose Reyes and Heath Bell—along with the money tied up in Hanley plus whomever they'll add during the trade deadline next season as well as next offseason—they might have problems holding onto Mike Stanton and Logan Morrison. 
Those two players should be the guys they build around. Stanton is a star in the making—he has the talent but also the charisma and looks. He won't just be a baseball star in the coming years, but he'll also eventually find himself getting plenty of national endorsement deals. He'll be a true household name. 
Now, when he becomes a free agent, he will be heavily in demand, as will Morrison. With all of the money tied up that I mentioned, will the Marlins be able to keep Stanton away from signing with the highest bidder?
These are just concerns that I have with the team. I'm not hating, I'm not trying to be Jon Barry. These are legitimate questions that the Marlins are going to have to answer. I do think with this lineup they'll average about 94 wins a year for the next five years and will win at least three NL East titles during that span, but I'm not too sure about winning the World Series or even going to the World Series. 
I really think that even without Pujols, the numbers I suggested might be possible, but that's because if they don't get Pujols they will bring in better pitchers and can afford it, not just this offseason, but in future offseasons. 
All I'm saying, Marlins fans, is this: Buyer beware.