Los Angeles Angels: Day 2 of the Winter Meetings
December 7, 2011
At the end of day one, Halo fans found themselves giddy at news that the Angels were considered favorites for the top pitcher on the market and that their greatest competition came from the recently spend-happy Miami Marlins. 
The Angels had truly arrived as a team ready to compete for top free agents under the Dipoto regime.  To top it all off, Jerry Dipoto provided so many sound bits for the media that fans in the twitterverse literally spent hours reading and listening to every scoop on the Angels.   
Day two began as any other day at the winter meetings, lots of rumors, not a lot of moves.  The Angels too seemed to be caught in the stagnation that comes with the battle for top free agents. 
Representatives get into the habit of sitting back and allowing each team to up their offer as they gauged and reassessed the market.  Probably the best bit of information came down the line in the form of a transcripted interview with Mike Scioscia.  It's long, the dialogue is subpar and names are confused, but it offers a rare glimpse into the mind of Mike Scioscia.
Some fans, including myself, grew restless that the Angels came in with such high hopes only to be among the least active teams after day one, but perhaps the sliver lining in all of it was that the Angels were connected with just about every player.  Fans were sure to get their nightly sound bites from hero/General Manager Jerry Dipoto at the end of the day and everything would be right with the world. 
Then came the tweet read 'round the world.
This is what Twitter was made for—media time w/ #Angels GM ppd. Lots of decision-makers gathering in suite. Discuss #WinterMeetings  - Bill Plunkett OCR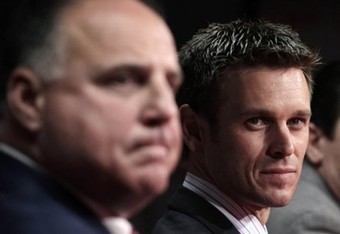 This wasn't right.  This new Angels regime had seemed so accommodating to the media and its fans. 
Something must be happening! 
This sent the Halo twitterverse into a frenzy.  Fans began speculating from everything between acquiring free agent starter CJ Wilson to trading No. 3 starter Ervin Santana. 
Surely something big was in the works and fans would be indulged soon, right?
40 minutes and counting. Still idling in lobby. The Suspense Builds. #Angels #WinterMeetings – Bill Plunkett OCR
Forty minutes, hold cow!  Something huge must be happening.  Nobody puts seventeen Angels executives in the same room for forty minutes without some serious decisions being made.  Bill Plunkett put it perfectly, the suspect builds.
One hour after the scheduled and postponed media conference…
9 people just left #Angels suite OC Sciscia Butcher Hatcher Lachemann Schmidt scouts. Group was heading to affiliates dinner. #WinterMeetings – Bill Plunkett OCR
What the...
Why would some of the Angels personnel go and grab dinner and some stay behind?  Furthermore, why would they keep the media waiting this long?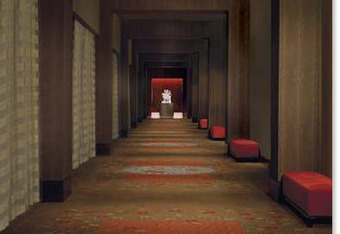 Poor Bill!
Two hours after the scheduled and postponed media conference…
Sitting in hallway off lobby charging phone battery. Suspense (and hunger) building. #Angels #WinterMeetings – Bill Plunkett OCR
I didn't envy our faithful Halo reporters by this time.  I had access to food, water, YouTube and MLBTR, all the essentials.  Meanwhile reporters were on the front lines suffering…
Three hours after the scheduled and postponed media conference…
Ball scribes hostage situation has entered 3rd hour. #Angels #WinterMeetings – Bill Plunkett OCR
This had become a full-fledged hostage crisis.  Had anyone checked the room to see if Dipoto was still alive?
Four hours after the scheduled and postponed media conference…
Secure from red alert. My annoying tweets earned us permission to get dinner, meet GM TBA. #Angels news pending. – Bill Plunkett OCR
Alas!  Fans no longer had reason to pity reporters anymore.  What we wouldn't give to be right there with them at the winter meetings, as long as we had food and internet.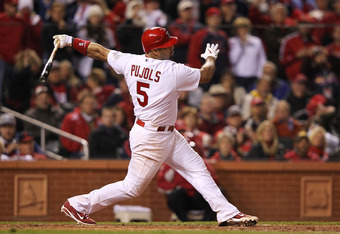 Jamie Squire/Getty Images
Five hours after the scheduled and postponed media conference…
Sources: #Angels pursuing Pujols. Ongoing conversations. #MLB – Ken Rosenthal
Jaw dropped…That can't be right, the Angels are the mystery team? 
The ANGELS, the team with two power hitting first basemen and only $20 million to spend were the mystery team.  This sent the Halo Twitterverse into a full on frenzy.  It's as if someone just threw a rock at a beehive and knocked it out of the tree. 
There was an onslaught of insider information, non-insider information and speculation from the fan and media alike.  For the record, I was first on the scene in an attempt at crowd control…
Really beginning to doubt Angels are the mystery team for Pujols. It simply doesn't add up. – ScottyAllenLAAI
Think about like this Angels fans: Theres so many more moves Angels would need to make in order to complete the team if they bought Pujols. – ScottyAllenLAAI
You're talking trading one or both of Morales and Trumbo to get SP & RP and cut payroll anyway you can, Abreu, Izturis, Santana. – ScottyAllenLAAI
Dipoto wants to be creative, but not that creative, does not want to blow up the roster. That's why this Albert Pujols rumor is likely bogus – ScottyAllenLAAI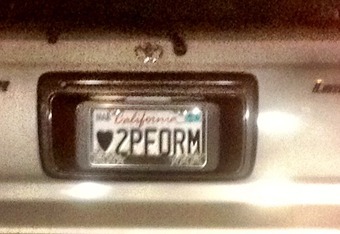 Seven hours after the scheduled and postponed media conference….
7 hrs after scheduled meeting, #Angels beat writers told by team official Dipoto was unavailable to us today. Nothing to announce – Bill Plunkett OCR
There you have it.  It's over.  No media conference. 
By this time the Albert Pujols frenzy had quieted down as fans and media alike came to their senses and realized what few had been preaching all along, that the Angels were not the "mystery team" in the Albert Pujols talks, but not before the hashtags #coneofsilence and #bloodbath had taken over any and every Angels-related tweet.
Day two of the winter meetings will surely be remembered as the day Jerry Dipoto and company sent the baseball world into oblivion just by sitting in a room with the door closed. 
And now I leave you with three tweets to cap the night off.
I seriously am laughing right now at Halo twitterers. You guys heard Pujols & shot off in a frenzy. Like overexcited puppies going on a walk – ScottyAllenLAAI
Uhhhhh – str8edgeracer (CJ Wilson) After posting a picture of a California license plate that says love to perform. 
Perhaps bringing fans in on where he's headed?
Angels are definitely not in on Pujols. Cubs have made contact. Beat goes on... – Tim Brown (Yahoo! Sports)