Big East's Proposed Football Additions Further Deteriorate Basketball Brand
December 7, 2011
Andy Lyons/Getty Images
Central Florida, Houston, SMU, Boise State and San Diego State.
These are the five teams that the Big East conference is set to add, according ESPN.com.  UCF, Houston and SMU would join in all sports; Boise State and San Diego State would join in football only. 
In addition, Navy and Air Force have been rumored to be added by the Big East, for football only.  That would give the league 12 teams, which would allow for two divisions and a conference championship game. 
The Big East would become the fifth league to have such an event, joining the ACC, Big Ten, SEC and Pac-12.
Obviously, the Big East is in scramble mode after losing Syracuse and Pittsburgh to the ACC, and likely losing West Virginia to the Big 12.  It's simply trying to find enough teams to maintain a competitive league and is hoping to put together a mix of teams just good enough to hold on to its automatic BCS bid when the BCS contract renews in 2013. 
For a league that was built on a strong foundation of basketball and great regional rivalries, this is yet another step in the wrong direction. Geographic absurdities aside, the teams the Big East plans to add to the league do nothing to help the league's competitive advantage in basketball.
Throughout its 30-plus year history, the Big East has never been regarded as an elite football league.
When the Big East was formed, its focus was building a premier basketball league by bringing together schools in the numerous urban centers in the Northeast and Mid-Atlantic regions.  This approach, combined with strategic additions in the mid-2000s, has helped make the Big East the best basketball league in the country over the past half-decade.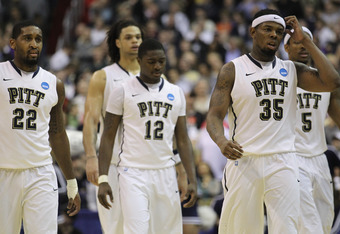 Nick Laham/Getty Images
Back in 2004, when Miami, Virginia Tech and Boston College were set to leave the Big East for the ACC, the conference responded swiftly and strongly.  The Big East added South Florida, Louisville, Cincinnati, Marquette and DePaul.  Adding these schools was a move that not only helped to offset the loss in football power, it actually made the league significantly stronger in basketball.  
This move made the Big East the clear number one basketball conference in the country.  Their record numbers of NCAA Tournament bids year after year has confirmed that.
Now, with the pending departures of Syracuse, Pittsburgh and West Virginia, the Big East seems to have shifted its focus entirely to finding football replacements for these teams.  It has yet to openly acknowledge the fact these schools—Syracuse and Pittsburgh in particular—were two of the very best the league had in basketball for the past decade.   
From what has been reported, there has been no serious attempt to add teams that would help maintain the pedigree the league holds in basketball
Louisville head coach Rick Pitino has repeatedly expressed his concern over this.  He has openly suggested that the league add Temple and Memphis—two schools who field FBS football programs and have excellent, deep traditions in basketball. 
This would be a very reasonable move, and both are actually east of the Mississippi.  Granted, Temple and Memphis can not measure up to Boise State or Houston in football prominence, but they would help to solidify the Big East in basketball after the losses of Syracuse and Pittsburgh.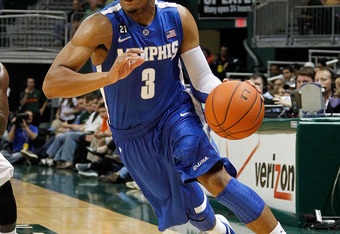 Mike Ehrmann/Getty Images
Speaking of losses, does the addition of these five—or seven—new teams mean for certain that schools like Connecticut and Louisville won't still leave the Big East? 
Would UConn now say "no" if the ACC called?  Would Louisville not be open to the possibility of helping the Big 12 get back to, say, 12 teams? 
If these two schools were to leave, it would obviously hurt the Big East's goals for football relevance, but it would be an even bigger hit to its still-elite basketball status. How would it respond to that, by going after East Carolina and Marshall?  Perhaps Nevada and Utah State would be open for discussion as well.
And what happens if, in 2013, the BCS decides to remove the Big East from the group of automatic-qualifier conferences? 
The league would be left with a mix of teams with few strong regional or historical ties and no prize of a $17-million BCS bowl spot.  Would it then take even more desperate steps to salvage future BCS hopes, which could even further diminish its basketball competitiveness? 
How far down this money-chasing road does it go?
It is a calculated risk the conference is taking—and it may pay off—but it is not wise to put all of its eggs in the football basket. 
The Big East needs to listen to Pitino and take logical steps to protect its identity, which is and likely always will be basketball.