Michael Bisping Puts the £ in Pound-for-Pound After TUF 14 Finale
December 7, 2011
I agree with colleague Darren Wong's piece about UFC middleweight and British MMA poster boy Michael Bisping not getting due credit, being overlooked as a top contender at 185 lbs. and being a man posed for a title crack against mainstay champion Anderson Silva in the near future.
With that said, after the Nevada State Athletic Commission released The Ultimate Fighter 14 Finale salaries yesterday, I'll be damned if "The Count" deserves close to half a million dollars for dismantling Jason "Mayhem" Miller for two out of three rounds in one of the most uneventful main events in recent memory.
Bisping's base pay—guaranteed money win or lose—against Miller was $275,000, along with a generous $150,000 win bonus for banking an unanimous decision. Luckily for the UFC, their British bad boy rakes in dollar signs, not his native British pound sign, saving the company a marginal amount due to the pound's stronger trade status in the global market.
Of course, for those of you fans privy to Mr. Bisping's fight salaries over the last couple of years, you shouldn't be surprised—the Brit has been banking serious money since UFC 100.
In fact, Bisping has been a perennial top grosser for a good portion of his middleweight venture in the UFC. These last two years have been especially kind to the Brit's wallet, keeping him far away from any local "dole" queues.
In 2010, only one man made more in the octagon, slightly edging out Bisping by $15,000—a surprising fact considering the fighter in question is UFC welterweight champion Georges St-Pierre, who is considered a pound-for-pound great by most measures. St-Pierre's stacks reached the $900,000 mark for that year.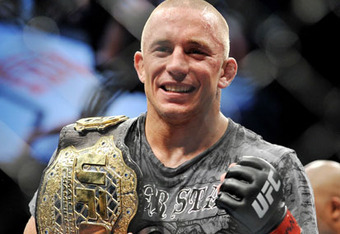 As this current year comes to a close, Bisping's financial situation remains the same. He continues to be the second highest grossing UFC fighter, taking home roughly $850,000 behind former champ and household name Tito Ortiz, who has cracked the million dollar club thus far.
We have to keep in mind some of these payday totals include fight night bonuses and were noticeably increased due to Bisping's winning ways. In a sense, he has somewhat controlled his monetary destiny by avoiding losses.
What is even more astounding about all these totals is that none of these include Pay-Per-View percentage shares. Keep that fact in mind throughout the article.
In addition, official payouts were not issued to the public for events held on foreign soil where there is no official athletic commission to maintain the practice.
Let's rewind back to UFC 100. Legend Dan Henderson unloaded a vicious $150,000 paycheck square on Bisping's jaw—nothing like six figures to help erase that photo shopped nightmare of a loss.
For the remaining time leading up to present day, the Brit earned a $40,000 "Fight of the Night" bonus on top of his base pay for defeating Dennis Kang at UFC 105 in England (safe to assume his guaranteed pay was around $150,000). He then cashed in around $175,000 for losing a close decision to Wanderlei Silva at UFC 110, and tipped the scale just over $200,000 by beating Dan Miller at UFC 114.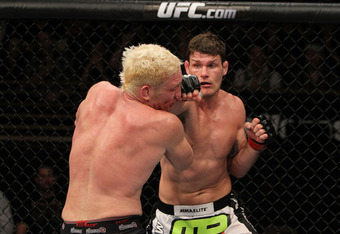 But, the cash really started flowing in during his last three fights: $385,000 (included $60,000 win bonus) against Yoshihiro Akiyama at UFC 120, a staggering $425,000 (included $150,000 win bonus) for each of his fights against Jorge Riviera at UFC 127 and Jason Miller at TUF 14 Finale over the weekend.
If the per fight breakdown and annual accumulative list wasn't convincing enough, let's put these numbers into perspective based on how they compare to fellow UFC stars. Here's a quick rundown of the UFC's most popular fighters and their base pay from their most recent fights.
This list will either convince you that Bisping is getting paid too much, deserving or not, or he's actually good enough to be elevated to the UFC's highest paid level.
BJ Penn: $150,000 (includes $75,000 Fight of the Night bonus), UFC 137
Junior Dos Santos and Cain Velasquez combined: $320,000, UFC on Fox 1
Dan Henderson and Shogun Rua combined: $415,000, UFC 139
Wanderlei Silva: $200,000, UFC 139
Cung Le: $350,000, UFC 139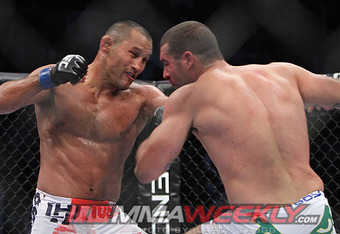 Urijah Faber: $64,000 (includes $32,000 win bonus), UFC 139
Frankie Edgar: $177,000 (includes $51,000 win bonus and $75,000 Knockout of the Night), UFC 136
Dominick Cruz: $40,000 (includes $20,000 win bonus), UFC Live
Jon Jones: $215,000 (includes $70,000 win bonus and $75,000 Fight of the Night bonus), UFC 135
Rampage Jackson: $325,000 ($75,000 Fight of the Night bonus), UFC 135
Anderson Silva: $200,000, UFC 134
Chris Lytle: $200,000 (includes $35,000 win bonus, $65,000 Fight of the Night bonus and $65,000 Submission of the Night bonus)
Georges St-Pierre: $400,000 (includes $200,000 win bonus), UFC 129
Randy Couture: $250,000, UFC 129
Lyoto Machida: $329,000 (includes $129,000 Knockout of the Night bonus)
As you can see, everybody on that list has mighty large shoes to fill if they disappeared tomorrow. With the exception of Chris Lytle, who has produced 10 fight night bonus worthy performances for the UFC, every man mentioned has a history with wearing Zuffa (UFC, Strikeforce, WEC and Pride) gold.
Clearly on the other side of the spectrum, there are guys who fight just as hard and who are arguably as talented as the high rollers, but make only a fraction of a Michael Bisping or Georges St-Pierre's win bonus.
To Bisping's credit, he has an impressive record that boasts only three losses (one was a split and the other was a very close decision loss) out of his 15 fights in the octagon. In addition, he's been the company's marketing spearhead into the UK's MMA scene for a while now.
Discrediting Bisping's career successes and his progression into the top half of his division would be an idiotic oversight.
But unfortunately, we also can't forget the fact that he has never fought for UFC gold—let alone worn it. Of the elite opponents Bisping has fought, he's lost. In the other column, he has decision victories over guys like Miller, Akiyama, Chris Leben—a split against Matt Hamill—and impressive TKO finishes over not-so-impressive opponents like Jorge Rivera and Jason Miller.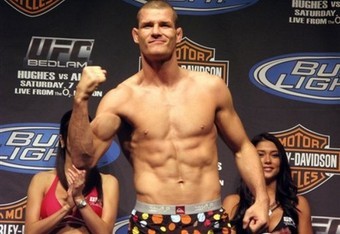 Possible scheduling difficulties aside, he's certainly not a work horse who will compete more than three times a year, and he's only mustered up two fight night bonuses.
Maybe I'm being too critical, but when you consider the level of pay, accomplishments and title implications throughout a career—especially a fighter from the earlier list—you start to wonder why Michael Bisping is cashing in on champion level paydays.
Obviously, it's hard to dissect a fighter's intrinsic value beyond the numbers, and maybe Bisping more than compensates his worth to his employer by being incredibly marketable overseas.
Regardless, the UFC seems fine with treating Michael "The I'm Counting My Money" Bisping like royalty. That happens to be the business that is keeps booming, so maybe we should all mind our own.
Follow me on Facebook and on Twitter @joeschafer84