Arkansas Razorbacks: 7 Things That Need to Be Fixed Before 2012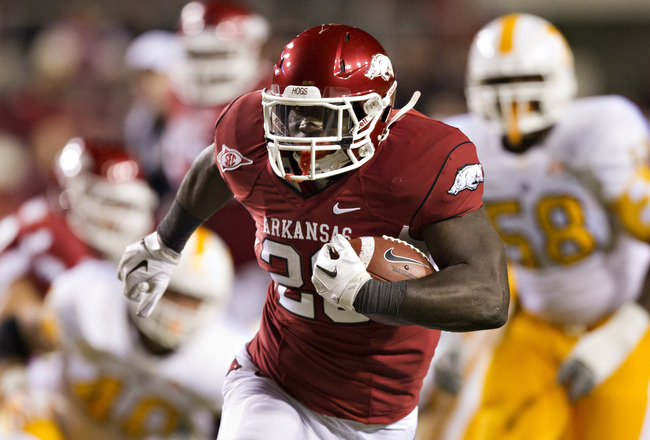 Wesley Hitt/Getty Images
Arkansas Razorback fans are undoubtedly frustrated with what they see as a BCS snub by not being selected as the at-large team to participate in the Allstate Sugar Bowl, but rather selected to play in the AT&T Cotton Bowl.
If Arkansas wants to get to the next level and play in some BCS bowls, there are changes that will need to be made before next season. If not changes, then they will need to alter certain aspects of their game.
Kicking Game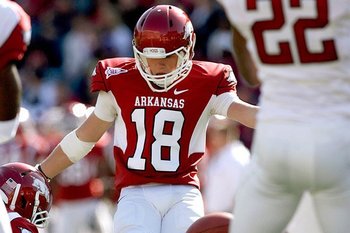 The Arkansas Razorbacks didn't have any games decided, at least in the last play, by a field goal in 2011, but their kicking game ranked 40th in the nation. In certain games, their place kicker Zack Hocker was not trusted with his 75% boot, and the Hogs deferred on fourth down in favor of gambling with their offense.
Now, 75 percent isn't bad, especially when Hocker only had 24 attempts all season, but when you look at the highest-ranked teams in field-goal kicking, there are some names like Oklahoma and LSU that pop out as successful programs.
Often an underrated aspect of a team's game is their place kicking, and the sophomore Hocker must improve his accuracy before next season.
Offensive Turnovers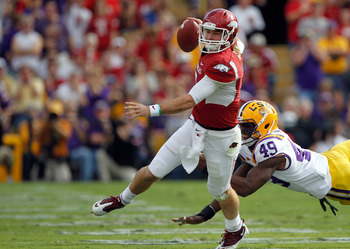 Chris Graythen/Getty Images
With the exception of their two losses this season, the Razorbacks' 19 turnovers saved them them this season, but if they want to win in the best division in the best conference in the nation, the SEC West, they must limit their turnovers against the top teams.
The best teams in college football are teams who capitalize on turnovers. In both the Alabama and LSU losses, Razorbacks fumbled and interceptions directly resulted in 21 total points by the opposition, largely allowing them to pull away and push the lead.
The Arkansas offense needs to be smarter with the ball next season if they want to again compete and even overpower two teams bound to be in the pre-season top three next season: Alabama and LSU.
Pocket Protection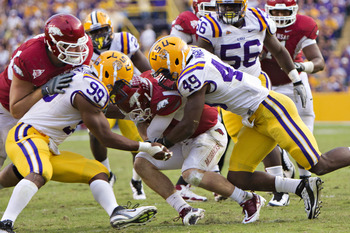 Wesley Hitt/Getty Images
The Arkansas Razorbacks' offense was most effective in 2011 when they were able to give quarterback Tyler Wilson time in the pocket to throw downfield to their trio of star receivers.
Unfortunately, in their losses this season, they were unable to handle the nation's top two defenses and it did not help their odds of victory. Against LSU, they allowed Tyler Wilson to be sacked a total of 5 times, and against 'Bama, Wilson was dragged down in the backfield once.
In total, the Hogs allowed 25 sacks this season, which is too many when your offense is largely dependant on quarterback success.
This could be the biggest aspect of the Hogs' game that needs to be improved should Wilson return as the QB for his senior season in Arkansas.
Defense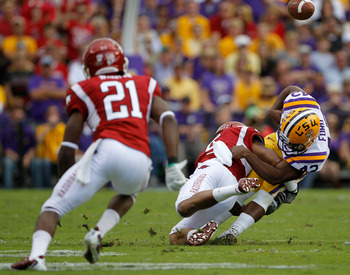 Chris Graythen/Getty Images
By no means is the Arkansas Razorbacks' defense horrible. Actually, in terms of Bobby Petrino's tenure with them, the Hogs' defense in 2011 may be the best he has had with the program.
Once again, however, the Hogs play in the same division as the LSU Tigers and Alabama Crimson Tide, two programs who averaged 10 or less points allowed per game all season. Compared to them, the Hogs' 22 points allowed per game (37th in the nation) is horrible.
In addition to their struggles in stopping opponents from putting points up, the Hogs allowed 175 yards a game on the ground in 2011.
When you allow an opponent to run that much downfield, so many options on offense open up including the play-action game. The Hogs' total offense allowed per game reflects their struggles with the running game as they allowed 371 yards a game, leaving them 51st in the nation.
The Arkansas defense impressed at times this season, but struggled against the top teams. If they want to make the jump to a BCS contender, they will need to play better defensively.
Getting into the Backfield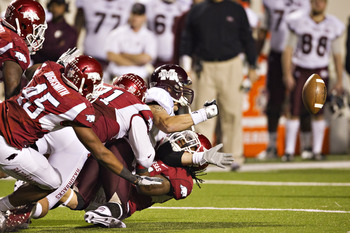 Wesley Hitt/Getty Images
The Arkansas Razorbacks' defensive line struggled in 2011 when it came to getting into the opponents' backfield. One of the many keys to stopping the previously-mentioned run game would be penetrating the offensive line.
The Hogs finished out the 2011 regular season in the 60s in sacks and tackles for a loss. The Razorbacks must improve both their pass rush and run rush before the 2012 season.
They cannot continue to give time and holes to the opposing offense, otherwise it will come back to hurt them. Something has to give and changes must be made.
Total Team Effort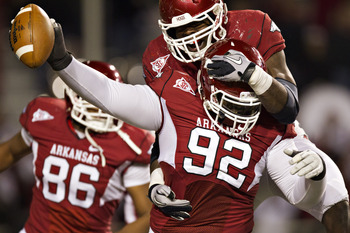 Wesley Hitt/Getty Images
Too often this past season, the Arkansas Razorbacks found themselves relying on one aspect of their game over another to lead them to victory. In order to be a championship caliber team in college football, you must have a total team.
A team wins a game, not just an offense, not just a defense, and not just special teams. The lack of a total team effort in certain situations this season shows that the Hogs are not yet a BCS contender. They are nearly there, but not there yet.
Bobby Petrino and the rest of the Arkansas staff must take time this off-season to bring his team together as one and allow for both sides to realize they must win as a team.
The Razorbacks are so, so close to getting to that next level, but until they win key games with all facets of their game, they will be stuck below conference superpowers LSU and Alabama.
Running Game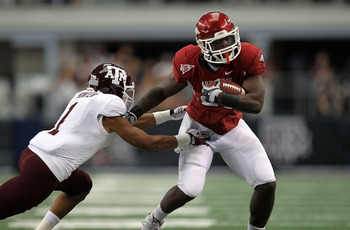 Ronald Martinez/Getty Images
Whenever a team's star running back goes down with an injury much like the Razorbacks' Knile Davis prior to this season, the running game is going to struggle.
For the better part of the first half of the season, the Razorbacks' trio of backs in Ronnie Wingo Jr, Broderick Green, and Dennis Johnson struggled to put up yards, and despite late season pushes, the lack of a running game is what truly cost the Hogs this season.
Without a successful or at least threatening running game to have opposition defensive coordinators worried, the predictability of a pass over a rush on most downs did not bode well for the Hogs in 2011.
Luckily for Arkansas, Wingo Jr. and Dennis Johnson are only juniors and should be back in 2012, and should Knile Davis choose to forgo the NFL draft, as he missed the entire season because of injury, and return to the team for his senior season, the Razorbacks' running game should turn from a weakness to a strength.
If Davis and QB Tyler Wilson both return for their senior years, the Hogs will give themselves a legitimate competing bid for a BCS bowl next season. And if their defense can improve even slightly, they will be a better team in 2012.
John Bain is a Bleacher Report Featured Columnist
Follow him on Twitter: @JohnBainSports
Keep Reading

Arkansas Razorbacks Football: Like this team?