Week 14 Waiver Wire: Pick Up Marion Barber, Malcom Floyd and Others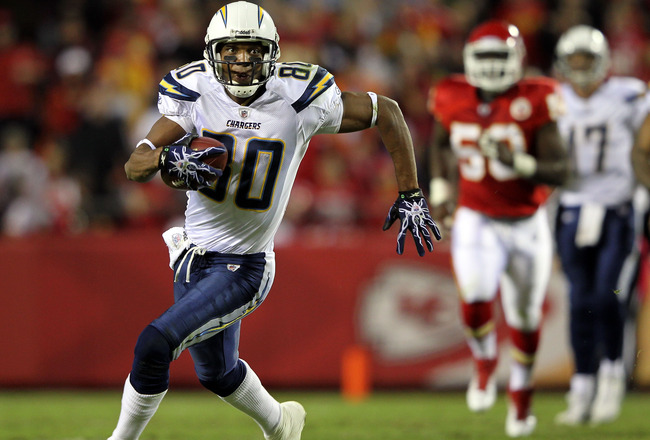 Jamie Squire/Getty Images
I don't want to get everyone down before the article even starts, but let me tell you a little story about a team that was 11-1 going into Week 13 of the fantasy football season.
This team was first place by a long shot in a 10-team, PPR/IDP league. The owner was feeling untouchable and could feel the cash prize in his fist.
And two weeks before the playoffs began, four—FOUR—of his top scorers, all of whom were ranked in the top five at their respective positions, fell to injury.
Now, this team is headed into the playoffs without Adrian Peterson, Matt Forte, Pat Angerer and Desmond Bishop.
A team that was once great is now relying on waiver wire pickups to live up to the lofty dreams that the fantasy football season created.
Lucky for him, however, Week 14 of the fantasy football season was ripe with free agent pickups. And this is what was found...
Marion Barber, Running Back, Chicago Bears (17.3 Percent Owned)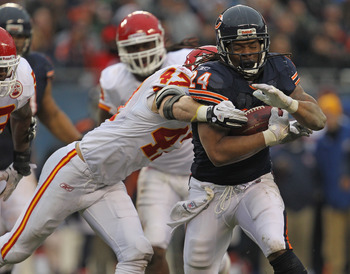 Jonathan Daniel/Getty Images
Let's go ahead and get the obvious one out of the way here. Matt Forte went down, and Barber is the only real backup in sight. He has had experience as a No. 1 back when he was with the Dallas Cowboys, and now he will get that role again.
Barber will be facing the Denver Broncos, who have allowed three rushers to run for over 100 yards in the last three weeks. They are pretty stiff when it comes to allowing rushing touchdowns, but with Barber being a bruiser, the chance is definitely there.
The downside here is that the Bears have been having trouble moving the ball as of late with a backup quarterback in the game.
Another possible hiccup lies in their third-string back, Kahlil Bell, who could make a decent add in deeper leagues. He had 34 yards on four carries against the Chiefs and could see a close-to-even split with Barber.
Maurice Morris, Running Back, Detroit Lions (51.8 Percent Owned)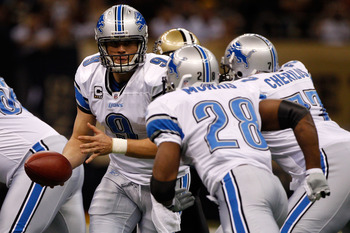 Chris Graythen/Getty Images
It's been back and forth with the Lions' running game these past few weeks. Kevin Smith made his return and had a good showing, but he again went down with an injury. Smith will likely be questionable for their matchup against Minnesota.
Morris has been a great play in the passing game for the Lions, and despite an emergence of Smith, he has put up double-digit points over the past two weeks.
If Smith does miss multiple weeks, Morris is a great pickup in all leagues. If you have him on your bench, you could definitely start thinking of him as a RB2 or flex option.
Rex Grossman, Quarterback, Washington Redskins (8.4 Percent Owned)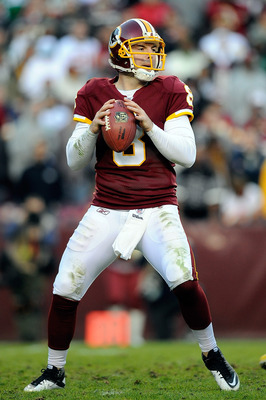 Patrick McDermott/Getty Images
When in doubt, start the QB or WR that is playing against the New England Patriots.
The Pats gave up an embarrassing two touchdowns and 353 passing yards to backup—backup INDY quarterback—Dan Orlovsky. The week before that, Vince Young lit them up for over 20 fantasy points.
Grossman has lost one of his favorite targets, Fred Davis, but Santana Moss is back and their running game is getting hotter. Grossman has settled in a bit with two big showing against the Cowboys and the Seahawks.
I expect similar numbers this week as he eclipses 325 for the first time this season.
Isaac Redman, Running Back, Pittsburgh Steelers (5.3 Percent Owned)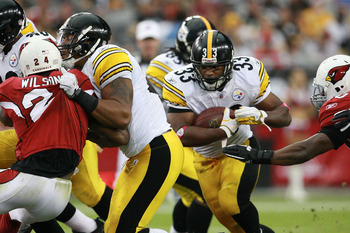 Karl Walter/Getty Images
And the No. 1 rule for picking a running back is: play the RB that is facing the Cleveland Browns, Carolina Panthers or St. Louis Rams.
Redman has been seeing more and more work, and will likely continue to do so if Pittsburgh opts to keep Rashard Mendenhall fresh for the playoffs.
He saw eight carries for 51 yards (a nice 6.4 average) last week against a much tougher Bengals front. Now he is facing the Browns, who just gave up a 204-yard, one-TD rushing performance to Ray Rice, and a 76-yard, one-TD performance to Rice's backup, Ricky Williams.
It's a bit of a risky move here, but even if Mendy has a great day, it is not out of the question to assume that he will be taken out and rested, allowing Redman to add the stats at the end of the game. With his yard-per-carry average, I like his odds here.
Malcom Floyd, Wide Receiver, San Diego Chargers (57.6 Percent Owned)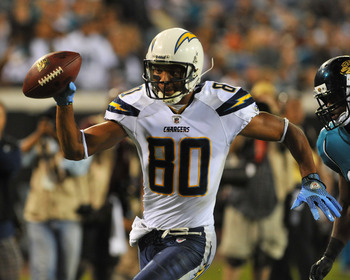 Al Messerschmidt/Getty Images
The Chargers haven't looked the same without him. I'm not saying that he is the answer to all of SD's problems, but Floyd put on a show last night against the Jags.
Four catches for 108 yards and a score is a great complement to Vincent Jackson and Antonio Gates, and might be what Philip Rivers needed to get his groove back.
At just over half owned by league owners, you can see that he was dropped by many out of frustration. If he is on the waiver wire, he might be worth the pickup and even a start at WR3.
The Chargers face a great-looking schedule to close the season, and Floyd could see some big games with Jackson and Gates taking most of the coverage.
Devin Aromashodu, Wide Receiver, Minnesota Vikings (0.2 Percent Owned)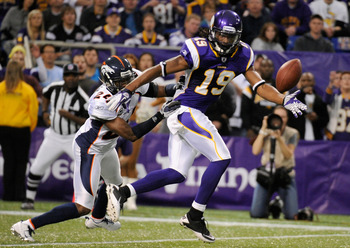 Hannah Foslien/Getty Images
If you are in a league that gives fantasy style points for awesome last names, he has probably already been claimed, but if you are with the rest of us, it might be time to start looking at Michael Jenkins' replacement.
He had a ton of targets against the Broncos and pulled down six catches for 90 yards. With a remaining schedule beginning with Detroit and New Orleans, you know that Minnesota will be passing the ball plenty.
Aromashodu will be starting for the remainder of the year with Percy Harvin, and with the surging passing game of the Vikings after Peterson's injury, he might be worth a play if you are thin at the position.
Anthony Fasano, Tight End, Miami Dolphins (2.2 Percent Owned)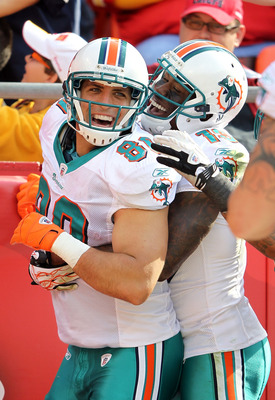 Jamie Squire/Getty Images
I had to double-check that number. Fasano has been looking pretty good for the past few weeks.
And at a position that leaves a lot to be desired this year, he might be worth picking up if you have been floundering with Greg Olsen, Heath Miller, Ben Watson or a host of other mid-tier tight ends.
He has three touchdowns in his last five games, and over 60 yards in two of them. His numbers aren't stellar, but he has become a favorite target, especially in the red zone, for the surging Dolphins and Matt Moore.
Other Pickups to Consider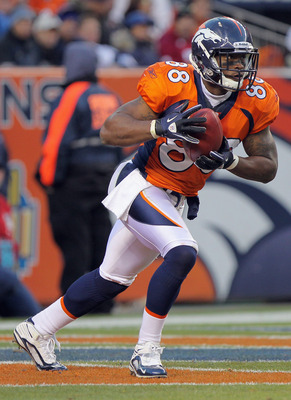 Doug Pensinger/Getty Images
There are a bunch of other decent adds this week. As I mentioned earlier, a lot of the late-season pickups should be based on matchups. Check out the defenses that the team is facing. Start QBs and WRs if their pass defense is awful, and start RBs if the run defense sucks.
Other good pickups this week include Matt Moore, Toby Gerhart, Ryan Grant, Demaryius Thomas, Jabar Gaffney, Santana Moss and Golden Tate.
GodHatesLosers.blogspot.com is more than any other fantasy football website. In addition to accurate weekly position rankings, Waiver Wire pick-ups, trade analysis and predictions, GHL offers one-on-one advice catered exclusively to you.
For a personalized fantasy football experience, check out GHL.
Keep Reading