Cleveland Browns: Why the Browns Have to Give Pat Shurmur Time
December 6, 2011
Jason Miller/Getty Images
Browns fans are already calling for the head of Pat Shurmur. 
As one brilliant Browns fan said after a one-point loss to the St. Louis Rams, "He should have been gone weeks ago."
An absolutely ridiculous statement. 
Shurmur has had a tough go of it this season. He's taken on the role of both head coach and offensive coordinator and hasn't been doing a great job of both. His play calling is questionable at times, and is making us question whether he can be a good head coach. 
No matter the result of the situation this season, the Browns have to keep Shurmur. 
The continuous carousel that has been the Browns head coaches has seemingly never come to a stop. From Chris Palmer to Butch Davis to Terry Robiskie to Romeo Crennel to Eric Mangini to Shurmur, the Browns have never been able to stick to one coach. Six coaches in 12 years is not a good sign.
It's time to stop. The decision has been made. We have to trust Mike Holmgren and Tom Heckert on their decision to hire Shurmur. 
Shurmur may not look like the right candidate at this point, but we have to remember, in his rookie season as a head coach he's taken on a talentless football team and the role of offensive coordinator while not having any sort of offseason to prepare his team for the season. It's a recipe for failure.
Holmgren has said that the Browns plan on hiring an offensive coordinator going into the 2012 campaign which will surely be a help to Shurmur. Although I'm sure he will still have a strong hand in the offense, without complete control and responsibility, I believe Shurmur will be better off. 
The offense needs some playmakers in order to run efficiently, and that is something that Shurmur hasn't had any control over either.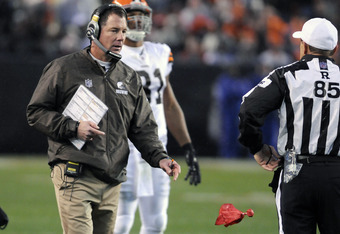 Jason Miller/Getty Images
As for the lack of talent, Shurmur can't be blamed for that either. The Browns have the youngest team in the AFC, and many of their starters are young guys who had no offseason, further limiting their experience.
Shurmur had no time to work with these guys in the offseason and further their development. He didn't have too much to say in the draft, as I'm sure he would've loved to have Julio Jones to throw the ball to in his offense.
The current lack of talent, which I believe will get better into next season as these young players develop, is due to Holmgren and Heckert, as well as an abundance of young players and has nothing to do with Shurmur.
The St. Louis Rams offense has been pathetic since the departure of Shurmur. Bradford's play has been abysmal since Shurmur left. I'm not saying...but, I'm just saying. Shurmur may have had something to do with it.
I don't know what we, the fans of this organization, were expecting.
Obviously, Shurmur wasn't going to be a Jim Harbaugh. He doesn't have that experience, that mindset, or that fiery personality. He wasn't going to be a "go get 'em" type of coach.
He was going to be a slow and methodical coach. He is incredibly calm and doesn't often go out of his shell. He takes things as they come and is as stoic as stoic can be. 
Maybe Browns fans were expecting him to be fired just as soon as he was hired just because he's not named Jon Gruden or Bill Cowher. We tend to think that only one of these two guys can come to town and save the Browns. That isn't going to happen, so get rid of the idea. 
We have to stand behind Shumur. He's what we have. We can't call for his head quite yet. He hasn't had the time to prove himself.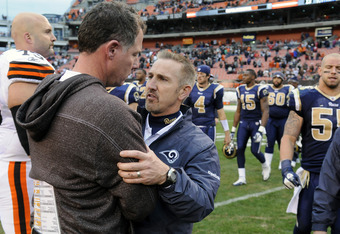 Jason Miller/Getty Images
There a lot of things that are out of his control that need to be fixed in order to truly judge what kind of coach he is. 
Holmgren and Heckert have had a single year to put their regime into place. They chose Shurmur to be the head coach that would represent them on the field. If they were unsure of his ability to produce, I doubt they would've hired him. 
The complaining needs to stop.
This is a bad football team and I understand it can be frustrating, but we can't keep going through this cycle of hiring and firing the coach. 
For now, the Browns must trust in Holmgren and Heckert and believe that Shurmur is the guy that is going to help turn the Browns around. 
Four years down the road, if the Browns are still in this current state, I will be the first one advocating the riddance of Holmgren, Heckert AND Shurmur.
But for now, he's what we have and we have to stick with him.