Saturday Night Fights IV: Historical Showcase of Saskatchewan's Premier Fighters
December 6, 2011
Once again, Saturday Night Fights has solidified its position as Saskatchewan's preeminent mixed martial arts promotion, and it is gaining notoriety outside of the province as well.
This past Saturday, Dec. 3, the promotion offered it's fourth event since 2009—a combination of MMA and modified Muay Thai bouts—which displayed some of Saskatchewan's top fighting talent as well as some of the best amateur fighters from around western Canada.
The event was another success. Although the UFC's Ultimate Fighter 14 Finale was showing on Spike TV for free the same evening, it did little to stifle the estimated 900 fans from packing the sold-out Turvey Centre on the outskirts of Regina Saskatchewan to watch their home-grown fighters. They would not leave disappointed.
The night featured one exciting bout after another. Fans in attendance regularly stood in applause as they watched some of the best live combat sports action in the province.
Regina had an excellent showing at the event. Compete Martial Arts and Fitness, Regina's local and most prominent mixed martial arts gym, walked away 3-0, with two of their younger fighters winning their debuts and veteran Troy Lavalley coming back from a five-year absence to compete in the ring once again.
SIAM kickboxing, Regina's top kickboxing academy, also had a strong showing. Two of three SIAM-trained fighters walked away with victories in modified Muay Thai bouts—one of which stole the show and was a clear contender for fight of the night.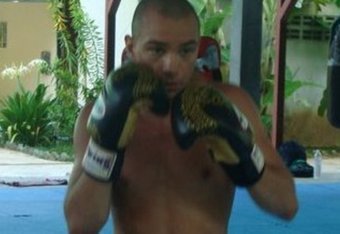 Mat Lippsius vs. Sandy Junik (Muay Thai bout)
For casual martial arts fans as well as seasoned followers, the stand-up game is often the most revered aspects of martial arts. Historically, bouts featuring back-and-forth exchanges on the feet have consistently appeased fans as they watch two athletes test their will in a crucible of pain and endurance.
Saturday Night Fights IV tried to capitalize on this trend by providing fans with a slate of stand-up-only Muay Thai bouts to complement the highlighted MMA action.
As fans witnessed on Dec. 3, combining various kinds of combat sports into a single show can be an effective way to add variety to the normal routine and inject immediate excitement into an event.
Regina's prominent kickboxing gym, SIAM, had a good showing Saturday night, with two of three SIAM fighters walking away with victories.
Matt Lippsius (4-1) was the first to do so.
Lippsius, who walked away with his fourth career victory Saturday night, impressed fans with a methodical win over Sandy Junik (0-1), a Saskatoon-based fighter who had a large height and reach advantage going into the bout.
Although Junik had significant reach on the much shorter Lippsius, he did not fight like it.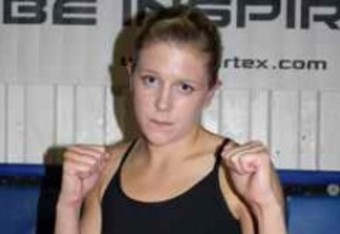 In the early parts of the first round, Junik somewhat effectively utilized teep kicks to keep distance between him and Lippsius; however, it was a strategy that Luppsius prepared for.
"I mentally prepared for that," Lippsius said in a post-fight interview. "I spar with a couple of people who are that height at my Gym, and I make sure to train with as many different opponents as I can to get as much variety as I can."
Lippsius put his training to good use. He quickly adjusted to Junik's strategy in the early going, preemptively attacking with solid body shots and using the clinch game to close the distance with knees. As the first round moved on, Lippsius continued to take control of the fight by pushing the pace and utilizing accurate power-punching.
In the second round, Lippsius began to impose his will on Junik, backing him up with slick punching combinations to the body and head as well as throwing in a few spinning backfists to please the crowd, if nothing else.
The fight became increasingly one-sided as Lippsius started to land leg kicks, hard. He spent a large portion of the round attacking the long and exposed legs of Junik, who had trouble adjusting to the strategy and checking the oncoming attack.
Towards the end of the second round, Lippsius' leg kicks began to hurt Junik. With each crushing blow, Junik's lead leg would recoil as his strength diminished.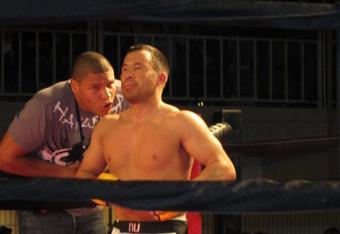 Lippsius said that leg kicks are a staple of his arsenal.
"I have always been big on leg kicks," he said. "I've worked really hard at them, and I just wanted to put my training to good use and low-kick him in the fight."
The third round was a continuation of what we saw in the first. Lippsius landed heavy punching combinations alongside a barrage of leg attacks. With each crushing blow, Junik had more and more trouble standing and was even tripped off of his feet several times—a testament to the weakened condition of the muscles in his leg.
Lippsius walked away with a crowd-pleasing unanimous decision over Junik and improved to 4-1.
It was a sweet victory for Lippsius, who said a lot of personal sacrifices and hard work is what allows him to perform at a high level.
"I worked 10-hour days," he said. "I'd come home, run, cook for myself, and then I have to go train after that, and then I go back to sleep and wake up at 5 a.m. to do it all over again. I trained hard, and I remembered that in the ring. I sacrificed a lot of personal time, and I just wanted to do my best."
As for his future in the sport, Lippsius is taking it one step at a time.
"I want to start getting more fights. I want another fight under my belt. I want to keep improving. I just want to have fun with it."
Sam King vs. Chris Berry (MMA)
The first Regina-born mixed martial artist to walk away with a victory Saturday night was Sam King (1-0), who won in impressive fashion to collect his first MMA victory.
King, who trains at Regina's Complete Martial Arts and Fitness, faced Chris Berry (0-1) in a featherweight bout. Both fighters were making their debuts.
Although mixed martial arts is a game of strategy often referred to as a "human chess match," violence is also part of the equation. There is nothing like a good KO to get the crowd going, and it is no secret that an impressive list of knockouts on a fighter's resume will bloat their bank account and increase their fame.
King certainly made a few more fans Saturday night.
In the opening few seconds of the fight, it was clear that power-punching was a part of the game plan for King, who swung several hard right hands at Berry after a short feeling-out period.
However, King managed to mix it up on the feet and in the grappling realm, shooting for a double-leg that Berry had a hard time defending. King managed to elevate Berry above the canvas. The crowd at the Turvey Centre shortly held their breath and watched Berry rise up and crash down to the canvas in a thunderous slam that shook the ring. The crowd roared in approval.
King then attempted to pass the guard; Berry initiated a scramble and managed to reverse King, winding up in full guard on the top position.
From there, Berry made an attempt at some ground-and-pound. King defended well and took a stab a some triangle chokes from the bottom. Both fighters did a good job of stifling the attacks of the other.
After a brief ground battle slowed the pace of the fight, both combatants ended back up on their feet.
Both men gauged the distance and exchanged power-punches while standing. The fighters eventually ended up in an exchange close to the ropes.
During a flurry, King landed a solid left hand that dropped Berry to the floor—out cold. The crowd roared in approval for the exciting finish by the hometown prospect.
King, who improved to 1-0, was humble in his post-fight interview.
"I just want to get back in the gym," he said. "I train hard six days a week, and you can see the outcome."

Justin Sanders vs. Chris Costley (MMA)
In a night that saw Regina talent clean up, Justin Sanders (1-0) was the next Regina native to keep that trend going, earning a first-round TKO victory against Chris Costley (0-1). Both men, again, were making their mixed martial arts debuts.
In what was the seventh bout of the evening, the crowd in attendance was left buzzing as they witnessed a vicious ground battle that included some heavy slams and brutal ground-and-pound.
Sanders, who said he does not come from a wrestling background, certainly showed that he has developed those skills nicely during his time training at Complete MMA.
The fight was slow to get going in the early moments. Both men pawed at each other with exploratory jabs before Sanders initiated the clinch and started peppering Costley with punches and knees.
Both fighters exchanged shots while on the ropes before Costley attempted several hip-tosses unsuccessfully, as Sanders was able to keep his balance while continuing to mount offense in the clinch.
Both men eventually worked their way to the corner of the ring right next to Sanders' team of training partners, who were able to yell out clear instructions to the young fighter; it clearly helped.
Shortly after wrestling their way to the corner, Sanders was able to secure a double-leg takedown and elevate Costley high in the air before slamming him to the mat. The ring trembled as Costley's back collided with the canvas.
From there, Sanders quickly advanced positions on the ground, moving to side-control before eventually securing the crucifix position and attempting to land shots. Costley bucked and rolled on the bottom, making it difficult for Sanders to maintain the position. The fighters eventually ended up in the north-south position before Costley was able to scramble back to his feet.
After landing a solid left hook while standing, Sanders was eventually able work the fight back towards his own corner. From there, he again grabbed a double-leg takedown and slammed Costley to the mat once more—this time with more force than the first.
Sanders admitted that his crowd-pleasing style of wrestling is still in the infant stages.
"I don't come from a wrestling background," he said. "We didn't have it at my school or anything, so my style of wrestling is to basically pick you up and slam you.
After another solid slam, it was all Sanders. He quickly moved to full mount, where he unloaded with a barrage of punches that forced the referee to stop the fight in the first round.
Sanders, who improved to 1-0 with the win, was happy to get his first fight under his belt.
"My training went really, really well," he said. "I was supposed to fight back in May, but the guy pulled out, so I had to wait for this event, and that motivated me to train that much harder."
Sanders admitted that the adrenaline of fighting at home changed his game plan slightly.
"I wanted to stand a little more," he said in a post-fight interview. "The adrenaline got to me, and when he initiated the clinch, I thought, 'Okay then, that's what we are doing.'"
It turned out to be the right decision for Sanders, who was able to physically dominate Costley in the clinch. However, Sanders feels that he has room to get bigger before taking more fights at welterweight.
"I'm a small 170," he said. "I want to bulk up a little bit more and then fight as much as I can."
Annie Lockhart vs. Leslie Enns (Muay Thai bout)
One thing that sets combat sports apart from other mainstream sporting events is the ability for female athletes to compete on the same stage and even outshine their male counterparts.
At SNF IV, the women stole the show once again.
Annie Lockhart (4-4), training out of SIAM kickboxing in Regina, faced off against the more experienced Leslie Enns (7-6) in what was undoubtedly the fight of the night.
The crowd at the Turvey Center was clearly in Lockhart's corner, even before the opening bell. As she walked to the ring, the audience stood up and cheered in support for the hometown fighter, who was making her eighth appearance in the ring.
In the opening round, both Lockhart and Enns had success landing punching combinations and a few kicks. The action went back and forth for the majority of the first round; an evenly matched fight made scoring the bout difficult in the early going.
However, that all changed once Lockhart grabbed the Muay Thai plum. Once the fighters were in the clinch, the bout took a one-sided turn as Lockhart began blasting Enns with knee after knee.
Enns clearly had a great deal of trouble in the position, and even looked bewildered at times, opting to simply cover up and absorb punishment rather than escape.
Lockhart continued her massive assault in the clinch for a solid 30 seconds, hitting Enns with countless knees. The more the knees connected, the more Enns was fading.
The crowd began to erupt with roaring cheers; it appeared the fight was moments away from ending. The fans cheers even louder as Lockhart's connections inside the clinch eclipsed double-digits. However, Enns survived to the end of the round, absorbing punishment until the bell rang.
"I was a little bit surprised it went right to the bell," Lockhart said in a post-fight interview. "But that's okay, it just means I got to fight more [laughs]."
The closely-contested second round certainly let Lockhart fight more. Enns and Lockhart engaged in an outright slug-fest, exchanging punching combinations as the crowd cheered.
Lockhart was able to secure the Muay Thai clinch for a short amount of time and land knees, but Enns escaped and did a good job of keeping space, landing punches of her own and controlling the pace.
The third round appeared to be more of the same in the early going. Both fighters exchanged pleasantries by way of their firsts, but it appeared that Enns was getting a slight edge in the exchanges.
That drastically changed when Lockhart secured the clinch again midway through the second round.
After Lockhart established the clinch, it was all over for Enns, who continued to look confused and rattled while fighting on the inside. It was a virtual replay of the first round, an unstoppable barrage of knees from Lockhart, and a confused lack of defense from Enns. This time, the referee had seen enough and stopped the fight.
The crowd erupted, and the referee stepped in as Lockhart raised her hand in victory.
It was a hard-fought victory for the SIAM-trained fighter, who improved to 4-4 with the win.
Troy Lavalley vs. Cody Moliger
The final bout of the evening featured the comeback of Troy Lavalley (3-0), who was making his return to competition after five years away from the ring.
The cancellation of two bouts (Miles Anstead vs. Brad Webb, Tyler Siwak vs. Tommy Phillops) resulted in Lavalley vs. Moliger earning main-event status. The unfortunate news came just days before the show.
Reports have surfaced that both Brad Webb and Tommy Phillops did not arrive at the airport as expected and neglected to contact anyone regarding their absence. This forced Saturday Night Fights promoter AJ Scales to readjust his card, leaving his star pupil, Miles Anstead, without a chance to complete in his much-anticipated fifth mixed martial arts bout.
However, this opened the door for both Lavalley and Moliger to put on a show in the main event, and they did just that.
The crowd at the Turvey Centre was full of support for Lavalley; the cheers of friends and family members filled the arena.
Lavalley's experience was obvious in the opening round. While Moliger looked a little glittery in the early going, Lavalley was clam and stoic, patiently applying pressure to his opponent.
Moliger attacked aggressively with wild punching combinations in high numbers. Lavalley was tranquil in the pocket, calmly slipping and blocking the oncoming punches while pushing forward and eventually getting the clinch and tripping Moliger down to the mat. Moliger proved to be game, however, as the Saskatoon-based fighter quickly dashed back to the feet.
Lavalley, determined to impose his will, quickly closed the distance once again and established the clinch against the ropes. After a long struggle on the side of the ring, Lavalley managed to take Moliger down once again, this time keeping him on his back and quickly moving to side-control while attacking with punches. Moliger rolled to his back in defense.
After a brief stoppage to release the combatants' tangled arms from the ropes, both fighters were stood up.
When the action resumed, a standing battle ensued. Moliger and Lavalley exchanged heavy shots as the crowd cheered. Both fighters landed several heavy shots before Lavalley was once again able to clinch up and take Moliger to the mat.
Moliger was able to keep Lavalley in full-guard, but had difficulty defending the oncoming ground-and-pound. Lavalley continuously picked his shots on the ground, softening Moliger up with body shots and landing the occasional punch to the head as Moliger attempted valiantly to grab ahold of Lavalley and stop the beating.
After receiving several crushing blows to the body and head, Moliger was able to push Lavalley off and quickly jump to his feet.  Lavalley hit him with a heavy left hand for his troubles, but it appeared that Lavalley was beginning to tire.
Towards the end of the round, Lavalley was able to secure the clinch once more. This time, he slammed Moliger down violently. Moliger looked stunned as he careened into the floor. The audience, who had been cheering all night long, stood up in applause as the round ended with Lavalley on top in half-guard.
While the round clearly went to Lavalley, it came at a price, as he walked to his corner visibly fatigued.
"Troy has an ongoing injury with his nose. It was broken," AJ Scales said. Scales, who is Lavalley's head trainer at Complete Martial Arts and Fitness in Regina, pointed out that Lavalley has been dealing with a nagging nose injury for quite some time, and he feels it affected his endurance during the bout. "It bleeds a lot. Even before he came out to fight tonight, Troy had already had a nose bleed, and it really affected his breathing tonight, as you could see."
Fatigued or not, Lavalley continued to effectively implement his game plan in the second round.
The round began with Lavalley quickly grabbing the clinch and executing another violent slam, knocking the wind out of Moliger. The fight stalled on the ground, however, and the ref stood the action up once again.
After the stand-up, a fatigued Lavalley began to take over the fight. He took Moliger down once again, this time right in front of his corner. Despite having the advantage of clear ringside instructions, Lavalley appeared too tired to mount an effective attack, and the ref brought the fighters to their feet another time.
The stand-up did little to halt the progress of Lavalley, and he smashed Moliger with a hard uppercut that wobbled the Saskatoon-based fighter. Lavalley capitalized on the moment, grabbing Moliger and slamming him to the mat yet again—an amazing feat of determination considering how fatigued Lavalley appeared to be.
This trend continued for the remainder of the round: stand-ups and slams. The crowd soaked up every minute of it, cheering every time Lavalley executed another ring-rattling takedown.
Although Moliger attacked aggressively with punching combinations, the determination and will of Lavalley proved to be too much, and the Complete MMA fighter was able to control the action and walk away with a hard-fought unanimous decision victory.
After the contest, Scales was pleased with what Lavalley was able to do. "Troy made a lot of sacrifices to do this," he said. "It was just a personal thing for him. He wanted to do it once more."
Scales said he knew this would be a challenge for Lavalley. "This fight was a very challenging fight for him. He has not fought in five years, and two months out from this fight, Troy was 198 pounds. He's dieted over the last few months and came out tonight and fought at 155."
"I wasn't expecting Troy to have an easy win. Cody is a young, scrappy kid, he's got great coaches, and he comes from an incredible gym, so I couldn't ask for more."
Dietrich Neu is a Contributor for Bleacher Report. Unless otherwise noted, all quotes were obtained first-hand.