2011-12 NBA Schedule: 5 Games Utah Jazz Fans Can't Miss This Season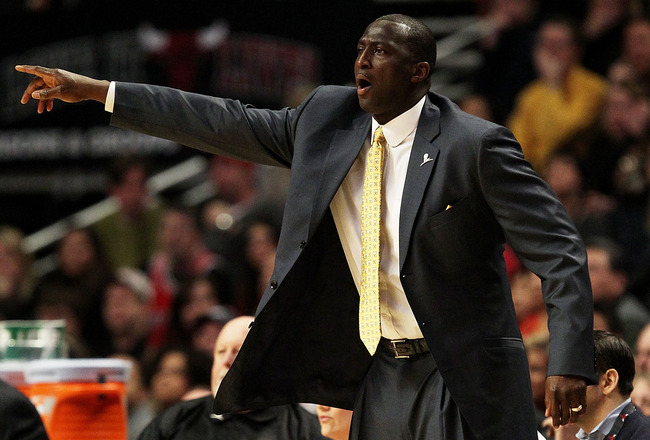 Jonathan Daniel/Getty Images
In what was built up to be a "Selection Sunday"-like event on NBA TV, the NBA released its 2011-12 shortened regular season schedule after the lockout that at one point threatened the entire season will presumably be resolved between the players and the owners later this week.
Here is the link to the Utah Jazz schedule:
http://www.nba.com/jazz/schedule/
The Jazz open the season by playing 14 of their first 20 games at home, which should allow Coach Tyrone Corbin and his young team a fair amount of practice time given the limited amount of travel that will be required, especially in January.
Another interesting scheduling perk? The Jazz only play one of the feared back-to-back-to-back stretches (Feb. 12-14, at Memphis, at New Orleans and at Oklahoma City) during the entire season.
Now that the Jazz know when they are playing and who they are playing, there are so many questions that Jazz fans have going into this season:
Who will step up and be the primary scoring option?
Will the Jazz be able to improve upon their horrendous defensive rebounding problems from last season?
Will Gordon Heyward continue his improved late-season play from 2010-11?
How will the Jazz's crowded frontcourt (Okur, Jefferson, Millsap, Kanter, Favors, etc.) gel and get balanced playing time?
And the list goes on...
So of the 66-game schedule, what are the top games that Utah Jazz fans should not miss this season?
The Christmas Day Reunion: December 25, 2011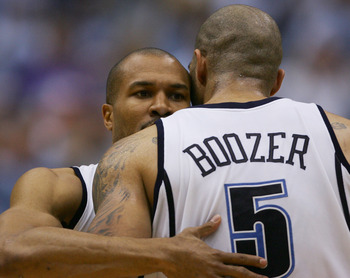 Harry How/Getty Images
Even though the Utah Jazz will not be playing on Christmas Day, Jazz fans should tune in to watch two teams that are expected to challenge for their respective conference championships in this lockout-shortened season.
The Bulls-Lakers game will also give Jazz fans a chance to reminisce of days gone by as they await the 2011-12 Jazz opener. Former Jazz men Derek Fisher (LA), Carlos Boozer (Chicago), Kyle Korver (Chicago) and Ronnie Brewer (Chicago) and their combined 47.4 points per game average while in a Jazz uniform will take the Staples Center floor. The reunion will surely include a pre-game meeting where each player will share his favorite Jerry Sloan pre-game motivational speech.
But if reunions or Carlos Boozer's screaming just aren't your thing, then Jazz fans should still enjoy this game because it will given them an opportunity to cheer against the two teams that have caused Jazz fans the greatest playoff frustrations during the past 25 years.
The Season Opener: December 27, 2011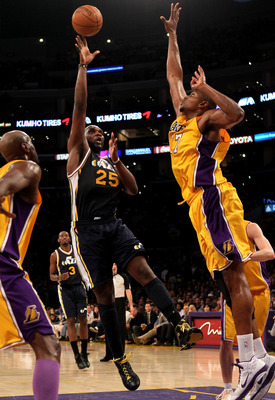 Stephen Dunn/Getty Images
The Utah Jazz begin the 2011-12 season with a game in Los Angeles against the Lakers on TNT. Tyrone Corbin's young team will hit Hollywood, as the young Jazz front line will be challenged by the likes of Pau Gasol and Lamar Odom right away (Andrew Bynum will be serving his suspension for his flagrant foul against JJ Barea in the 2011 Western Conference Semifinals).
The Jazz-Laker game will be the third game in three nights for the Lakers after opening the season with Chicago at home on December 25 and at Sacramento on December 26. Catching Kobe Bryant and the Lakers on the last leg of the back-to-back-to-back will no doubt give the Jazz an advantage from an energy and rest stand point.
The question is whether that will translate into a win in Game 1 of the regular season.
The Return of Deron Williams: January 14, 2012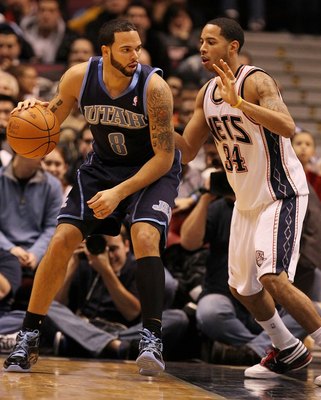 Al Bello/Getty Images
After legendary Jazz coach Jerry Sloan resigned on February 7, 2011, both Sloan and Deron Williams denied that there was any correlation between Sloan's resignation and any reported conflicts recently between the two.
However, just 16 days later, D-Will was traded to the New Jersey Nets for Devin Harris, Derrick Favors, two first-round draft picks and $3 million in cash. Although the Jazz brass indicated that the trade was made due to their lack of confidence that Williams would elect his player option in 2012-13 or even re-sign with the Jazz beyond 2013, many Jazz fans were left to wonder if their star point guard since the 2005 draft had turned against the franchise that had given him the opportunity to become an All-NBA point guard.
D-Will is scheduled to bring his new Nets teammates with him to Utah on January 14 to face former Nets Devin Harris, Derrick Favors and the first selection of the two first-round draft picks, Enes Kanter.
Only time will tell who got the better end of the February trade between the Jazz and the Nets once the draft picks are made and the younger players develop, but when D-Will comes to Utah to face the Jazz, we'll at least know how Jazz fans feel about D-Will after the events that transpired earlier this year.
I wonder if Jerry Sloan will be there?
The Jimmer Games: January 28, 2012 and March 30, 2012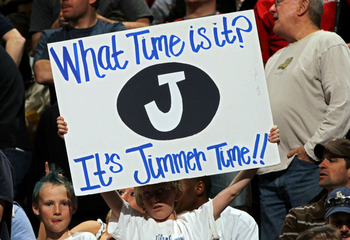 Doug Pensinger/Getty Images
You know what time it is? Jimmer time!
Whether you are a Jimmer fan or not, every NBA fan will be very interested to see how successful Jimmer can be during his rookie year with the Sacramento Kings. The Kings must think Jimmermania will translate to the NBA, as they sent away their only true point guard (Beno Udrih) as part of their trade for Jimmer Fredette's draft rights. They seem intent on moving star guard Tyreke Evans to the shooting guard position to make room for Jimmer at the point.
Fredette will try to carry his tremendous scoring and shooting abilities to the NBA after a stellar career at Brigham Young University while also trying to defend the opposing team's point guard.
Fredette's return to Utah on January 28 and March 30 will no doubt fill EnergySolutions Arena to capacity and force many Jazz fans to choose between their favorite team and their favorite opposing player.
The Season Finale: April 26, 2012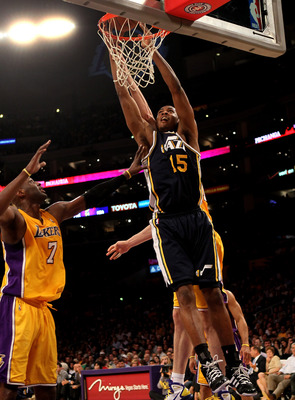 Stephen Dunn/Getty Images
The Jazz will close out the 2011-12 regular season with a three-game homestand (Orlando, Phoenix, Portland), which will be capped by the third April game against the rival Blazers.
Former Jazz man Wesley Matthews will return to where he started his professional career in 2009, but Jazz fans will be focused on whether this final game will have an impact on playoff or lottery positioning.
The success of the Jazz season will already be determined by the end of April, as the coaching staff works to develop a young, rebuilding team through a difficult, condensed regular season schedule after having a shortened training camp and preseason.
This year's regular season will be a season unlike any other for Utah Jazz fans, and now that we know where and when it's going to play out, we'll all be watching to find out how it will all play out.
Keep Reading

Utah Jazz: Like this team?