Los Angeles Angels: Winter Meetings Preview According to Total Player Rating
December 6, 2011
Thearon W. Henderson/Getty Images
The Angels have been one of the busier teams moving into the Winter Meetings. General manager Jerry Dipoto hasn't been on the job long, but he has already corrected one of the big problems with the Angels. Mike Scioscia had an unhealthy fascination with Jeff Mathis, so Dipoto ripped that scab right off by trading him to the Blue Jays.
It really didn't matter who he brought in in return. As it turns out, it was minor league pitcher Brad Mills. The key was in acquiring Chris Iannetta from the Rockies. Now, the Angels have a catcher capable of catching 100+ games. Bobby Wilson and Hank Conger will share the backup duties. Thus, Angels fans will be deprived of enjoying Mathis' 500ish OPS for the forseeable future. Bummer.
Infield
The Angels were built well. Tony Reagins made his fair share of mistakes, but he has the best fielding team in baseball by a considerable margin. They are the only team to have a positive impact fielder at every position on the diamond. The acquisition of Iannetta continues that into the 2012 season.
The Angels are hoping Kendry Morales can come back from his devastating leg injury from two years ago, but if he can't, they have Mark Trumbo to fill in at first base. Trumbo performed ably last year in his rookie campaign and should continue to improve at the plate.
Meanwhile, the combination of Howie Kendrick, Alberto Callapso, and Erick Aybar may not blow up your skirt, but they contribute positive impact numbers on both defense and at the plate. There is some conjecture that Callapso could be on the move, but that wouldn't be a wise move in my opinion.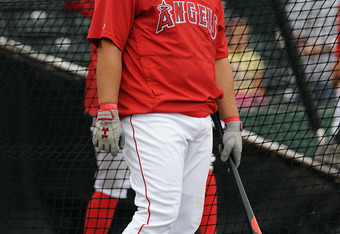 Norm Hall/Getty Images
Outfield
The outfield is intriguing mainly because the Angels have five regulars and only four positions. Vernon Wells performed well defensively in left field even though his hitting made the team cringe at times. He still hit more than 20 dingers on a team that struggled to find power sources. Mike Trout is ready to play somewhere and they won't hesitate to make it left field if those struggles continue from Wells.
Peter Bourjos appears to be safe, if only because he is brilliant defensively. As the old adage goes, two thirds of the world is covered by water and the other third is covered by Bourjos. That leaves Torii Hunter and Bob Abreu. Abreu served as a DH last season. He might get pushed aside for Trout. Trout certainly won't DH, but Wells or Hunter could end up there in his stead.
As for Hunter, he and Abreu are both in the last year of their respective contracts. He has been a solid contributor for the life of the contract and he even took to right field defensively. Abreu simply did not have much in the tank in terms of power, but he is still an on-base machine, so he will get some at bats.
Starting Rotation
If the Angels do anything at the meetings it will be to address the pitching staff. Mind you, their pitching staff isn't bad by any stretch. 29 other teams would love to have Jared Weaver and Dan Haren as their top two starters. However, after number three starter Ervin Santana, the candidates fall off the proverbial cliff.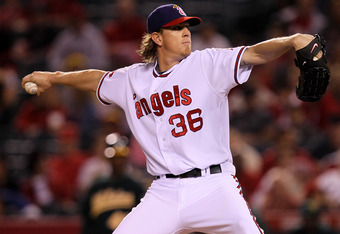 Stephen Dunn/Getty Images
Jerome Williams looked good late in the season and would be a good fifth starter candidate, but right now he is penciled in at number four. Garrett Richards is penciled in at number five and, with all due respect to Richards, most Angels fans would prefer that to be anyone else. If Arte Moreno has one magic bullet he allows DiPoto to fire, it will likely be at someone like C.J. Wilson, Mark Buerhler, or even Roy Oswalt.
Bullpen
There is some conjecture that DiPoto will try to acquire a veteran reliever to assist Jordan Walden as well. Considering the gaping holes in the rotation I would think that would be priority number two. Scott Downs and Rich Thompson were good as well last season, so the need isn't overwhelming.
However, after that the relief is fairly thin. So, I could see the Angels adding someone like Octavio Dotel in free agency to help the young Walden. If they add one free agent starter and one free agent reliever, the Rangers will start hearing the footsteps. The two teams have very contrasting styles that will be interesting to watch next year.
Winter Meetings Win
The Angels are built around pitching and fielding, arguably better than any other team. There is the temptation to trade in some of that fielding or pitching for offense. That would be a mistake. The best thing Jerry DiPoto can do is continue to feed those monsters as much as he can. The Iannetta move was a stroke of brilliance. Adding a couple of arms would finish off a very good offseason.