Vancouver Canucks: 3 Reasons the Criticism of Roberto Luongo Is Unfair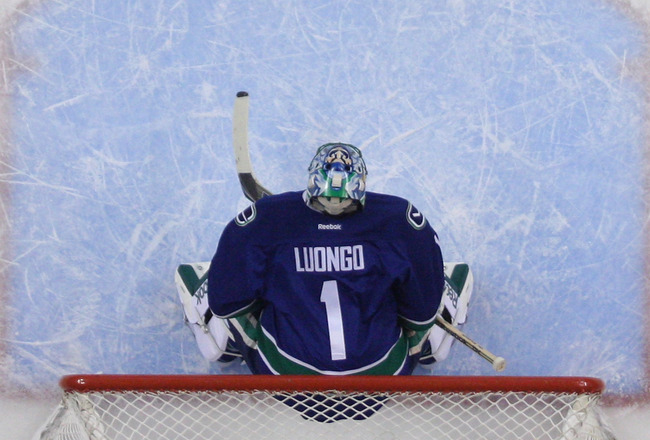 Derek Leung/Getty Images
Here's an obvious statement: Roberto Luongo is a polarizing athlete.
There's no middle ground when it comes to how he is viewed. Most fans either love him or hate him. With that being said, a lot of the hate and criticism directed Luongo's way is rather unfair and—in some cases—completely ridiculous.
While it's fair to have high expectations for an All-Star goaltender such as Luongo, much of what's written about him is extremely ignorant.
This is nothing new, by the way.
I could probably write a weekly feature on the ridiculous critiques of the Canucks starting goaltender and have plenty of new material for each episode.
For example, last week there was a rumour that Luongo was being dangled in trade talks by GM Mike Gillis (via Ottawa Sun). This was a rumour that Gillis quickly denied on Twitter. I'm guessing the rumour was created due to the strong play of Cory Schneider recently, but as you're about to find out, that doesn't diminish the ability of Luongo.
There was also a horribly ignorant blogger featured on The Star Phoenix who blamed Luongo for the Canucks entire loss on Thursday against the Nashville Predators—even though Cory Schneider allowed three goals on five shots in the first period.
The same blogger described Luongo as a "nitz" in one of his earlier blogs (via Open Ice Hitter). For the record, the word "nitz" doesn't appear anywhere in any reputable dictionary.
Clearly this guy has no clue what he's talking about.
There are a number of reasons why Luongo gets unfairly criticised, but here are the three most recent critiques of him and why they're unfair.
Just Because Schneider Is Good Doesn't Mean Luongo Is Bad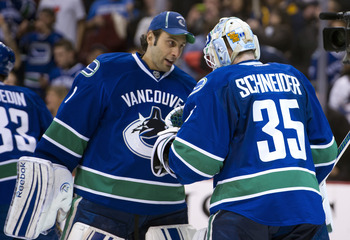 Rich Lam/Getty Images
After Luongo played great in a 4-1 Canucks victory over the New York Islanders on November 13, it was revealed that he was also injured during the game and was forced to miss a couple of starts.
However, Cory Schneider played so well during Luongo's time off that head coach Alain Vigneault was forced to continue riding the hot hand of the backup.
Unfortunately, this was somehow Luongo's fault, according to a many of his naysayers.
I shouldn't even need to explain why this is a ridiculous theory, but Vigneault was starting Schneider because he posted back-to-back shutouts and then stopped 90 of 93 shots in the next two games.
What coach wouldn't start a goalie that was on such an incredible hot streak?
The reality of the Canucks situation is that they have two world class goalies right now. It might seem difficult to fathom, but it's possible. The Boston Bruins have Tuukka Rask backing up the Vezina-winning Tim Thomas, the Buffalo Sabres have a rising star in Jhonas Enroth backing up another former Vezina winner in Ryan Miller and the Canucks have Schneider backing up Luongo.
While some may think this is a goaltending controversy, the reality is that it's not and there's no reason to blame Luongo for the success of his backup.
Recent Stats Prove Luongo Has Returned to All-Star Form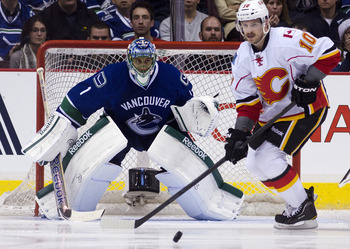 Rich Lam/Getty Images
Roberto Luongo got off to a slow start and didn't play particularly well in the month of October.
This is nothing new.
He does this every year and yet he still routinely puts up some of the best goaltending statistics in the league nearly every season.
In fact, he's already on his way to accomplishing this feat again this season—he currently has a 2.34 goals against average and a .918 save percentage in November and early December.
Many fans need to learn that one month doesn't make or break an athlete or a team, especially when that month is the first month of the regular season. Just ask the Stanley Cup champions from Boston, who posted a horrific 3-7 record in October. Since then, they are 14-0-1 and are back at the top of their division.
It's just more proof that the opening month of the season generally means nothing and Luongo's recent play is a better indication of what type of a goalie he truly is.
Despite Popular Belief, Luongo Is Not Overpaid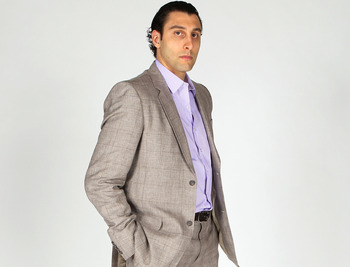 Jeff Gross/Getty Images
I've never seen, heard and read so many uninformed comments about any contract in pro sports than the comments made regarding Luongo's contract.
The only other contract that gets misinterpreted more is David Beckham's contract with the L.A. Galaxy.
Ask most casual NHL fans who they think is the highest paid goalie in the world and they'll probably blurt out Luongo's name. Those fans don't realize that Luongo has a front-loaded contract, though.
While he was paid $10 million last season, his cap hit is only $5.33 million and that's all that fans should really care about. It's the only part of the contract that impacts the Canucks' ability to spend money on other players.
Believe it or not, it's actually a lower cap hit than his previous contract, when he earned an average of $6.75 million per season.
Even respected media outlets have made mistakes on this, the latest example being The Score.
For the record, there are six goalies that currently have a higher cap hit than Luongo, and starting next year that number will rise to seven once Pekka Rinne's new $7.5 million cap hit kicks in.
The six goalies currently earning more money annually than Luongo are Henrik Lundqvist, Ryan Miller, Miikka Kiprusoff, Cam Ward and two goalies that have never won a single playoff series—Niklas Backstrom and Ilya Bryzgalov.
In fact, Ward is the only Stanley Cup champion of all those goaltenders and Miikka Kiprusoff is the only other guy on that list that has made it as far as Luongo in the playoffs. This is worth noting because Luongo has often been criticised for never having won the Stanley Cup, which is also unfair.
At the end of the day, it's impossible to convince the haters that their criticism of Luongo is generally unfair. Granted, he can be inconsistent and his tendency to give up soft goals after making numerous wonderful saves is frustrating at times.
However, wouldn't you rather have Luongo as your starting goaltender than the majority of those other goaltenders making more money than him annually?
Keep Reading

Vancouver Canucks: Like this team?