NHL Hockey: The Boston Big Bad Bruins Are Back! (A Detailed Analysis)
December 6, 2011
Jim Rogash/Getty Images
LeBron James isn't on this team. Aaron Rodgers isn't there, either. However, this team is as powerful than the Miami Heat and the Green Bay Packers in their respective sport.
Did you miss them? The Big Bad Bruins from the 1970s are back. They are big and they can fight. They are talented and they can skate. They are dominant at the blue line, in front of the net and on the offensive side.
Even if you hate them, you must admit that watching their game is exciting. This is good old hockey with hard hits and bloody fights!
The Boston Bruins just won the Stanley Cup a few months ago, and they are heading in the right direction to achieve it again this year. Actually, since the Detroit Red Wings, they are the first team with the capability to repeat the exploit.
15 Straight Dominant Games
The Boston Bruins are on a hot streak and no one seems to be able to stop them. They got at least one point in each of their past 15 games. Since their two consecutive losses against the Montreal Canadiens, the Big Bad Bruins went 14-0-1.
The Bruins are still far away from netting the record of the longest streak without failing to gain a point. However, they certainly are on the right path. This record is held by the Philadelphia Flyers. They had a terrific 35-game stretch where they recorded 25 wins and 10 ties.  
The most impressive part of it is the Bruins' dominance in this 15-game stretch. They scored 66 goals (4.4 per game) while allowing only 27 goals (1.8).  Seven of these games ended with a difference of three goals or more. This is almost 50 percent.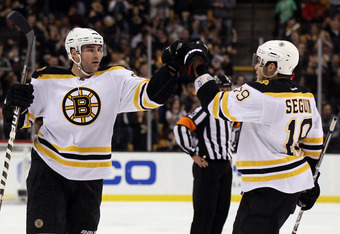 Elsa/Getty Images
Also, 66 percent of these games ended by two goals or more in favour of Boston. Are we witnessing dominance here? I believe we are!
If you are facing the Bruins, should you feel comfortable playing on your own ice? The Bruins are 7-0-0 away from Boston and they outscored their opponents 27-7.  Teams have scored an average of only one goal on their own ice vs. the Bruins during that stretch. Who will stop them?  
Dominance in front of the net
At 37 years old, Tim Thomas continues to be the most dominant goaltender in the league. Love his style or not, his statistics speak for themselves.
This year, he is 6-1-0 on the road with an outstanding 1.54 goals against average and an amazing .949 save percentage.
Overall, for the season, he has a goal against average below 2.00. So far, he recorded better stats this year than in 2010-2011 (2.00 GAA and .938) and 2008-2009 (2.10 GAA and .933), his two Vezina Trophy seasons.
Thomas isn't in the net? The Bruins don't even need to worry. The 24-year old backup, Tuukka Rask, has a 2.09 goal against average and a solid .924 save percentage. The scary thing is that Rask is still developing. Once Thomas retires, the Bruins already have their new star ready to cover the net.
Solid Physical Dominance
The Bruins are physically dominant. Zdeno Chara, Shawn Thornton and Milan Lucic won't be intimidated by anyone. If you don't believe me, ask the Buffalo Sabres and they will probably agree with me. On the entire depth chart, the Bruins only have three active skaters shorter than 6 feet.  
On defense, the Bruins have big bodies with Zdeno Chara (6'9", 255 pounds), Johnny Boychuk (6'2", 225 pounds) and Adam McQuaid (6'5", 209 pounds). If any player wants to crash on the net, he is in for a long evening. If an opponent touches Tim Thomas, what happens?  He will see five guys in his face within a few seconds.
How can teams based on speed and talent like the Montreal Canadiens compete with them? The Canadiens have eight skaters shorter than 6 feet, including Brian Gionta and David Desharnais, who are 5'7". 
Same applies for the Pittsburgh Penguins. They have seven players who don't reach the 6-foot tape. Have you seen how Crosby and Malkin were handled in the last game? I can't imagine them going on in a seven-game playoff series and having success.
What makes the Bruins so special is that they are physical on every line. Most teams will have physical power with their third and fourth line.
However, Boston can dominate you physically with their four lines. This is exhausting for opponents. As a hockey player, getting constantly hit hard and pushed throughout a game will get to you.
Talking of Talent, the Bruins are Talented
Tyler Seguin is developing, becoming a top performer in the league. He has 24 points and a plus-minus ratio of 20.  He brings blazing speed to this team. Milan Lucic is also a talented player with 10 goals and 10 assists so far.
The Bruins are a complete team. As of now, the Pittsburgh Penguins are the Las Vegas favourite to win the Stanley Cup. The Boston Bruins come second. This is a mistake.
The Boston Bruins are No. 1 in goals against with an average of 2.1 goals. They are No. 2 in goals per game with an average of 3.4 goals. They also have the best goal differential in the entire league. If you're a Bruins fan, feel good about it, because your team is in a great position.
The Bruins have an average age of 27, and eight players are 25 or younger. They will be dominant for a long time.
Follow me on Twitter for more breaking news about the Boston Bruins