NBA Free Agents 2011: Grant Hill and the Top Veterans Available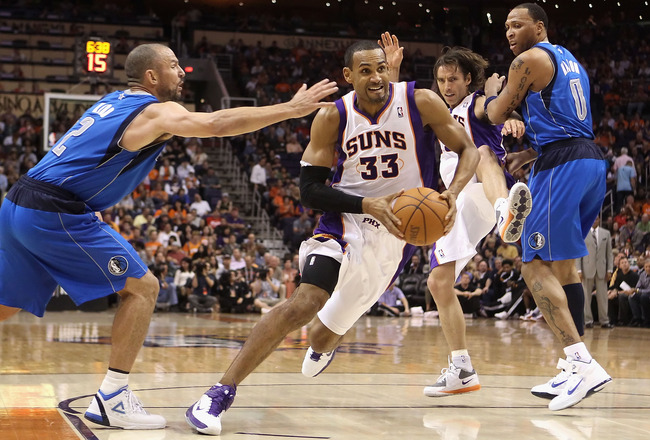 Hill Leads a wave of seasoned vets in free agency
Christian Petersen/Getty Images
With the free-agent frenzy looming, all sorts of movement will start Dec. 9th. Teams will be looking to add scorers, rebounders, and defenders as other assortments of skill sets that will help them get to the next level.
One thing teams can't ignore is the need for seasoned vets who have been through the rigors of the NBA with great frequency. Having that kind of experience is an invaluable asset that can be shared with the young bucks on NBA teams.
With many vets out there, let's explore some of the more talented near 40-year-old bunch still lingering around, continuing their dominance amongst the best the league has to offer.
Grant Hill
The 39-year-old seems to have found the fountain of youth and his play in recent years has gone very well. Hill's skill set has been steady with ball handling and finishing skills being his best assets.
His shooting has expanded out to the three-point line (40 percent over last two years) as well as his overall efficiency as a player. Past ankle woes seem to be well behind him and his first step is still very quick.
Hill has stayed in such good shape over the years that at times, he looks like the younger player on the court. He will make some team very happy when he chooses his next work destination.
Potential teams: Phoenix Suns, Dallas Mavericks, L.A. Lakers, New York Knicks and Miami Heat
Captain Kurt Is Looking for a Home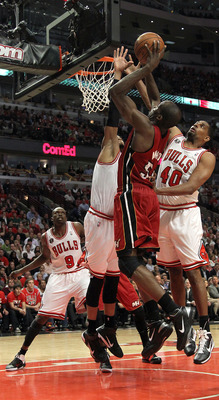 Mike Ehrmann/Getty Images
Kurt Thomas
Another 39-year-old who has 16 years to his credit and some gas left in the old tank. Thomas will provide his new team with a solid on-ball and team defender who can handle taller players in the post even if he is undersized.
Thomas is nowhere near the athlete Grant Hill is at the same age, but Thomas still is solid in the pick-and-pop game and a very efficient player who doesn't make many mistakes on court.
His toughness and wits for the game can be used on the court and in the locker room.
Potential Teams: Knicks, Heat, Dallas, Oklahoma City Thunder, Chicago Bulls and Washington Wizards
Defender Supreme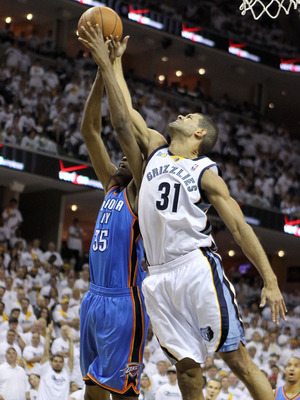 Andy Lyons/Getty Images
Shane Battier
Shane Battier has shown over the last 10 years that defense was always in his forte. At 33, his ability to defend small forwards and stretch power forwards is still very present.
Battier is as steady and under control as they come, as well as a player that always seems to challenge opponents' shot attempts. Battier still shoots the ball well from behind the three-point area, plays within his abilities and is truly a class act.
As they often say: Defense wins championships and Battier is still one of the league's best.
Potential Teams: Heat, Bulls, New Jersey Nets, Lakers, Memphis Grizzlies, Knicks and Milwaukee Bucks
Enforcer for Hire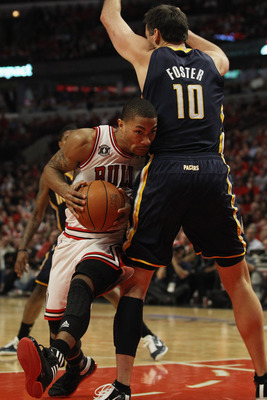 Jonathan Daniel/Getty Images
Jeff Foster
Jeff Foster is pushing 35 years, but he will still play a solid role in a team in need of size and toughness. While barely averaging 20 minutes of playing time, Foster amassed over six rebounds a game.
His strength is hitting the offensive boards (19.1 rebound rate) and is a strong yet underrated interior defender. While Foster won't enamor you with his offensive abilities, a team already strong on offense can allow Foster to do what he does well.
If he can stay healthy, Foster should be able to help a team's depth and give them that tough player every NBA roster craves.
Kenyon Martin Is a 6th Man Candidate?
Justin Edmonds/Getty Images
Kenyon Martin
While his services might not be available until March due to his Chinese contract, Kenyon Martin will be open to signing with a team that truly will need his services.
The 34-year-old has 11 years of NBA service, but Martin has had his share of wars in the paint. His ability to block shots and defensive presence in the paint is one reason he may score pretty well in free agency.
His jump shot has extended itself nicely and his legs seem to still have some nice bounce after having microfracture surgery on both knees. He can possibly be a near double-double guy on the right team.
Potential Teams: Denver Nuggets, Atlanta Hawks, Boston Celtics, Wizards and Golden State Warriors
Keep Reading