Sacramento Kings 2011-12 NBA Season Preview
December 6, 2011
Ezra Shaw/Getty Images
Geoff Petrie has long carried the reputation of drafting and acquiring little-known, offensive-minded players often times from Europe.
During his 17-year tenure directing the Sacramento Kings organization, dozens of players of that mold enjoyed success in Sacramento, including Vlade Divac, Peja Stojakovic, Hedo Turkoglu and Sarunas Marciulionis.
But after struggling mightily on the court these last several seasons, it appears that philosophy has gone by the wayside.
The last few offseasons have largely been spent acquiring physical, athletic specimens to fortify the frontline and prevent layup lines on the other end.
The Kings, while still one of the youngest teams in the NBA, appear to have the foundation needed to return to winning basketball.
The following is a break down position by position, including a win-loss prediction and a general outlook for the 2011-12 campaign.
Point Guard
Third-year guard Tyreke Evans looks to rebound from an inconsistent and often unimpressive second year. His season-long battle with injuries curtailed the explosiveness and sheer physical dominance displayed in his rookie season. Tyreke will certainly be aided by the enhanced offensive weaponry alongside him as well.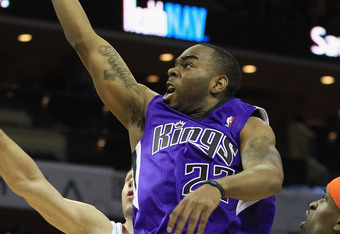 Streeter Lecka/Getty Images
Beno Udrih is out and offensive rookie phenom Jimmer Fredette is in. Fredette will likely see minutes at both guard spots as the Kings lack a true set-it-up style point guard. His devastating three-point range will force defenses to honor him and thus create ample space for Tyreke Evans to create. While on the floor together, Evans and Fredette are both capable of generating offense for teammates.
The Kings also drafted Isaiah Thomas from the University of Washington. Isaiah brings a nice set of offensive gifts to the table but will struggle to find minutes because of the wealth of talent at the guard position. Pooh Jeter is a free agent but isn't expected to return.
Shooting Guard
When Marcus Thornton came to Sacramento last February, even Marcus himself couldn't have envisioned the consistent production he provided from day one. In his 27 games with the Kings, he averaged better than 21 points, 3.5 assists and five rebounds with efficient percentages across the board.
Thornton also hit a number of critical shots and has a talent that's somewhat vacant on this roster; the ability to create his own shot. He is a restricted free agent and the Kings are expected to match any offer to ensure he remains a King.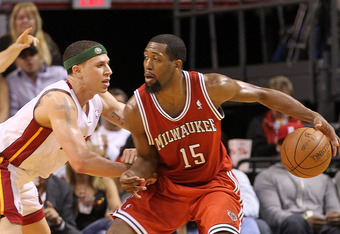 Mike Ehrmann/Getty Images
Tyreke Evans will obviously play a great deal of minutes at the 2-guard as well. Francisco Garcia will carve out a limited role due to his three-point marksmanship and veteran leadership.
Small Forward
Pencil newly reacquired John Salmons in as the starting small forward barring an unforeseen roster move before the season starts.
Salmons' penchant to hold the ball too long is far from an ideal fit to start alongside Tyreke Evans and Marcus Thornton, but he is an instant and major upgrade from the quagmire at small forward that has plagued the Kings the last several years. Additionally, Salmons is yet another creator who coach Paul Westphal can rely on.
With Omri Casspi now in Cleveland, Donte Greene and rookie Tyler Honeycutt will battle for the reserve small forward minutes. Greene has had moments of brilliance in his three NBA seasons, but inconsistency has been the only consistent thing with Donte. Donte is still a tantalizing prospect because he is only 23 years old.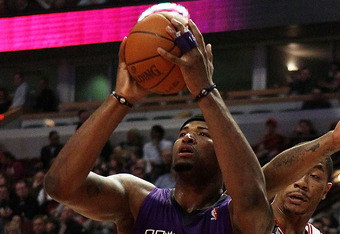 Jonathan Daniel/Getty Images
Power Forward
The training camp competition to keep your eye on is between fourth-year big man Jason Thompson and the newest addition to the roster, J.J. Hickson.
Thompson performed admirably after Carl Landry was traded midseason and the Kings' frontcourt rotation became more concrete. JT compliments the immense talents of DeMarcus Cousins very well with his rebounding prowess, effort and defensive grit.
Hickson on the other hand is far more polished offensively and has the experience of winning and playing in meaningful playoff series' while with the Cleveland Cavaliers.
Center
The Kings are banking on DeMarcus Cousins to take a monumental leap from last year to this. There were times in 2010-11 when DeMarcus was flat out unguardable with his soft hands and explosive scoring ability.
There were also times when he pouted, received unneeded technicals and served as a major distraction to the team. DeMarcus Cousins' maturity and his development will play a large role in how far the Kings can go.
Samuel Dalembert is an unrestricted free agent and his return is up in the air. Dalembert was effective in his first season with the Kings but there is speculation that he wishes to join a title-contending franchise. Second-year center Hassan Whiteside is perhaps the most athletic player on the roster but is still extremely raw.
In some ways, the NBA's lengthy lockout may actually help the Sacramento Kings in 2011-12. The youthful legs of the Kings may be able to take advantage of the three games in three nights and four games in five nights that will affect older, veteran-laden teams.
Offensively, the Kings will be a dangerous outfit. With Tyreke Evans, Marcus Thornton, John Salmons and DeMarcus Cousins, there are four players who are more than capable of scoring 20 points any given night. Jimmer Fredette will be a major liability defensively, but he will be ready to contribute offensively from day one.
Defensively, the Kings have some individual players that are capable of staying in front of their man, but their team defense will struggle as there is little chemistry between this group of players which to this point have yet to play even one organized basketball game together.
The retaining of Samuel Dalembert will serve as a major band-aid to cover up mistakes, but his return is unknown. It should also be noted that there are multiple centers available in free agency who could provide an impact for the Kings.
Despite the fact that the Kings are the third-youngest team in the NBA, I believe the Kings can flirt with a .500 record. On the strength of Tyreke Evans' and DeMarcus Cousins' growth and the overall improvement of the roster, I predict the Kings will go 29-37 and will narrowly miss out on a playoff berth.