Heisman Trophy Finalists 2011: Twitter Reaction to 5 Final Heisman Hopefuls
December 5, 2011
Stephen Dunn/Getty Images
As the leaves on tree begin to fall, the biggest stars in the college game rise. It's time for a Heisman Trophy winner to be crowned, and Twitter users are losing their collective minds over that fact. 
On Monday, we were given the finalists for the highly coveted prize for college football superstar. Let's be honest: this has been a one-horse race ever since Andrew Luck decided to spurn the pros for another year at Stanford. 
After a wild regular season, the race has a couple fresh new faces that can derail what could have been a perfect year for arguably the best quarterback in the nation. Montee Ball, Robert Griffin III, Trent Richardson and Tyrann Mathieu join Luck as final Heisman hopefuls.  
Here is a rundown of what the Twitterverse thinks about the field of fabulous finalists. 
It's clear who the people's choice is for the Heisman Trophy as this tweet is echoed throughout the nation.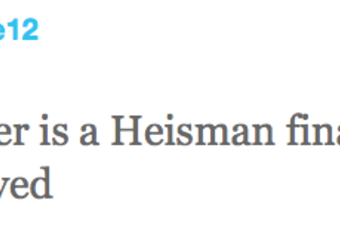 USC fans will whine that their quarterback that has delivered a heroic effort his year was not included. This tweet gives two reasons why Matt Barkley is not going to New York.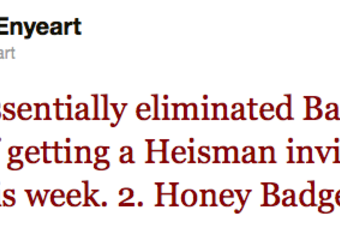 Some more love in tweet form for the Honey Badger.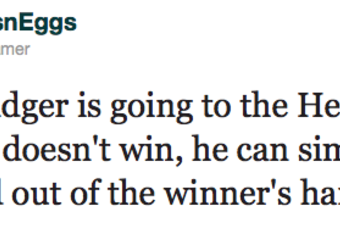 Mathieu isn't the only player to get a great deal of love. It seems the nation is in love with the underdog Robert Griffin III. This tweet locks up the Heisman trophy ceremony.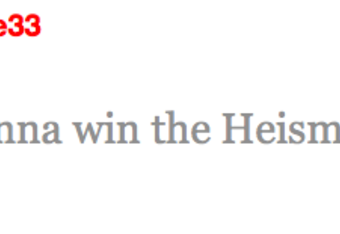 This tweet sums up what everyone has been saying ahead of the Heisman ceremony. Andrew Luck is no longer a guaranteed winner.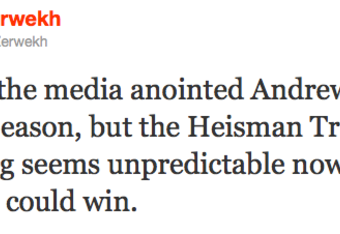 Hard not to feel bad about Barkley when he tweets this sentiment. A stand-up athlete whose pro career may trump anything happening this week.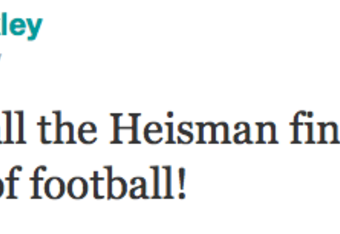 What about the ultimate sleeper in the room? This tweet should say it all about Trent Richardson.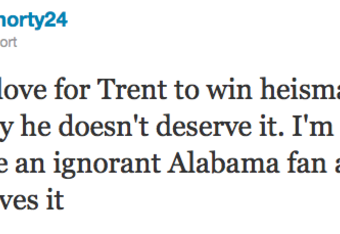 And really, what did you expect from a wild and tumultuous season? The voters have spoken and the public has responded in kind. 
The only real snub of note would be Matt Barkley. The only ones that would consider that a travesty reside in Southern California. 
We are in store for a week of speculation and engaging discussion of who deserves the final nod. It's clear the voters have given us a great deal to work with already.