Miami Marlins Free Agent Signings Closely Resemble 1997 World Series Moves
December 5, 2011
Jim McIsaac/Getty Images
Right behind the Minnesota Twins and Baltimore Orioles, my two favorite teams, has always been the team formerly known as the Florida Marlins.
Before I tried unsuccessfully to convert family members in South Florida from Tampa Bay Rays fans only to be met with "I don't know nothin' about nothin' when it comes to the Marlins!" I talked to a friend of mine, over a year ago, about going to a game sometime in 2012 when the Marlins announced plans for a new ballpark to be opened that year.
With the signings of All Stars Heath Bell and Jose Reyes, you can see why.
After initially having talks with mega-free agents Albert Pujols, Mark Buehrle, C.J. Wilson, Bell and Reyes, and after hearing nothing on Buehrle and Wilson I was thinking the Marlins were being used like another one of my favorite teams from another sport has in the past on the free agent market, that being the NFL's Arizona Cardinals. However, I barely had time to mock Bell's visit and he already signed a three year deal barely a day later. Now with Reyes, you know the Marlins are serious and it appears its just the beginning.
ESPN.com's Jayson Stark is reporting as Karl Ravech and John Kruk did last night that even with these two signings, it is not going to stop the team from aggressively pursuing the biggest (potential) Fish of them all in Albert Pujols. For many baseball fans, especially nostalgic ones like ESPN's Tim Kirkjian and Buster Olney, along with skeptical average fans, that is what its going to take for them to believe the Marlins are for real and not going away like in season's past?
There are still those that never believed that Pujols would ever leave the Cardinals when I wrote more than once, http://bleacherreport.com/articles/772401-when-will-albert-pujols-make-it-official-and-leave-st-louis-for-chicago and again, how either Pujols or Milwaukee Brewers free agent Prince Fielder could find their way to this Marlins team inspired by its new money from a new stadium as well as increased revenue sharing. http://bleacherreport.com/articles/772412-prince-fielder-cardinals-brewers-cubs-nationals-where-will-he-go  If you listened to ESPN Baseball Tonight's crew last night there is no end in sight for this "new money" so expect them to do more things, bigger things.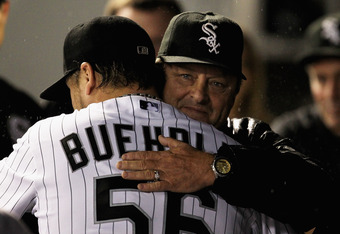 Jonathan Daniel/Getty Images
Building a balanced team
Have you noticed the template that the Marlins are using? First they build their team from the back end of the bullpen in signing reliable, proven closer Heath Bell. Not exactly a conventional way, but effective nonetheless as it will allow former closer Leo Nunez to either slide into the primary set up role, or perhaps be traded for even more talent. I suggest any deal with the Minnesota Twins who are looking for bullpen help. You can have any one of our starting pitchers: Carl Pavano, Scott Baker, Nick Blackburn or Kevin Slowey. (I personally expect Baker and Slowey to be traded anyway, if only for bullpen depth otherwise the Twins are sure to lose over 90 games next year again.)
Next, they sign a guy who is fast, creates havoc on base paths, scores runs and generates excitement at the top of any batting order in Jose Reyes formerly of the Mets. This move is going to sell tickets and appeal to the Marlins growing Latin fan base as is the team's marketing strategy from their new name to their new manager, Ozzie Guillen. While I fear both the friction such a move could make as it will cause Hanley Ramirez to move to third base and I feel Ramirez and Reyes are basically the same player similar to the Miami Heat's Dwayne Wade and LeBron James of the NBA, you can't argue with run producers nor the depth such a move brings to their lineup.
Besides, the lineup will even out if and when Fielder or Pujols sign which is looking increasingly likely now that the Marlins have shown they are serious and the hot new place to be. While I said all along I'd be more surprised if Pujols stayed than if he left, recent reports indicate that if he were to leave the Cardinals, the Marlins would be the leading destination. This is exactly what I want to happen, if only to prove to the naysayers that it can't be done and to shift the balance of power from a team I can't stand to one I can personally.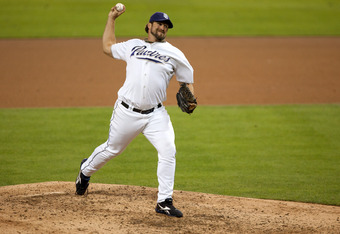 Kent Horner/Getty Images
In sum, these three moves would add power, speed and skill to the infield and bullpen. The final piece would be one of either Buehrle or Wilson and given the choice to add to the starting rotation, I'd definitely go with Buerle. While I would be concerned with either American League pitcher moving to the opposite league, Buehrle has pitched in 200 or more innings each of the last 11 seasons according to ESPN's Buster Olney. That shows both durability and leadership, but also obvious effectiveness.
For those skeptical of the Marlins' lack of starting pitching depth, adding the power and run production of Pujols and Reyes respectively is going to lead to increased offense meaning scoring more runs can cover potential bad outings from starters not named Josh Johnson or Buehrle/Wilson whomever they get. It creates margin for error.
In 1997 the Marlins added starting pitcher Alex Fernandez who would be played by Buehrle or Wilson, Reyes playing the role of Moises Alou, Heath Bell doing his best Robb Nen impression, and Pujols or Fielder who closest resemble the Jeff Conine, Bobby Bonilla acquisitions.
It also doesn't hurt that a player's manager in Guillen, who future free agents are going to love to play for, manages them.
Don't expect a fire sale unlike the past
I think right now the Marlins could challenge anyone in the division for the National League East crown but they've got their eye on bigger and better things. We all know they aren't done and when they are, you can bet I'll be placing them atop the division.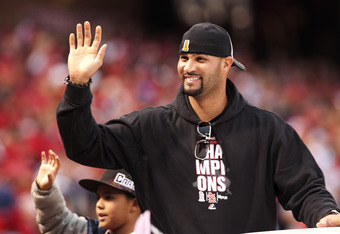 Ed Szczepanski/Getty Images
For those of you thinking this is just a temporary fix consider that unlike the World Series years of 1997 and 2003 which led to subsequent "fire sales" just a year later in both cases, the new stadium combined with the revenue generated from that and a greater revenue sharing system should allow these Marlins to stay together for the long term.
Additionally, once again, having Guillen will help. While it may someday get the moody Ramirez shipped out of town, those that stay and get with the program are going to love Guillen as will the South Florida media.
Next, if the Marlins actually land Pujols consider the star power, endorsements, revenue, and excitement he brings. Look at his career-- Pujols led teams don't usually miss the playoffs which is a good sign if you are looking for a correlation. A couple times they win it all, and a quarter of his 12-year career, they are in the World Series having lost in 2004 to the Boston Red Sox. The Marlins really have nothing to lose with signing Pujols or settling for Fielder. Short of injury, the buzz and revenue generated from their deals will more than make up for their hefty pending salaries.
Finally, adding players of Reyes and Pujols or Fielder's salaries will make it almost impossible to trade them in any fire sale anyway, thus ensuing the team's competitiveness as a contract they can't get rid of ala Alex Rodriguez in New York. If they ever did want to trade either away, they'd have suitors lined up ready to re-stock their farm system and major league roster with a slew of talent that either would command so its basically its a can't lose proposition short of a career ending injury and even those are majority covered by insurance so I say go for it!
You can get on board now, or you can wait of an Albert Pujols announcement but either way, these are new times in South Florida. Expect the media to proceed with caution until their boy Pujols signs. Then its every man for himself as visions of 1997 dance in everyone's heads.
FYI: the South Beach-NBA party-like/clubbing atmosphere references don't apply here since baseball is a slower sport, a genteel game, but if you want to show your ignorance by applying those labels from afar, its just going to make your latest conversion all the more obvious.
And you can't say you didn't see this coming with 1997 as a guide, the day the new stadium was approved was the day this became a formality.
Information and references from ESPN, ESPNDeportes, and FoxSports.com directly contributed to the content of this article.