NFL Playoff Predictions: Detroit Lions Need to Play Dirtier and Retaliate More
December 5, 2011
Wesley Hitt/Getty Images
Despite losing to the New Orleans Saints and successfully embarrassing themselves in front of a national audience for the second time this season, the Detroit Lions otherwise couldn't have had a luckier Week 13 in terms of their playoff potential.
But in order to avoid losing their first playoff shot since the '90s, the Lions are going to have to fight in their last four regular season games ... and they're going to have to fight dirty.
Despite their fifth loss, the Lions playoff chances improved a hair in Week 13 with the Chicago Bears, Atlanta Falcons, New York Giants, Dallas Cowboys and Philadelphia Eagles all taking momentum-killing losses as well.  
For the Eagles, it was a season-ending loss.  For the Lions NFC North division-rival Chicago Bears it may have been as well, given the MCL sprain suffered by Matt Forte.
But any positives for the Lions will be relatively ignored since they did an excellent job of repeating Thanksgiving Day on Sunday Night Football. 
Plaxico-esquely Shooting Themselves in the Foot
They somehow managed to reinforce to the entire NFL fan base their reputation as the dirtiest team in football, Plaxico-esquely shooting themselves in the proverbial foot with some of the stupidest penalties you'll ever get to watch during a primetime NFL game. 
But that spin and their subsequent reputation is only a half-truth.
Sure, most of the analysts who are pouting and popping off about Sunday Night's Lions-Saints matchup on major sports networks and media outlets are buying in—they're chiding and chastising a freshman Lions team for not being able to avoid stupid penalties. 
They'll call it maturity issues when talking about the unsportsmanlike conduct penalty Titus Young earned for taking a swing at the Saints' Malcolm Jenkins.
They'll talk about veteran issues when mentioning Stefan Logan's post-whistle taunt that involved flipping the football at the Saints' defense and a 15-yard penalty, or Nate Burleson's unheard-of three offensive pass interference calls in a single game that took away some big gains form Detroit.
They'll say the Lions are their own biggest threat to squandering a playoff opportunity after starting a season 5-0 for the first time since most of their active roster's parents were in diapers.
Has No One Learned from Ndamukong Suh?
They'll ask, "Has no one learned from Ndamukong Suh?" A player who's created a media circus with a few misdirected attempts at establishing himself as one of the most intimidating pass rushers in the league, who landed himself a two-game suspension with a Thanksgiving Day temper-tantrum.
Dirty, dirty, dirty.
To the world, the Lions are big dumb monsters who don't belong in this league, and it's a reputation they aren't shaking anytime soon thanks to the gossip-loving tendencies of ESPN's SportsCenter and the fun, rabble-rousing survey's of active players that get drummed up to create silly story lines for the fans to enjoy between the weekends.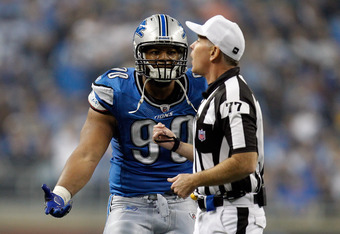 Gregory Shamus/Getty Images
The stuff that distracts people from all the trash-talking, fingers through the face masks in scrums and pile-ups, biting, mom-bashing, death threats and blatant flopping that go ignored by officials, telecasters and the average fan—yet seem to occur almost every down in the NFL and are perfectly acceptable as long as they don't cost teams yardage.
No one's discussing the defensive pass interference called on a key third down against Lions corner Eric Wright, when a replay clearly shows that it was Lance Moore's acting job and arm bar on Wright that ended up creating an illusion large enough to draw a flag, resulting in a key Saints conversion and ultimately a touchdown.
No one will mention how getting the right call on that play could have swung the game an entirely different way.
NFL Fan-boys Need the All American Boy
Because NFL fan-boys want to be coddled with the illusion that football is won by good sports, all American-boy quarterbacks and cheesy father-son coming of age moments. 
But that illusion creates a traditional mindset of the NFL that is dumber than Albert Haynesworth stomping on heads.
It's that same traditional mindset that opposed the evolution of helmets and face masks in the budding, primitive days of pro football. In retrospect, that idea is now considered ridiculous from a medical standpoint.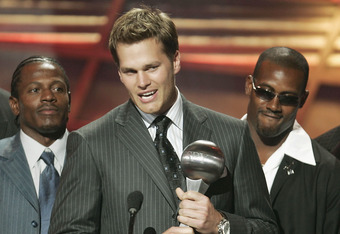 Carlo Allegri/Getty Images
It's that same traditional mindset that hindered people of color making it big in the budding, primitive days of pro football. In retrospect, that idea is now considered ridiculous from a human standpoint.
It's that same traditional mindset that has modern NFL know-it-alls screaming Tim Tebow can never succeed as an NFL quarterback.  In retrospect, he and the Denver Broncos are now tied for, well, maybe the jury's still out on that one.
But all outrageous comparisons to racist leatherheads and anti-Tebow-ites aside, if the Detroit Lions want to reignite their playoff run, they need to brush this BS off their backs, hone into their game and get even dirtier.
Embrace the Reputation as the Dirtiest Team in the League
They need to embrace the reputation that has been bestowed upon them by more experienced teams' ability to bait the Lions into getting called for stupid penalties. 
They need to win despite being the little brother that gets caught with their hand in the cookie jar because the older brother set a trap, knowing mom was on her way down the stairs.
They need to realize that if they're going to get in trouble with Mother Media and Daddy Goddell anyway, that they might as well throttle their big-brother teams to make it worth the punishment—or at least ensure they aren't going to get baited as easily next time.
Leon Halip/Getty Images
The Lions have a power back in Mikel Leshoure joining them in 2012.  Have you seen pictures of Mikel Leshoure? Have you seen his tattoos?  The Lions aren't exactly slated to get prettier or more Brady-esque in the near future. 
So enough with what the NFL fan-boys think the Detroit Lions should be. 
Take a Page from the Book of the Bad Boys…and Kenny Rogers
Yep, it's time to borrow a page from Bill Laimbeer, Jr., Rick Mahorn and the rest of the Detroit Pistons who suffered through their (more-deserving) reputation as Bad Boys, for years in the NBA, yet still found a way to win championships instead of just getting punked on prime-time television.
So Lions and Lions fans, don't buy in.
Get smart and get more aggressive.  Play your game and play it even harder.  Borrow a page from the book of Tebow and shake up the NFL with what it is you do best.
Any while you're at it, borrow a page from the book of Kenny Rogers and know when to hold 'em, fold 'em, walk away and run.
Because the playoff-ball is now pretty much firmly in your court and you aren't going to be able to count on luck the next four weeks to get you in.