Houston Astros: Winter Meetings Preview According to Total Player Rating
December 5, 2011
J. Meric/Getty Images
The Astros have two main tasks that are occupying their time at the Winter Meetings. MLBtraderumors.com is reporting that Andrew Friedman will not take the open general manager's position. This isn't a surprise, but Astros fans and ownership were holding out hope they could hit a grand slam. Friedman would be the only slam dunk of the available candidates.
Unfortunately, he represents a growing list of would be candidates that are turning down the Astros. So, they will look at a group of relative no-names to those outside of the industry. Whether it takes a week, month or several months, they must choose the right guy, or the organization will be doomed for the next decade.
Infield
Interim general manager David Gottfried is not a candidate for the job, but he can help save his own by making a good showing at the Winter Meetings. Getting a shortstop to replace Clint Barmes is job No. 1 of the entire offseason. Currently, the Astros have Angel Sanchez and Brian Bixler ready to compete. I'm sure all Astros fans would love to see anything else.
Third base is another interesting battle coming into spring training. Chris Johnson owned the position in 2010, and Jimmy Paredes owned it at the end of 2011. Both sported .371 BABIPs in their respective seasons. Neither appears to be a long-term answer.
Matt Downs looked really good coming off the bench, but Brad Mills was reluctant to give him many starts at the hot corner. Stay tuned to this situation.
On the right side of the infield, Jose Altuve comes back from a disappointing debut. However, he is only 21 and has time to grow into the position. Since the Astros will not compete in 2012, he will be given ample time to grow into the position.
First base is another bone of contention. Carlos Lee was solid offensively and defensively, but the annual effort to deal him will commence this week. If he is dealt, then the Astros have a combination of Brett Wallace and possibly Brian Bogusevic. Wallace was cut from his Winter League team.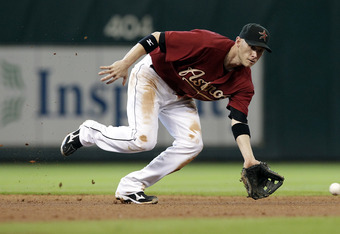 Bob Levey/Getty Images
Outfield
The outfield is slightly more settled. J.D. Martinez appears to be the regular left fielder unless Brett Wallace pushes Lee back to left field. If that happens, then Martinez will shift to right field. Martinez woke up out of bed, hitting .330 in the minors, but struggled some in his debut. Overall, he showed good power and a knack for driving in runs. Yet, he hit a hair better than .260 after dominating minor-league competition.
Jordan Schafer is penciled in center field, but he has spent much of the offseason in trouble with the law. Currently, he is in rehab following a felony marijuana possession charge. Stints in rehab tend to look good in sentencing, so jail time is unlikely. Still, with a new sheriff (GM) coming to town, it is unclear as to what his future will be.
That leaves a trio of outfielders that can all play center field or right field. The aforementioned Bogusevic appears to be the leading candidate for right field. However, Jason Bourgeois showed he can play all three positions ably and provide a speed threat on top of the order.
J.B. Shuck has spent a lifetime getting on base and getting overlooked. Past regimes in Houston have been reluctant to pay attention to OBP, but that likely will change.
Starting Rotation
As it stands right now, the rotation is locked in, but both Wandy Rodriguez and Brett Myers are trade bait. If both get dealt, there will be some interesting competition in spring training. Bud Norris, J.A. Happ and Jordan Lyles have their spots locked in. If those two veterans are dealt, it will go down to a competition between Henry Sosa, Brett Oberholtzer, Aneury Rodriguez and anyone else they bring in.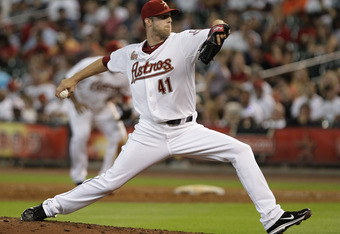 Thomas B. Shea/Getty Images
Happ was demoted in the second half, and the demotion seemed to do the trick. Before the demotion, he was arguably the worst starter in the NL. Afterwards, he wasn't brilliant, but he was good enough to elevate himself over the replacement level.
Norris, on the other hand, was a revelation. He likely will always struggle some with command, but he was good enough to post a sub 4.00 ERA.
Like most young pitchers, Lyles was up and down. His record (and ERA) didn't indicate how good he pitched. A few late-season relief innings blew his ERA up. A season of incremental progress would make him a league-average pitcher. At 21 years old, that would make him a future all-star if that kind of growth continued.
Bullpen
ERAs are often misleading when looking at bullpens. Pull out the nearly half dozen regulars in the pen last year, and you would find all of them with ERAs under 4.00. Those ERAs hid the fact that they were collectively horrible in pressure situations. Mark Melancon was decent enough as a closer, and he'll continue in that role this year, but he is not a long-term solution for the role.
Otherwise, the Astros got some yeomen-like performances from Wilton Lopez and Fernando Rodriguez. Neither were good under pressure, but they logged good innings in low leverage situations to finish with good numbers.
Meanwhile, Brandon Lyon comes back from surgery and they hope he will hold down the setup role. Lyon has historically performed better as a setup guy anyway.
Gottfried will likely look for some cheap options to add to the group. That means some non-roster invitees and guys that may be coming off injuries or disappointing seasons. Building bullpens these days is often about guess work. Look for pitchers that may have had bad luck (high BABIPs) and bank on a reversal of luck.
Winter Meetings Win
The bar is going to be pretty low for Gottfried. If he can trade either Wandy Rodriguez and/or Brett Myers and get some value back it will be a good week. In particular, the Astros need minor league depth across the board. Their farm system finished with the worst record in baseball. Clearly, they need to add more talent and quickly.
Last year, they were able to add 10 players for three before the trade deadline. If they get a similar ratio (say five or six solid prospects) for the two veteran starters, they will be happier. Otherwise, he just has to avoid doing something stupid. Gottfried is reportedly a bright guy, so that shouldn't happen.