Toronto Blue Jays: Who Would You Rather Have, Albert Pujols or Prince Fielder?
December 5, 2011
Jamie Squire/Getty Images
I find it interesting that this has not been a very hotly debated topic considering they are the two biggest free agents this offseason (especially with Reyes now signed with the Marlins).
The Toronto Blue Jays have been seen as a frontrunner in the Prince sweepstakes and could hopefully land this enigmatic hitter. However, I continually ask myself, why don't the Blue Jays go after one of the best hitters I have seen during my lifetime?
The simplest argument for Prince over Pujols in regards to the Blue Jays is the age factor.
Pujols is (supposedly) on the brink of turning 32 while Prince is 27 years and six months old.
For a team like the Blue Jays, who are planning to be really competitive in 2013 and on, having a 33-year-old Pujols might not be the best signing as his game begins to digress.
But will it?
Argument for Pujols:
Pujols is quite the physical specimen, whereas Prince often looks one hot dog away from...nevermind. I personally don't think that Pujols will regress in his early to mid 30s whereas Prince, at his weight, will slowly break down.
Pujols is always in tip top shape, has an excellent eye at the plate (career K/BB: 704/975) and last year was the only season he hit under .300 (.299) and under 100 RBI (99). He did all of that while missing 15 games. His career numbers are outstanding, showing consistency with a career OPS of 1.037, slugging percentage of .617 and batting average of .328.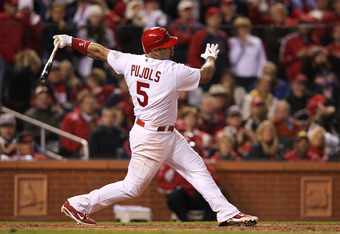 Jamie Squire/Getty Images
Prince, on the other hand, has really flourished hitting behind Ryan Braun. Granted, with the Blue Jays he would hit behind Joey Bats, but his numbers show that he usually hits with teammates on base. Fielder's K/BB ratio is nowhere near Pujols' (career K/BB: 779/566) and he had an off-year in 2010 (83 RBI, .261 AVG).
A 3-4 of Bautista and Pujols would be unreal.
Argument for Prince:
It is tough to compare the two straight out and say that Prince is the better player. However, Prince is just beginning to hit his stride, is now a bonafide superstar and could easily hit 40-plus HRs at the Rogers Centre.
Hitting behind Jose Bautista, Fielder could set career highs in his first season with the Blue Jays. His happy-go-lucky demeanor would fit in very nicely within the Blue Jays clubhouse with a young exciting core. 
Did I mention he is 27?
Verdict? 
Well, as previously mentioned, the age difference is a clear deal-breaker for many Blue Jays fans (especially considering that there are questions regarding the validity of Pujols' birthday).
Fielder would be cheaper and would give a left-handed bat to break up the Lawrie-Bautista hopeful 2-3 punch for the Jays.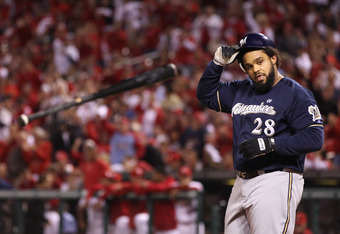 Christian Petersen/Getty Images
I think Fielder would be the more practical signing, yet I would not blink one-eye if I heard the Jays landed Pujols. I would like to grab Pujols and buy a jersey, but I think AA might lean towards Prince and the value he brings.
Why sign a past-his prime player versus one entering his prime? EIther way, I really hope the Blue Jays do in fact sign a top-tier first baseman.
I do wonder about Fielder's weight issues, but I think as he enters his prime (27) he could be ready for some even bigger things. Playing in Yankee Stadium with that short porch in right would be salivating for Prince. I just hope he doesn't salivate right to the hot dog stand.
What do YOU think?