Tyler Palko: Can He Get the Chiefs in the End Zone with His Eyes Open?
December 5, 2011
Peter Aiken/Getty Images
Romeo Crennel is certainly earning his paycheck.  Tyler Palko is earning his as well, because I assume he's being paid what a UPS driver gets paid.
Tyler Palko has now started three games.  He has thrown one touchdown.  With his eyes closed and the help of two Chicago Bears and Dexter McCluster sitting down waiting for it.
Palko did play better yesterday than his previous two games.  Mainly because he took care of the ball and had no turnovers.
Kansas City was very fortunate to leave Soldier Field with a win.  Caleb Hanie made Palko look like Joe Montana. 
Derek Johnson, who should be voted to the Pro Bowl, made a picture-perfect tackle on the Bears standout running back, Matt Forte.  Sadly, Forte was injured on the play.  He was the only real offensive weapon left for the Bears and was gone for the game in the first period.
The Chiefs defense, however, resembled the Bears defense––of 1985.
Needless to say, the Bears offense was as responsible for that as the Chief defense.
The Chiefs cannot, probably will not, win another game this year unless Tyler Palko can lead this offense into the end zone, more than once a game.
The rest of their schedule has teams with actual NFL quarterbacks.  They will score more than three points.  The Chiefs will not survive scoring one touchdown every three weeks.
With Kyle Orton's injured finger, it looks like they are going to live or die with Palko.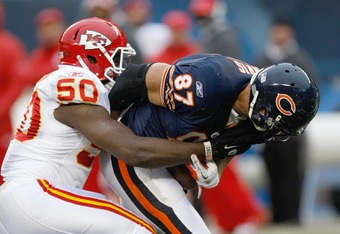 Scott Boehm/Getty Images
If that's the case, take the leash off.  Stop with the one-yard runs and putting him into impossible third-and-long situations.  What difference does it make?
If Kansas City had been playing anyone but the Bears yesterday, they would have lost.  They got too conservative, too early.
This game had a combined 18 punts, 11 by the Chiefs. 
The Chiefs had -1 yard in the fourth quarter.  They went three-and-out four times, punting every time.
The Chiefs have nothing to lose and everything to gain by letting him loose. They will lose if they don't.  If this is what the game plan will be for the rest of the season, you may as well see what Ricky Stanzi can do.
Finally, I watched the game on my computer via live stream.  The CBS announcers could not stop drooling over Julius Peppers and how great the Bears were at tackling.  In fact, that's about the only they talked about.
Julius Peppers––4 tackles.
Justin Houston––7 tackles, 3 sacks, 1 forced fumble.
Next time, talk about the right guy.  Justin Houston will have a good shot at defensive player of the week.