Green Bay Packers: Aaron Rodgers Quiets Critics Once Again
December 5, 2011
Al Bello/Getty Images
Green Bay Packers quarterback Aaron Rodgers has officially done it all this season—expect for losing a game. Something Rodgers has not had to do as of late, he was forced to come up with a clutch fourth quarter drive to keep his team undefeated against the New York Giants.
One of the biggest remaining criticisms of Aaron Rodgers is that he has been unproven in the situation he faced against the New York Giants in Week 13. After New York tied the ballgame with a touchdown and a two-point conversion, the Packers found themselves needing a clutch drive from Rodgers for the win.
Starting the drive at their own 20-yard line with just 58 seconds remaining and one timeout, the Packers let Rodgers loose and gave him the chance to win the game with his arm. Rodgers wasted no time getting started as he found Jermichael Finley with a perfectly thrown pass for a 24-yard gain that allowed Finley to get out of bounds. 
On the next play, Rodgers lofted a perfectly thrown ball to Jordy Nelson for another completion, this time good for 27 yards which placed the Packers in field-goal range at the Giants' 29-yard line. Facing a long field goal, coach Mike McCarthy showed his confidence in Rodgers as they returned to the air. 
A completion for a loss of a yard to Brandon Saine kept the clock moving, but the Packers hurried up to the line and Rodgers hit an open Greg Jennings who took the ball 18 yards to reach the Giants' 12-yard line. The Packers let the clock creep down and Mason Crosby ended the game with a 31-yard field goal.
Skip Bayless of ESPN, has recently been attacking Aaron Rodgers by constantly saying that Tom Brady is still a better quarterback, Brady deserves MVP and that he would take Tim Tebow over Aaron Rodgers in crunch time. Bayless tweeted the following: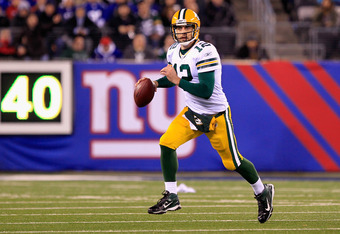 Chris Trotman/Getty Images
"You bet I'd take Tebow late in games over ARodg. Tebow: 4 game-winning drives in 9 starts. ARodg unproven late. Not enough opportunities yet"
"Still have Brady for MVP. Signature drives, halves, games vs. Dal,@Jets, @Philly. What was ARodg's signature game vs. hot, healthy team?"
"ARodg has played at supremely high level but doesn't have that 1 signature drive or play or win that made me say MVP! Brady has several."
While Bayless' jabs really have no impact, it was an important drive for Rodgers who has a poor record in games decided by four points or less.
While many of these losses came after Rodgers had delivered a clutch, go-ahead or tying score only to watch the defense surrender a last-second game-winning field goal, many have questioned Rodgers' ability to get the job done late.
There should be no more questions regarding Rodgers' ability late in games as he proved he can carry his calm play right into the final moments. While the Packers hope to continue their winning streak without having to rely on last-minute drives, they have the ultimate confidence in Rodgers in the event that another game comes down to the very last play.
With this "signature drive," Rodgers really has cemented his MVP status for this season. There are no other players that could rightfully be mentioned among Rodgers as a legitimate contender for the award. No one has come close to playing at the level that Rodgers has displayed this season.