2011 Bowl Games: MSU and Teams That Find No Silver Lining in Bowl Bids
December 5, 2011
Andy Lyons/Getty Images
For some teams it's going to be tough to find any silver lining in getting a bowl game bid, and the Michigan State Spartans are one of those teams.
For a majority of the year they were considered to be one of the best, if not the best, teams in the Big Ten, and they were featured in the first ever Big Ten championship game because of that.
That being said, the loss in the championship game took them from a Rose Bowl bid to the Outback Bowl against Georgia.
They also had to watch in-state rivals Michigan get a BCS bid into the Sugar Bowl, even though they had beaten them this season and made it to the championship game.
Sometimes things just don't make sense in college football,  and that's got to be how the Spartans feel here on selection Sunday.
It's no offense to the Outback Bowl—or Georgia—but there is no doubting the difference in prestige between the Outback Bowl and Rose Bowl.
There is no silver lining in that statement.
Here are a few other teams that probably aren't exactly thrilled about bowl season:
Houston Cougars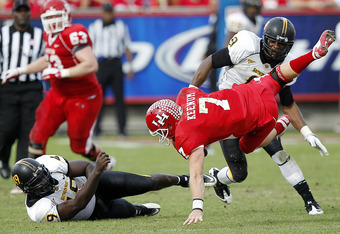 Bob Levey/Getty Images
The Cougars went from a potential undefeated season and BCS berth to the TicketCity Bowl, which is one of the sadder statements of this bowl season, I'm sure.
They didn't do themselves any favors though, so it's hard to feel bad for them. 
At No. 6 in the nation, all Houston had to do was beat Southern Mississippi in the Conference USA championship game, and they were in the perfect position to make some noise in the BCS.
Instead, they dropped the game 49-28 in front of a stunned home crowd.
Their season just went from unforgettable to worth forgetting, and now all they have is the TicketCity Bowl to show for it.
Oklahoma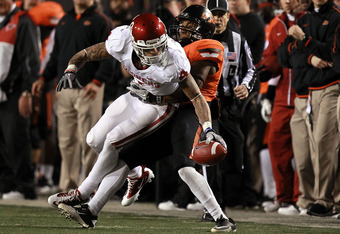 Ronald Martinez/Getty Images
It's easy to forget, but the Sooners started this college football season as the preseason No. 1 and favorite for a national championship.
Their fall from grace has been quite epic though, as they now find themselves in the Insight Bowl with a bid against 7-5 Iowa.
I guess that's what upset losses to Texas Tech, Baylor and a 44-10 beat-down at the hands of Oklahoma State will get you.