Nebraska to the Capital One Bowl: A Guide to the Matchup vs. South Carolina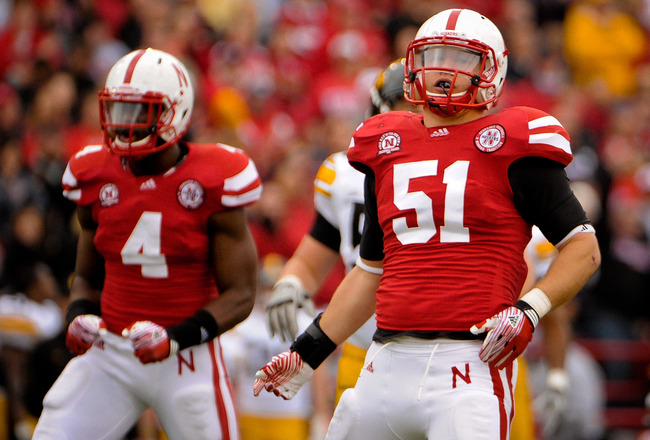 Eric Francis/Getty Images
By getting a BCS invitation, Michigan helped Nebraska with a bowl upgrade to the Capital One Bowl on Jan. 2, 2012. Nebraska will head to Orlando and face the South Carolina Gamecocks, setting up a rematch (of sorts) of the 1996 Orange Bowl, where Steve Spurrier's Gators were demolished by Nebraska, 62-24.
So what can we expect from the game? Let's take a look...
Bowl Information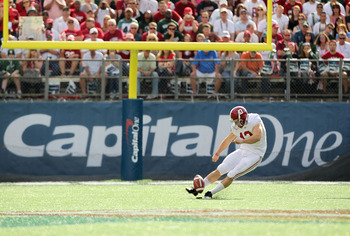 Mike Ehrmann/Getty Images
Date and Time: January 02, 2012, noon CST
Location: Florida Citrus Bowl Stadium, Orlando, FL
Payout: $4.6 million per team (highest non-BCS bowl payout)
Television: ESPN
Nebraska's Strengths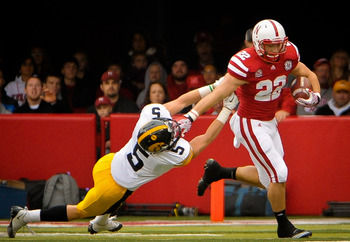 Eric Francis/Getty Images
When Nebraska has been successful, it has relied on a power running game led by Rex Burkhead to wear opponents down and pull away late in the contest. A successful running game then, very traditionally, sets up a passing game with Taylor Martinez and a host of speedy young receivers at his disposal.
Defensively, Lavonte David has led the charge for a Blackshirts unit that has been uncharacteristically porous. The return of Alfonzo Dennard at corner helped a flagging secondary, but
South Carolina's Strengths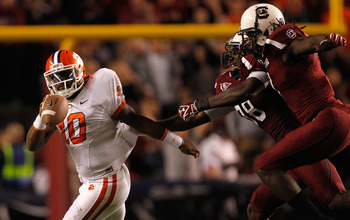 Streeter Lecka/Getty Images
You'd think a Steve Spurrier coached team would have this section written ahead of time, but you'd be wrong. This year's Gamecock squad has been winning with defense, rated second nationally in passing defense, second in passing efficiency defense, and fourth in total defense.
Offensively, the team struggled to recover from the season-ending injury to Marcus Lattimore, their Heisman trophy candidate running back. Quarterback Connor Shaw picked up the slack after Stephen Garcia was finally dismissed from the team, and the Gamecocks' transition helped them win their last three games.
Nebraska's Weaknesses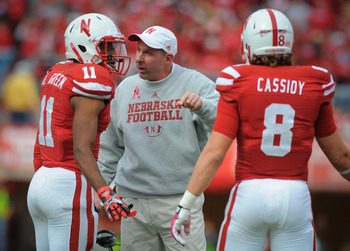 Eric Francis/Getty Images
The game seems a bit like a Bizarro-world version of the last time Nebraska played a Steve Spurrier coached team in Florida, not least because Nebraska's biggest weakness is its defense. Injuries to the defensive line, led by the season-ending injury to Jared Crick, have helped lead to NU struggling with run defense and quarterback pressure. And youth in the secondary, combined with the lack of pressure on the quarterback, means that Nebraska gave up more than its share of long pass plays.
South Carolina's Weaknesses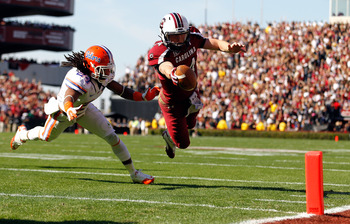 Streeter Lecka/Getty Images
The Gamecocks recovered from Marcus Lattimore's injury by handing the reins of the offense to Connor Shaw. While Shaw has performed admirably, South Carolina's biggest weakness might be its reliance on Shaw for offensive performance. If opposing teams (like, say, Nebraska) were able to shut Shaw down, South Carolina would struggle to find another option on offense.
How Nebraska Got There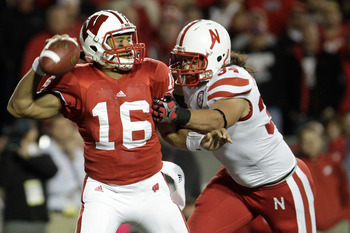 John Gress/Getty Images
In early October, Nebraska was in danger of its season coming apart at the seams. NU was embarrassed in its conference opener at Wisconsin, 48-17, and was down 21 points in the third quarter against Ohio State at home in the next game. Only a miraculous comeback (helped by an injury to Buckeye quarterback Braxton Miller) kept Nebraska on track. After a dominating home win over Michigan State, NU seemed to be the favorite in the Legends division of the B1G. But an inexplicable loss to Northwestern at home, coupled with another embarrassing road blowout against Michigan, moved NU to the tail end of the top 25 and out of BCS consideration.
How South Carolina Got There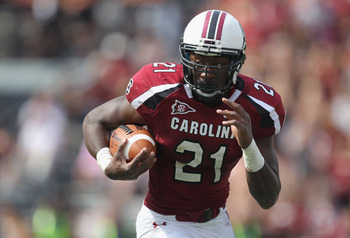 Streeter Lecka/Getty Images
The Gamecocks really had two seasons. The first one was before the injury to Marcus Lattimore, when South Carolina was look at as a legitimate darkhorse threat to win the SEC. At the time of the injury, South Carolina was 6-1 with a tight loss to an Auburn team still riding a momentum wave from its national title. To Spurrier's credit, he regrouped under quarterback Connor Shaw and won his last three games, with only a 44-28 loss to Arkansas as a blemish on the Gamecocks' record since the injury.
Nebraska's Key Player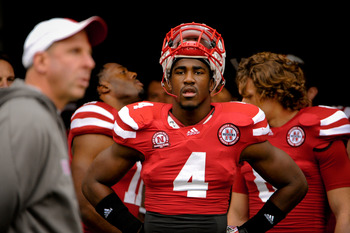 Eric Francis/Getty Images
Nebraska's key player is linebacker Lavonte David. While Rex Burkhead is the engine that makes Nebraska's offense go, David has been the glue holding together a Blackshirts squad that looked as if it could come apart completely at times in the season. Time after time, David made the play defensively that kept Nebraska alive or turned the momentum tide in NU's favor. If Nebraska needs one player to have a good game, it is David.
South Carolina's Key Player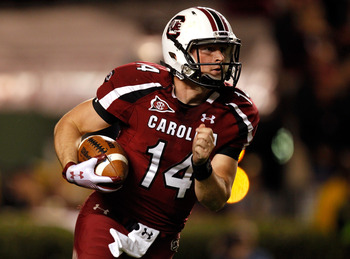 Streeter Lecka/Getty Images
South Carolina's keep player is quarterback Connor Shaw. Now the focal point of the offense, the burden will be on Shaw to have South Carolina's offense keep up with its resurgent defensive performance. Shaw has a 2-1 touchdown-to-interception ratio, and efficiency will be key for the Gamecocks as they bring a rock-solid defense against Nebraska's offense.
Prediction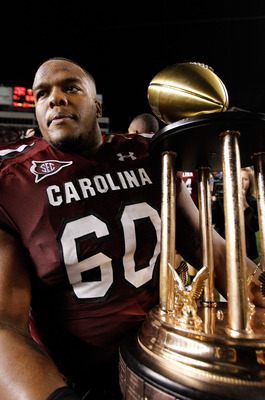 Streeter Lecka/Getty Images
The game has the potential to be very negative, with South Carolina's defense looking to neutralize a Nebraska offense under a rookie offensive coordinator with an erratically-throwing quarterback, and a Nebraska defense that tends to perform better against a less-mobile quarterback like Connor Shaw. It's not like Shaw is a statue, though, as his seven rushing touchdowns is second only to Marcus Lattimore.
The long bowl layover will help Nebraska recover from the myriad of injuries facing the defense, which should make a difference in NU's ability to hold up in the trenches. Bo Pelini will be anxious to have his team acquit itself after the no-show performance NU delivered in the Holiday Bowl.
In the end, though, clichés reign. The Gamecocks bring an SEC-level defense against a Nebraska team struggling to find offensive rhythm. Look for South Carolina to edge out a low-scoring affair.
South Carolina 17, Nebraska 13
Like what you read? Follow me on Twitter @patrickrunge to track my thoughts and observations about college football—and one or two other topics—throughout the year!
And if you would like to contact me directly to schedule an interview, ask a question or to get my recipe for a killer peach cobbler, you can send an e-mail to patrickrunge@gmail.com. (DISCLAIMER: Peach cobbler recipe might not be all that killer.)
Keep Reading

Nebraska Huskers Football: Like this team?