Tennessee Volunteers Football: What Does Derek Dooley Have to Do in 2012?
December 5, 2011
Andy Lyons/Getty Images
After an 11-14 start to his career as the head coach of the Tennessee Volunteers, Derek Dooley is in a make-or-break situation: He has to make a move next year or else his time on Rocky Top is done.
But what exactly does "make a move" mean?
For some, nothing less than an eight-win season with a victory in the Outback Bowl will do. For others, collecting all four non-conference wins as well as one or two SEC wins (presumably over Kentucky or much-improved Vanderbilt) is fine.
The 2012 Checklist
For me (and therefore for you), it's 7-5 and either a bowl win or valiant effort if the Vols are way overmatched, as they were in 2008 against Virginia Tech. I require one win over Florida, Georgia or South Carolina. Tennessee can't continue to lose to these three SEC East schools and just play for fourth in the division.
I need to see competitive play in each and every game. I saw it for one half against both of the teams in the BCS Championship—LSU and Alabama—as well as No. 6 Arkansas. That's not good enough. They don't award the Indy 500 at lap 250. I don't have to have a win over Alabama, but I need to feel like it's not a total embarrassment. Just a partial embarrassment.
If any of these items isn't met, I'll recommend a firing. It's rare that you can set such hard-and-fast rules a year before the season starts, but if any of these requirements is left blank, it indicates a deeper ineptness to turn the corner in three years.
Remember, I'm not demanding a 21-point win over Alabama. I want competitive play in every game and one win over the top three SEC East teams, which includes an historically weak Florida squad.
The Obstacles
What's keeping this from happening? It's not the personnel.
The offense will be chock full of juniors, all of whom have two full years of playing under their belt. The entire offensive line, most of which have played as a unit for at least 20 games now, is back. Running back Tauren Poole is gone, but who freaking cares?
As far as the defense goes, the Vols lose Malik Jackson, Austin Johnson and the oft-injured Ben Martin. The first two are tough losses, yes, but there's plenty of depth to put up at least a respectable effort.
The only obstacle I see is the development of a running back. While not easy to do, the offensive line ought to be one of the best in the conference, creating holes for any athlete to run through. After Marcus Lattimore and Knile Davis went down with ACL tears, their backups performed incredibly. Why can't Tennessee get that?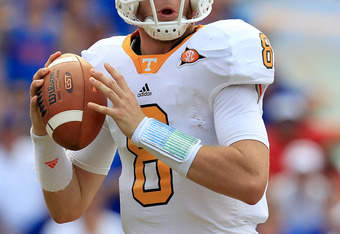 Sam Greenwood/Getty Images
Gut Feeling
Derek Dooley and the 2012 Tennessee Volunteers will meet my requirements. Assuming the players stay mostly healthy (never a given, as fans saw this year), Tennessee will be able to topple the Gators in Knoxville.
That'll leave the four non-conference games as wins, though NC State will be a challenge. From there on, I see the Vols getting back on track by beating Kentucky. That's at least 7-5 and a pleasant bowl trip.
Time will tell. I should warn you, though, that I had the 2011 season going a bit differently. Take my predictions with a grain of salt.