The Ultimate Fighter 14: 10 Things We Learned About Michael Bisping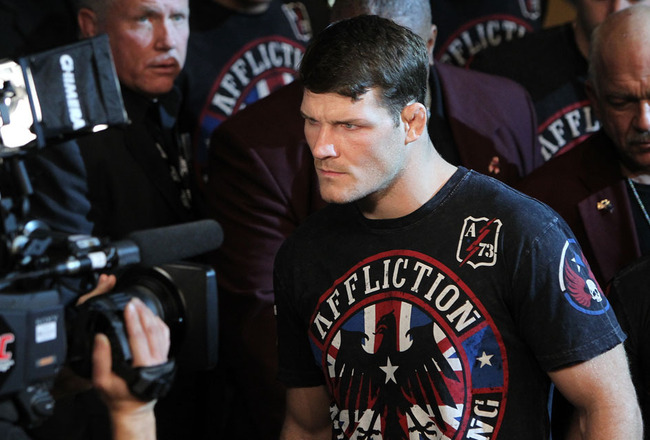 (Photos by Josh Hedges/Zuffa LLC/Zuffa LLC via Getty Images)

Michael Bisping is just not the type of guy that'll give you one image to work with as far as figuring him out is concerned.
One minute, you really wish someone will "Hendo" him, but then the next, he's entertaining to be around...and then the next, he's just "there".
All personality assassinations and tasteless jokes aside, he did prove a number of things in his victory over Jason "Mayhem" Miller at The Ultimate Fighter 14 finale, and while he really only showed us five things about himself, he helped us learn 10 things total in the process of his victory.
10. Neither Bisping nor Mayhem Was Kidding About That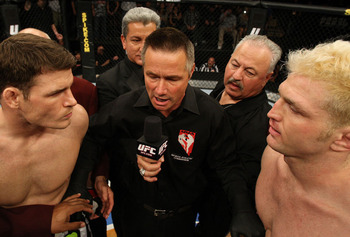 (Photos by Josh Hedges/Zuffa LLC/Zuffa LLC via Getty Images)
Technically, Bisping did say sometime before the weigh-ins that he simply couldn't stand Mayhem on the show, but that he didn't mind him so much after the show finished taping.
Still, you could have only watched the teaser to this season's The Ultimate Fighter, and you could have not watched really any of the actual season itself, yet you still would be able to know that Bisping and Miller didn't like each other.
Well, at least not to the point of touching gloves, anyway, but they told us that before the fight.
9. He Has Some Interesting Ways of Expressing Hs Emotions
Bisping shook Mayhem's hand for the first time since...I don't even know, but after Bisping beat Miller, he shook his hand and told the crowd that he just wanted to entertain them, whether they booed him or cheered him.
Not sure if that was swagger-jacking of John Dodson's speech after Dodson beat TJ Dillashaw, since Dodson said pretty much the same thing, but Bisping still does have his ways of showing his emotions, it seems.
That would explain why the basic translation of what he said after the weigh-ins was a black-and-white "f**k off" to the fans.
8. He's Still Pretty Damn Intense.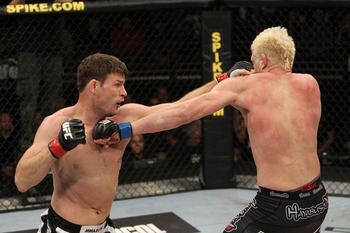 (Photos by Josh Hedges/Zuffa LLC/Zuffa LLC via Getty Images)
As expected (by me, myself and I), Mayhem didn't have an elaborate entrance other than trying to get the crowd to clap with him and fist pumping as he was getting greased up by one of the cageside officials, but Mayhem was a bit more intense for this fight than he's ever been for any other fight, regardless of his performance.
The only problem for him?
Bisping was just a little bit more intense, and while Mayhem clearly wanted to beat Bisping up, Bisping just found the mark much easier than Mayhem...
...AFTER the first round, that is, and that brings me to the next point...
7. Bisping's Not Bad, but His Takedown Defense Could Still Use Some Work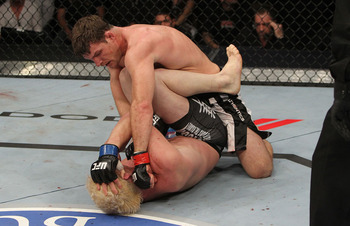 (Photos by Josh Hedges/Zuffa LLC/Zuffa LLC via Getty Images)
Mind you, the first round was the only round anyone was able to give Mayhem, considering how the last two rounds went, but even still, Bisping might have done well to at least try and sprawl when Miller was fresh.
If Bisping had established his takedown defense early in the fight, perhaps he could have brought on the demise of his opponent earlier, but I suppose a win is a win.
Nonetheless, Bisping will need to work on that takedown defense because while it won't be an issue against Anderson Silva, it will be an issue for a lot of what currently stands between Bisping and Silva.
6. Cardio Was Not an Issue for Bisping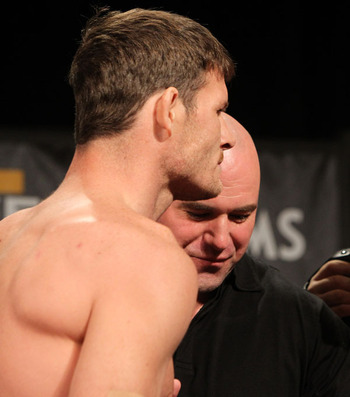 (Photos by Josh Hedges/Zuffa LLC/Zuffa LLC via Getty Images)
Anger? Maybe before the weigh-ins, some might have said so, but Bisping told us that he felt his cardio was better, and by golly it was.
We'll speak more on Mayhem's end of this matter in a moment, but Bisping held up his end of the cardio issue by not going bat-s**t crazy and pacing himself pretty well for a guy that many thought looked gassed out himself before the end of the fight.
So what about Mayhem's end of the cardio issue?
5. Cardio Was Not an Issue, According to Bisping
(Photos by Josh Hedges/Zuffa LLC/Zuffa LLC via Getty Images)
Bisping didn't say it to Joe Rogan, but at the post-fight press conference, he was asked about both his own performance and Mayhem's performance.
Bisping first addressed the game plan:
"Toward the end of the first round, I kind of started being able to predict his rhythm," Bisping said. "In the second round, it all started to come together. I started landing my shots, and I started really dictating the pace and using my footwork to cut him off and keeping his back against the cage. That was the plan."
Then, he spoke on the cardio issue that many thought Mayhem had, and while he felt Mayhem could go five rounds, he did say the following:
"Guess what. You might have cardio, but when someone's landing big bodyshots like I was, kneeing you in the stomach and punching you repeatedly in the face, your cardio gets affected. Because I bet the best runners in the world, you kick the [expletive] out of them, they won't run quite as well."
4. He's No Longer the Guy That You Joke Around with Before Fights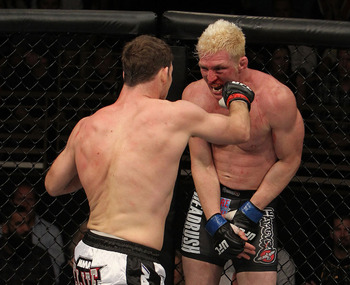 (Photos by Josh Hedges/Zuffa LLC/Zuffa LLC via Getty Images)
Maybe it's because of the whole Dan Henderson thing, or maybe because he knows people probably would have written him off completely with a loss to Mayhem. Maybe it's because he's really not into losing these days.
Whatever it was, it's caused Bisping to sound out a few vulgar syllables about all the pre-fight jokes or insults about him (though I don't know that he's responded to "Spitsbing").
Unsurprisingly, though, it has also helped Bisping in avoiding the "L" column ever since his last defeat, which came against Wanderlei Silva at UFC 110, and it's gotten him past Dan Miller, Yoshihiro Akiyama and Jorge Rivera.
Before Mayhem, Rivera was the only one that ever poked any fun at Bisping before the fight, but Mayhem fueled the fire outside the ring, held his own outside the cage and even had some public support before he fought Bisping.
Even still, it just wasn't enough, and if this was any indication, it might just be a better plan of action to insult Bisping's fighting style (i.e. call him "one-dimensional") before one has to fight him.
3. Potential Foes Have Already Been Lined Up (in Internet Conversation) for Him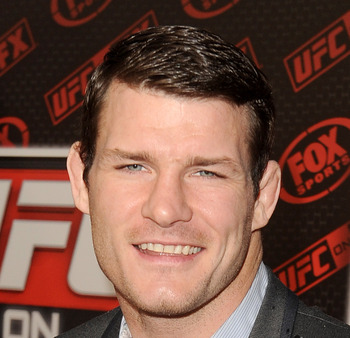 Jason Merritt/Getty Images
Sherdog has already gotten the ball rolling on the fights that they think should go down after what happened on Saturday, and sure enough, UFC 142's Vitor Belfort-Anthony Johnson bout is mentioned.
Should Bisping get the winner of that, though?
Mind you, the UFC may not want to risk Chris Weidman so soon, Chael Sonnen is booked for the next FOX card against Mark Munoz with zero interest in Bisping, and the winner of UFC 142's Rousimar Palhares-Mike Massenzio bout just does not seem very likely.
Apart from the Belfort-Johnson winner, that just leaves Alan Belcher, unless Court McGee wants to step up, or perhaps either Demian Maia or Brian Stann.
Belcher, Maia or Stann could all be good fights for Bisping, but the winner of Belfort-Johnson...how would the winner of Belfort-Johnson seem stylistically to Bisping?
2. Mayhem Thought Bisping Was a Douche on TUF, but at Least He's a Classy Douche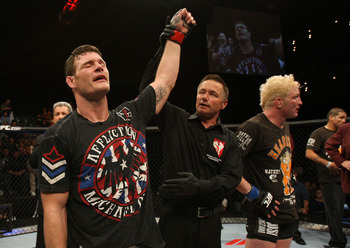 (Photos by Josh Hedges/Zuffa LLC/Zuffa LLC via Getty Images)
It's hard to call someone a douchebag and mean it in a positive sense, but even the people that think Bisping was and still is a douchebag have to give it to Bisping for not being the same guy he was on TUF this season.
Not only did Bisping give Mayhem his props for an honest effort, but when asked about if Mayhem's cardio was an issue, Bisping was quick to shut it down.
"It's nonsense," Bisping said. "This is it: Every one of my opponents gasses. Anytime I stop someone, it's because they gas. Guarantee you Jason didn't gas. Guarantee you Jason could have gone five rounds. This was a five-round fight. I finished it in the third. This is a big opportunity for Jason. I guarantee you he had the cardio to go five."
Bisping, as stated and quoted before, credits Miller's sluggishness not to under-preparation or taking the fight lightly, but to the body shots, knees and punches Bisping landed, which sure did feel like a classy recap of a fight between two guys that didn't care for each other before its start.
1. He's Not Ready for Anderson Silva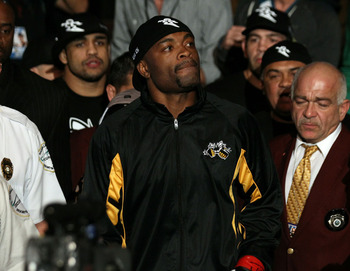 (UFC.com)
Bisping said it,and we're all thinking it.
We all know he's not ready for Silva, and Bisping thought a first round like his first round with Mayhem would not cut it against Silva (ya think?), so Bisping kept his trap shut.
Will Bisping ever be ready for Silva?
Physically, maybe he will be, seeing as how Bisping was once a 205er.
Mentally, It's tough to truly say if it's even possible in that respect, because few can prepare for the Anderson Silva challenge..
Good luck with that one, Bisping.
Keep Reading