10 Teams That Got Screwed by the BCS and the Bowl System
December 5, 2011
Chris Graythen/Getty Images
Well, the 2011 Bowl schedule is set. Looking through the games, I noticed ten teams that have been screwed by the system that we have. For years, fans have been crying fowl about the BCS and the bowl system.
Too many times, smaller schools get screwed for the benefit of the big schools and money, but mostly it's money. This year has proven that point more than any other year. If you think I am lying, just look at the Sugar Bowl match-up for proof. There's no way Virginia Tech or Michigan should be in a BCS bowl but there they are.
The following list is my opinion and only mine. I seriously feel I am right. After reading this article, you tell me if I am right or wrong.
Here are the ten teams screwed by the system:
No. 10 Western Kentucky (Sun Belt)  7-5:  Western started the season 0-4 but finished the season on a 7-1 run. We let UCLA play in a bowl at 6-7 but screw the little team from Bowling Green, Kentucky.
No. 9 TCU (Mountain West) 10-2:  How does a team that won their conference against decent competition actually get stuck playing Louisiana Tech?
No. 8 Boise State (Mountain West) 11-1:  This really bothers me. A team that finishes in the top 10 of the BCS rankings and they get rewarded with Arizona State. Thanks, I will make sure I wash my hair for this game.
No. 7 Southern Miss( Conference USA) 11-2: The Eagles beat Houston to end their run and win their conference title, so who do they get? Nevada, which sets up another bad game. Why couldn't we see Southern Miss vs TCU, I know that would have been a good game.
No. 6 Baylor (Big 12) 9-3:  Robert Griffin III is a great player and we deserved to see Baylor against a better team than Washington. Why not have them play South Carolina, Arkansas or Georgia, just to name a few?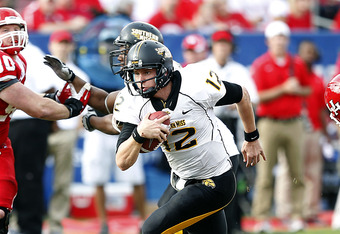 Bob Levey/Getty Images
No. 5 Oklahoma (Big 12) 9-3: Just like Baylor Oklahoma should be playing a better opponent than Iowa. Not saying Iowa couldn't beat them just wanted a better game.
No. 4 Houston (Conference USA) 12-1:  Some will say the match-up against Penn State is a great game for the Cougars. It might be, but I wanted to see Houston and Boise State going at it. 
No. 3 South Carolina (SEC) 10-2: The Gamecocks finished ninth in the BCS standings and for that they get Nebraska. A decent match-up would rather see them play Michigan State or Michigan.
No. 2 Arkansas/Kansas State  (SEC/Big 12): Both teams are 10-2 and trust me, I love this match-up. I just felt this should have been the Sugar Bowl game. These teams deserve to be in BCS Bowls.
No. 1 Clemson (ACC) 10-3: The Tigers are grateful just to be in a BCS bowl but a matchup against West Virginia sucks. Clemson deserved a better game, maybe against Boise State or Kansas State.
I didn't put these in any order, I just typed them down as I went through the schedule. There are a lot of great match-ups, it just could have been a lot better.