College Football BCS: Why at-Large Decisions Are Awful
December 5, 2011
Brett Deering/Getty Images
I am about the furthest thing from a biased fan. I have been complaining for the last week about how there are going to be multiple teams that get shafted out of a BCS game, knowing all along it was likely that my Michigan Wolverines were going to get a Sugar Bowl bid.
After just watching the unveiling of the final BCS standings and the bowl selection show, I have determined that the BCS chooses their at-large teams based on how well the teams travel—and that is ridiculous.
The final unfolding of this season has been the last straw in showing how bad this sport needs a playoff system.
We'll be watching a re-match in the BCS National Championship Game between LSU and Alabama. You know what my problem with that is? Not that it is a re-match, but that Alabama is chosen over an Oklahoma State team with the same record even after the Pokes just handed Oklahoma a 44-10 beat down in the Bedlam game.
That isn't even my biggest beef with the BCS.
Look at No. 6 Arkansas and No. 8 Kansas State facing off in the 2012 AT&T Cotton Bowl. Arkansas finished the season at 10-2, with those two losses coming to the two best teams in the nation.
"Why are they not in the BCS?" you may ask. Well, the BCS doesn't accept more than two teams from the same conference. How terrible of a rule is that? Kansas State finishes at 10-2 under Bill Snyder but they aren't going to a BCS game because their name is Kansas State—ridiculous!
Michigan and Virginia Tech face off in the 2012 All-State Sugar Bowl. I am a die-hard Michigan fan but there are two teams ranked ahead of the Wolverines. Why aren't they going? Virginia Tech, granted they only have two losses, has a weak body of work, not to mention the shellacking a reeling Clemson team just put on them in the ACC Championship Game.
Why are these two teams facing off in a BCS game? Michigan is one of the most tradition-rich schools in college football history, and Virginia Tech has a very large sized fan base, that's why.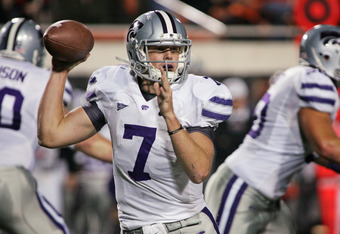 Brett Deering/Getty Images
What about Boise State, led by one of the most efficient quarterbacks in college football in Kellen Moore? Yes, they had one slip up against a talented TCU team. Does that automatically disqualify them from a BCS bowl?
If Baylor isn't a perfect example of the BCS picking teams that have a good following, I don't know what is. The Bears, ranked twelfth, finished in the final BCS standings of the year at 9-3. They won over TCU, Oklahoma and Texas.
Baylor has a potential Heisman Trophy winner in quarterback Robert Griffin III, "RG3." The Bears have exceeded all expectations this year, yet still it wasn't enough for the BCS. Can you guess why? They don't have a big fan base.
What about South Carolina and Georgia? The Gamecocks finished the year at 10-2 and ranked ninth in the final BCS standings—but there are already two teams from the SEC in the BCS, so sorry South Carolina, there's that two-per conference rule again.
Georgia reeled off ten straight wins after an 0-2 start before finally losing again in the SEC Championship Game to No. 1 LSU. Why are the Bulldogs not worthy of BCS supremacy? Again, no more room for the SEC.
What kind of joke of a system is the BCS, really? Who says Alabama is better than Oklahoma State? Why are teams that are ranked higher than Michigan and Virginia Tech not making BCS bowls, but the Wolverines and Hokies are?
Why does the Big East have an automatic qualifier status? They are by far the worst of the six power conferences and almost had a 7-5 Louisville team playing in the Fiesta Bowl. West Virginia gets the BCS bid, the same Mountaineer team who got blown out by Syracuse and was beaten by that 7-5 Louisville team.
The Bowl Championship Series will never, ever have it right. Their formulas are insufficient, and there are at least three to five teams that get the shaft every single year.
I hope that one day, the NCAA can at least implement a plus-one system, where the top four teams in the final BCS standings can be seeded, and have a three round playoff leading to the National Championship Game.