Illinois Basketball: What We've Learned so Far About the Undefeated Illini
Jonathan Daniel/Getty Images
The Fighting Illini basketball team is off to an 8-0 start and is showing signs that it may be a team to be reckoned with in the Big Ten this year.
By the end of this week, it has a good shot at starting 10-0.
With a roster that is made up of only one senior and mostly underclassmen, the Fighting Illini have surprisingly shown the ability to gel early on.
They are getting contributions from several players, and most guys seem to be falling into their roles already, which is a good sign.
I would warn you to be cautiously optimistic because last year's team started out 10-1, and we all know how that played out, but I will say that this version of the Fighting Illini seems to have a lot more fight in them than last year's team.
This is a talented, young team and they are expected to—and will—go through some growing pains, but as an Illini fan you can't help but be excited about what you've seen so far.
They are arguably more talented from top to bottom than last year and just seem to have the toughness and determination that was lacking a year ago.
It's still early in the season and things can always change, but so far we have seen a lot of good things out of this group.
Here's a look at five things we have learned thus far.
They Play Hard and Are Fun to Watch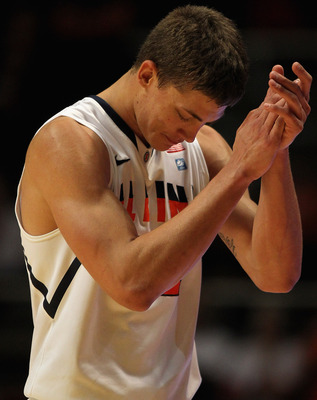 Jonathan Daniel/Getty Images
It's like night and day watching this team versus last year's group.
This team gets after it, and it doesn't seem to back down to anyone.
There is a talented group of athletes on this team that are exciting and fun to watch. It's refreshing to see a team that hustles and doesn't hang their heads if something bad happens.
The Illini are being led by a senior point guard who is tough and knows how to play the game, which makes all the difference in the world.
In addition, they have a talented big man and several exceptional athletes on the wing.
Hopefully this team can keep it going into the Big Ten season because right now they have a good thing going.
Meyers Leonard Is Going to Be a Beast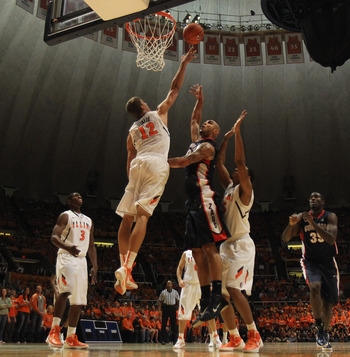 Jonathan Daniel/Getty Images
Meyers Leonard is starting to look like the real deal.
At 7'1" Leonard is an imposing presence in the middle for the Illini, but it's his athleticism that sets him apart from other big men.
He can step out and hit the 15-foot jumper and is starting to show good footwork and moves in the post, which almost makes him unguardable—not to mention he can get up and down the floor like a guard.
Now, don't get me wrong, he still has things he can work on. He needs to become a more dominant rebounder and also has to work on staying out of foul trouble, but if he continues to improve, I feel bad for the rest of the Big Ten.
He currently leads the team in scoring and rebounding and is already drawing the interest of NBA scouts.
There's no doubt that this guy is going to be a dominant force in the future, but it may not be in an Illini uniform.
Better enjoy him now Illini fans because odds are he won't be around long.
Brandon Paul May Finally Be Putting It All Together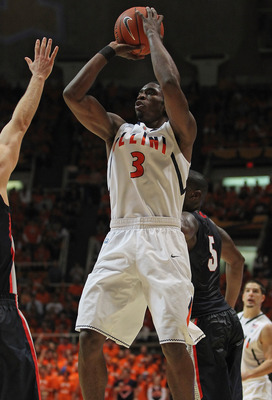 Jonathan Daniel/Getty Images
If Brandon Paul continues to play the way he has in the past two games against Maryland and Gonzaga, the Illini are going to win a lot of games this year.
Paul had a sluggish start in the first six games of the year, but he has turned it up a notch recently.
Coming into the season many felt that Paul would be the Illini's go-to guy as he was the leading returning scorer from last year—not to mention he is one of the best athletes on the team.
He has what it takes to be a game-changer because of his ability to get to the basket, which is exactly what the Illini need.
Paul can not only get to the bucket, but can hit the three and that makes him very dangerous.
The biggest thing with him is confidence and right now he is playing with a ton of it—if that continues, the Illini are in good shape.
Sam Maniscalco Can Play with the Big Boys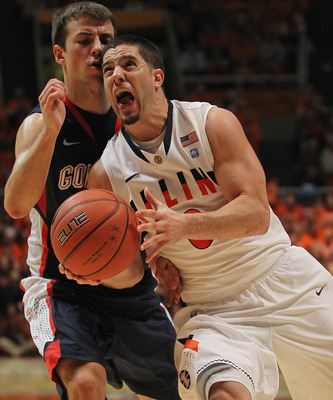 Jonathan Daniel/Getty Images
What else can you say about Maniscalco other than he is just a baller.
The guy is everything a coach could want in a senior point guard. He knows how to run the team, always hustles and hits the big shot when the team needs it.
I think he has already exceeded the expectations that most people had for him coming into the season.
Without Maniscalco, the Illini are not the same team. Had they had this guy last year, things may have been different. Demetri McCamey was a great point guard, but did not display the intangibles that Maniscalco brings to the table.
He is just a tough little bulldog that every player and coach would want to go to battle with.
It's too bad he will only be around for one year.
They Are Talented and Deep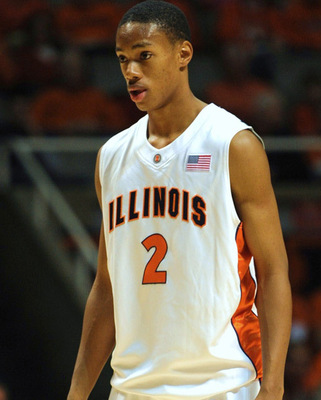 This Illini team is about as deep a team as they have had in recent memory.
In the first eight games of the season, Weber has been playing 10 guys consistently and sometimes even 11 or 12 guys.
Now some of that is to find out what he has and what combinations work, but at the same time his bench is very talented.
Backing up Maniscalso at the point is Tracy Abrams who is a tough little guy in his own right and is going to be a good one.
On the wing they have Joe Bertrand, Crandall Head and Myke Henry, who are all exceptional athletes, and the big men off the bench include freshmen Mike Shaw, Nnanna Egwu and Ibby Djimde.
The good news for the Illini is that all of these guys off the bench are underclassmen and will be around for a while.
Things are looking up in Champaign.
Keep Reading

Illinois Fighting Illini Basketball: Like this team?