BCS Championship Preview: What to Expect from LSU-Alabama Rematch
December 5, 2011
Kevin C. Cox/Getty Images
Oh, how I would love for things to be quite different. But, honestly, did anyone truly think that pollsters were going to launch Oklahoma State over Alabama because of the Oklahoma obliteration on Saturday night?
Remember, the question was whether you truly thought they would, not whether or not they should have.
The BCS never operates as it should, and sometimes there is a pattern in the polls that automatically favors the SEC.
Is it wrong?
Not necessarily, because the SEC is the toughest conference in college football. Or at least, it has been since the 21st of forever.
Do not expect this game to go 9-6 again.
This doesn't mean that both programs' offense won't appear a bit stagnant. The offensive touchdowns will be few and far between. But this time, expect a surge of defensive touchdowns to rack up on the scoreboard.
In the last meeting, defense determined the outcome of the game, but it never scored to actually make a concrete statement.
In the time between then and now, Tyrann Mathieu has undoubtedly stepped up as the leading man on LSU's defense.
Not only has the younger corner stepped up as a defender, but he has also stepped up on special teams with back-to-back punt-return TDs in both the game against Arkansas and the most recent against Georgia.
With Mathieu's renewed playmaking role on the team, LSU has an advantage over Alabama's defense, which also has a definitive secondary but hasn't shown anything amazing of late to rant and rave about.
There is also another playmaker emerging for LSU.
Freshman running back Kenny Hilliard had his most productive and influential game of the season against the Bulldogs. Behind Alfred Blue, Michael Ford and Spencer Ware for a majority of the season, Hilliard set an SEC title-game record with his third touchdown of the game, putting LSU over Georgia, 28-10.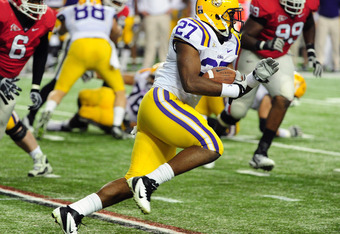 Scott Cunningham/Getty Images
He will be one of LSU's biggest hopes at winning the grandest title in college football and will have an extremely heightened role in perplexing a stout Alabama front line.
Expect Alabama to go with the exact same game plan.
Let's face it: The Crimson Tide are a formidable team even at their worst, and with a Heisman candidate functioning at such an elite level in the offense, LSU's front line will have a hell of a lot more to deal with than it did against Georgia.
Sure enough, it seemed as if the Bulldogs had pulled the Tigers' card and would continue to do so throughout the course of the game. But after the first quarter, their run was halted almost completely. The defense may have held LSU's offense to only three yards in the second quarter, but Georgia did a whole lot of nothing that quarter, too.
Also, Alabama will have had the luxury of learning what Arkansas and Georgia apparently had not.
DO NOT PUNT THE BALL TO TYRANN MATHIEU!
I mean, seriously, it is like punting off to Devin Hester. You see the train wreck headed straight toward you, and instead of getting off of the tracks, you're stuck and blinded by the lights.
By the time it is all over, you're wiped out. This is how Georgia must have felt after Mathieu's punt-return TD, and Alabama will not face the same fate unless the Tide get cocky and wish to prove themselves on special teams.
I assume Nick Saban is not ready to bet a game entirely on the efforts of the special teams, which took a substantial amount of blame for the team's loss in the first contest.
The Crimson Tide will not leave it up to field goals and decent-distance punts to earn their BCS Championship trophy. It will be a greater fight.
Another factor that may go overlooked in the rematch is QB management.
LSU's QB Jordan Jefferson has a lot to prove after Georgia's defense seemingly had him stunned. Jefferson has never been categorized as much of a throwing threat, but in key moments in the game, he is depended upon to make precise throws that have the ability to shift momentum.
He revamped the Tigers against Alabama in their first meeting, as he also was able to reclaim his starting job at the quarterback position from Jarrett Lee. His ability to run proved to be complex for Alabama's defense, but he is going to have to step it up a notch if he expects his efforts to warrant a huge win.
AJ McCarron is no scrub, believe you me.
He is just as qualified to lead Alabama as anyone else in the top rankings of the BCS is able to run his offense with sound decisions and game-winning drives. McCarron may not have had his worst game against LSU's defense, but there was most definitely some trouble moving the ball down the field without interruption.
This game has to be different.
In order for Alabama to win, McCarron needs to be a bit of a difference maker because no one expects it.
The Crimson Tide thrives off of the run. That is their bread and butter, and Les Miles, the master preparer and adapter, knows this. The QB needs to give his RB some air support.
As much as fans may not want to see what drowning snores a rematch could bring, there must be some form of admission: LSU and Alabama meeting in the BCS Championship is well-deserved.
Both teams had stellar seasons and are being rewarded with the utmost respect for it.
Do not stone Alabama's chances for your entertainment. You may just be surprised. Sometimes the sequel is better than the original.