Beef 'O'Brady's Bowl 2011: Key Matchups for Florida International vs. Marshall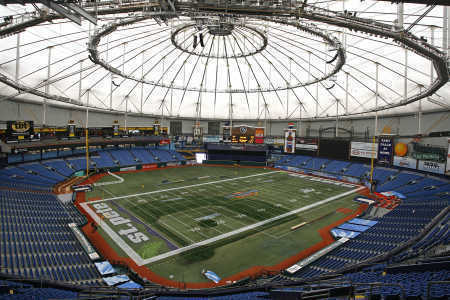 The Florida International Golden Panthers will meet the Marshall Thundering Herd in St. Petersburg, Florida, on Dec. 20 in the Beef 'O'Brady's Bowl.
The matchup should be intriguing, as both teams have had successful seasons (FIU is 8-4; Marshall is 6-6) and have comparable talent and ability on both sides of the ball.
As fans await this matchup, here is an appetizer: the six key considerations to ponder before the Panthers and the Herd face off in the Sunshine State.
Begin Slideshow

»
On paper, the Golden Panthers enjoy a sizable advantage in this category.
They are 16th in the nation in points allowed at 19.4 per game, while the Thundering Herd are 98th in points scored per game at 22.
So, the most fundamental statistical category is favorable for FIU.
Kedrick Rhodes has enjoyed an impressive season, rushing for 1,121 yards and eight touchdowns and averaging about 93.5 yards per game.
Marshall's ability to stop Rhodes is questionable, as the Herd are 61st in the nation in rush yards allowed per game at just under 155 yards.
Establishing the run game will be key for FIU, and if Rhodes is successful, the Panthers have a solid chance of beating Marshall. If he struggles, however, Marshall could dictate the course of the game.
Jamie Sabau/Getty Images

Marshall has played a tough schedule this season; in fact, the GBE College Football Ratings have determined that the Herd played the 12th most difficult schedule in the nation.
They faced three ranked opponents in West Virginia, Virginia Tech and Houston.
FIU, on the other hand, has not played a ranked team.
Will the Herd's experience with tougher teams give them an advantage in St. Petersburg? There's a good chance it will.
Bob Levey/Getty Images

Marshall defensive end Vinny Curry (a finalist for the Ted Hendricks Award for the nation's best defensive end) has been a force this season, recording 21.5 tackles for loss, six forced fumbles and 11 sacks.
FIU must limit Curry as much as possible to have any success offensively.
The Panthers are 18th in the nation in fewest sacks allowed, so it should be interesting to see if the Panthers can handle—or at least limit—Curry's ability to wreak havoc.
http://cdn.bleacherreport.com/images_root/image_pictures/0555/7530/hilton2_crop_340x234.jpg
Senior FIU wideout T.Y. Hilton, though undersized at 5-10, 183 lbs., leads the Golden Panthers with 64 receptions for 950 yards and seven touchdowns and is among the Sun Belt's best receivers.
Hilton has been crucial to his team's success, and he could have a field day against Marshall, which is ranked 100th nationally in pass defense.
If the Thundering Herd aren't able to generate pressure or otherwise limit his ability to make plays, Hilton could be be a key cog in an FIU victory.
A key to success in any competitive venture is motivation and hunger. As these teams prepare to do battle in St. Petersburg, a major question is simply: Which team will want it more?
Both teams have had successful seasons considering standards for their programs. The teams have comparable talent and ability.
Taking care of the football and establishing rhythm offensively are key, but whichever team is hungrier and more passionate will probably prevail.