Battle of the Bronx: Jaspers Look to Stay Hot in 104th Meeting with Rams
December 6, 2011
Separated by only four miles, Manhattan and Fordham have played each other 103 times, with the first meeting occurring 100 years ago. Manhattan leads the all-time series, 53-50.
After winning the Battle of the Bronx in both 2008-09 and 2009-10, the Jaspers fell at Fordham last year, 73-59.
With the annual event returning to Draddy Gymnasium, the Rams will be looking for their first win away from home while Manhattan will try to extend its winning streak to three games.
Keys for Fordham
Keep Manhattan off the line
Manhattan has become a solid free throw shooting team, making 73.6 percent of its attempts (No. 2 in the MAAC and No. 50 in the nation). The Jaspers also have the best free throw shooter in the country in George Beamon (97.4 percent).
The Jaspers also seem to get better at the line as the game goes on. The more free throws they shoot, the more they seem to start making.
Contain the three-point shot
Manhattan has been an inconsistent shooting team so far this season, but, when the Jaspers are making treys, they improve tremendously. In their most recent game against St. Peter's, Manhattan used the three-point shot to pull away from the Peacocks in the second half.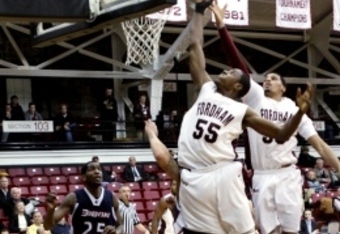 Most of Manhattan's made three-pointers come on open looks. If Fordham guards the perimeter well, the Rams could put the Jaspers in some trouble.
Keys for Manhattan
Control the inside
Despite being undersized, Manhattan has done a pretty good job of competing down low. Although Fordham does not have great size either, it does have one of the best big men in the Atlantic 10 in Chris Gaston.
Gaston is averaging 14.4 PPG, 9.8 RPG, and 2.0 BPG on the season. He is only 6'7", but he can dominate in the post.
If Roberto Colonette and Rhamel Brown can outplay Gaston, the Jaspers will limit one of Fordham's main threats.
Win the rebounding battle
Manhattan has been strong on the boards despite its tallest, everyday player being only 6'7". Fordham has two strong rebounders in Gaston and the 6'8" Kervin Bristol (8.0 RPG).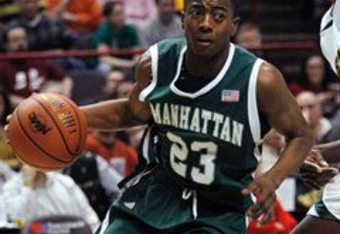 Colonette has been a monster on the offensive glass for Manhattan, and Brown, Beamon and Emmy Andujar all have the potential for big nights on the boards.
Manhattan can win games with its defense, but it also needs to be able to limit opponents to one shot per possession.
Matchup To Watch—Gaston vs. Brown
Spectators of Wednesday's game will get to see two of New York's better big men go to work.
Gaston's numbers have fallen a little since his freshman season, but he still averaged a double-double in each of his first two seasons.
Not only can he score and rebound in the post, but he is also averaging two blocks per game and 1.5 steals per game.
Brown currently leads the MAAC in blocks, and he is No. 35 in the nation. In his last four games, he is averaging 4.5 blocks per game, along with 7.5 points per game and seven rebounds per game.
If Brown can piece everything together, he might possess the potential to get an unconventional triple-double with points, rebounds, and blocks.
Standout Stats
Brown moved up to No. 7 in career blocks in Manhattan school history with six blocks against St. Peter's on Sunday. With one more block, he will move up to No. 6, and with four more blocks, he will move up to No. 4.
Also, Beamon has scored in double digits in his last 23 games, including six 20-points outings.
For Fordham, Gaston picked up his 41st career double-double against Hampton on Monday night.
Deciding factor—Can Fordham Handle Manhattan's Pressure Defense?
It is no surprise that Steve Masiello, mentored by Louisville's Rick Pitino, brought a new defensive style to Manhattan College.
On a few occasions, the Jaspers have been able to wear down opponents with its pressure defense.
Although they turn the ball over too much themselves, the Jaspers are also able to force a lot of turnovers and score in transition. 
Fordham has not been too much better in terms of taking care of the ball with 15 turnovers per game this year. If they do not take care of the ball on Wednesday, the Rams could struggle in Riverdale.
My Pick: Manhattan and Fordham match up evenly this year. But the Jaspers' experience in close game in addition to homecourt advantage could be what vaults them to a third consecutive victory.
Manhattan has played four games that have either gone into overtime or were decided by three points or less while Fordham has had only one. 
Manhattan 64, Fordham 60