LSU Versus Alabama Again: Will This Game Be a Rematch or a Re-Run?
February 23, 2017
Kevin C. Cox/Getty Images
Tonight, the fairy godmother of BCS rankings dusted Tuscaloosa with magic.
A rematch of LSU and Alabama for the BCS national championship is finally official.  Down on the bayou, the rue is sizzling in the pan and the Cajuns are hungry. 
Fresh from dancing their way into the SEC conference championship game and a definitive slaughter (42-10) over the Georgia Bulldogs, the Tigers are already sending growls Bama's way.  After playing a full half without a single first down against Georgia, they returned from the Georgia Dome's locker room after halftime, flying high on the same wings they've soared on all season. 
In the end, LSU's night—with all its fanfare—was just another slide in the Tiger's return trip to national prominence.
In all the hype, questions arise.  What makes this game more than a re-run?  After all, these two teams have already played each other with staunch tenacity. Ever since that night in early November, LSU chants still echo inside the Tide's hallowed Bryant Denny Stadium.  Bama fans are haunted by memories of an intense show of talent by both sides.  In a stinging moment, the contest that was billed as "The Game of the Century" ended abruptly, sending Tide fans home stunned.
The Tigers' win against the Tide in regular season play came after Drew Alleman's perfect 25-yard field goal in overtime.  Granted, the blow to Bama was softened by the Tide's daunting defensive performance, the competition's parallel moves kept fans from both teams on the edge.  Coupled by mistakes—a goal-line interception and four missed field goals for Bama—the Tigers left T-town victorious and cruising to become one of the most illustrious teams in college football history.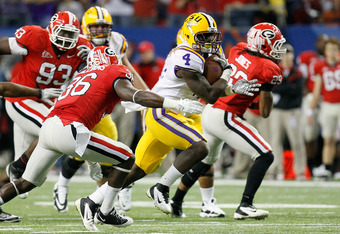 Kevin C. Cox/Getty Images
This time around, things will be different.   
For Bama, playing in a hostile environment presents a mental challenge that this team relishes.  Hostility, it seems, brings forth offensive and defensive perfection for Bama. It dominated in "The Swamp" and at Auburn amid the chaos and animosity of the Gator and Tiger fans.
There were also times when a home-field advantage worked against the Tide.  The complacency of playing to less challenging teams led to 21 points scored by Georgia Southern on Bama, the most of any team this year. Bama tends to play up to the competition and it's already been hit with the wrath of the LSU defense and humiliated by its results.
Bama's offensive play calling has improved since that early game and A.J. McCarron has become more confident.  He threw three first-half touchdown passes versus Auburn.  Trent Richardson has become more explosive, chalking up a career high 200-plus yards versus Auburn.
Players like Kenny Bell and Brad Smelley have shown NFL-promising moves that earned points for Bama.  Oh, and the first time Bama played LSU, it prepped for a two-quarterback system. This time, it'll be ready for Jordan Jefferson's running game.
For LSU, coaching is a side note to the knowledge and drive of the team members.  The grit comes from the players, and coach Les Miles is the first to say that his team is well-versed in finding ways to win. 
Versus Bama the first time, this time, the defensive struggle will be transformed into an offensive showcase.  Before a home crowd who has less than a hundred miles to drive, watch for this LSU team to play a full 60 minutes instead of claiming victories in last-minute opportunities.  
Nope.  This game won't be a re-run of these two teams.  This time around, the most dominant team in college football—representing the SEC—will walk away a national champion. And the only chance of a re-run is re-watching the game on your DVR after it's all over.