Fantasy Hockey: Top 5 Under-the-Radar NHL Players of the Week
December 5, 2011
Al Bello/Getty Images
I've decided to change things up a bit in this week's top five NHL fantasy players. Instead of just listing the top five performers overall, I'm going to give you the top five "under the radar" fantasy players of the week to give you a better chance of actually finding a player you might want to add to your lineup.
5. Bryan Little, Winnipeg Jets (C/W - 21 percent owned)
The Stats
Bryan Little scored a game-winning goal, had four assists, a short-handed point and was a plus-four in three games last week.
The Advice
Little plays the power play, kills penalties and has dual position eligibility. He is currently centering Evander Kane and Blake Wheeler in what has become a very hot line in the 'Peg.
Small in name and stature, Little is putting up some big minutes and points. If you need a versatile all-around forward, look no further.
4. Al Montoya, New York Islanders (G - 26 percent owned)

The Stats
Montoya started in two games last week and finished a third in relief of the oft-injured Rick DiPietro, putting up one win to go with a 2.07 GAA and .937 save percentage.
The Advice
Garth Snow hasn't figured it out yet, but Montoya is the best goalie he has, and the only fully healthy one! Expect Montoya to get more starts and eventually take over as the No. 1 for the young and talented Islanders. If you need some help in net or are looking for a decent depth goalie, Montoya is worthy of serious consideration. By the end of the season he could be the fantasy steal of the year between the pipes.
3. Ryan O'Reilly, Colorado Avalanche (C - 13 percent owned)

The Stats
O'Reilly netted two goals and assisted on three more for five points in only two games!
The Advice
Already in his third NHL season at the tender age of 20, O'Reilly is developing into quite a play-making center. With Matt Duchene moved to the wing on the so-called top line, O'Reilly is getting a chance to center Milan Hejduk and Gabriel Landeskog. He is also being relied upon increasingly by coach Joe Sacco to soak up a ton of minutes on the PP. If you are in need of assists, O'Reilly is your guy.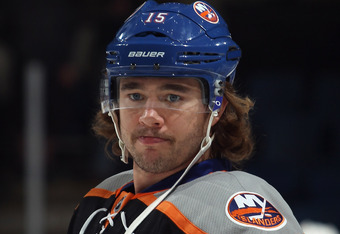 Bruce Bennett/Getty Images
2. P.A. Parenteau, New York Islanders (W - 29 percent owned)

The Stats
A goal and five assists in three games for Parenteau were wasted in over 70 percent of Yahoo! leagues last week.
The Advice
P.A. just doesn't get no respect! Playing on a line with snipers Matt Moulson and John Tavares means Parenteau is going to continue to put up the points, both even strength and on the power play.
Some poolies were wondering when Parenteau was going to lose his spot to top prospect Nino Neiderreiter. However, with El Nino making an early exit last game with the dreaded "concussion-like symptoms," it would appear that Parenteau will not be going anywhere anytime soon.
Play-making wingers are hard to find. If you need one, chances are P.A. is available.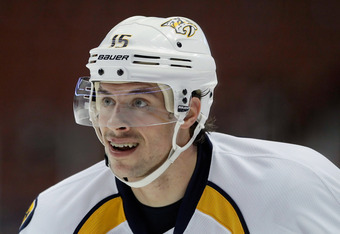 Jeff Gross/Getty Images
1. Craig Smith, Nashville Predators (C - 25 percent owned)

The Stats
Craig Smith managed five points (with four on the power play) in four games last week.
The Advice
Craig Smith has played his way into the top six in Nashville and is currently second in NHL rookie scoring behind Ryan Nugent-Hopkins. Centers are plentiful in fantasy hockey, but Craig Smith should be owned in all deep leagues, especially keepers. He's also currently playing on the wing, and with Yahoo!'s new-found generosity in the dual-position eligibility department, it won't be long before you can play him there too.
You can follow Mark Hillier on Twitter.